News Releases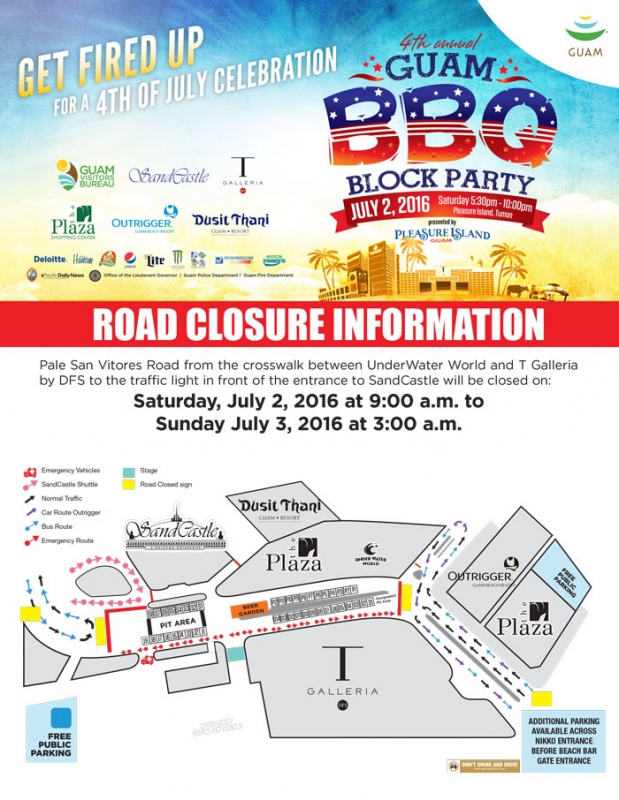 July 4th weekend celebration sizzles with new flavors and features
(Tumon, Guam) – The fourth annual Pleasure Island Guam BBQ Block Party, "Red, White, and YOU", will be the fiercest BBQ competition in the event's history. 
The Guam BBQ Block Party kicks off 4th of July weekend with an exciting line-up of competitors and vendors for all to enjoy on Saturday, July 2, 2016 from 5:30 to 10:00 p.m. This GVB signature event is crafted to showcase Guam's unique BBQ culture, flavors and the expertise of Guam's best chefs and pit masters.
 2016 Champion Grill Master to be Crowned
The Micronesian Chefs Association has again partnered with GVB for the much anticipated BBQ competition. With more than $4,000 in prize money up for grabs, the competition will be intense. Ten teams make up this year's line-up of competitors:
Chef Paul -GCC                                Team captain: Paul Kerner
Pacific Islands Club                           Team captain: Simplicio Taga
Team Korea                                       Team captain: Lee Kang Yeoun
Åsu Smokehouse                              Team captain: Sonny Orsini
Guam Barbecue Company                Team captain: Joe Okada
Hide Yakitori                                      Team captain: Hide Morikawa
Team Meskla                                     Team captain: Peter Duenas
Ohana Hawaiian BBQ                        Team captain: Jen Santa Maria
Outrigger Guam Resort                      Team captain: Gene Soledad
Sea Grill Restaurant                           Team captain: Alexandra Sanchez
2015 Guam BBQ Block Party Champion Grill Master Åsu Smokehouse will return to defend their title and will be pitted against other chefs for the bragging rights and the title of 2016 Guam BBQ Block Party Champion Grill Master. Competitors will be sampling tasty BBQ in the chicken, pork and beef categories and will have delicious BBQ for purchase throughout the event.
New features for the block party of the summer
The annual BBQ Block Party takes place in the heart of Pleasure Island. Don't miss this all American themed block party complete with an American Classic Muscle Car and Bike Show fueled by Shell and organized by Local Girl; the Hot Diggety Dog Eating Contest; Uncle Sam and the Firecracker Girls; food and beverage concessions; and the Miller Lite/Monster Beer Garden.  It'll be a star spangled good time with live performances from Those Two Guys, Step Up Dance, The Phoenix Stars as well as the Phoenix Stage Band.
Telo Taitague, GVB's Acting President and CEO said, "The Guam BBQ Block Party in the heart of Pleasure Island is a proud way to celebrate the Fourth of July and the common values that make Guam a great place to live, work and visit. It's heartwarming to see our residents sharing the Håfa Adai Spirit with each other and our visitors at this family friendly event. We also get to the chance to sample and showcase to the world the great BBQ that Guam is known for."
Event organizers expect thousands of participants to turn out to enjoy this signature GVB event and will welcome global media representatives, generating millions of dollars in exposure for Guam. The Guam BBQ Block Party is family friendly and admission is free.
Keeping the block safe
Residents should expect some delays in the Tumon area on July 2nd. San Vitores Road in Tumon – from the crosswalk between UnderWater World and T Galleria by DFS Guam to the SandCastle entrance traffic light – will be closed from Saturday, July 2 from 9:00 a.m. throughSunday, July 3 at 3:00 a.m. to ensure safety of event participants. Drivers are asked to be cautious as there will be an increase in pedestrians in the area. Guam Police Department, with the support of GVB's Visitor Safety Officers, and the Guam Fire Department will be on site to help keep the event safe for all.
GVB would like to thank the Office of Lieutenant Governor Ray Tenorio and the BBQ Block Party presenting sponsors The Plaza, Sandcastle, Dusit Thani Guam Resort, T Galleria by DFS, and Outrigger Guam Beach Resort for their continued partnership in growing the event year after year. GVB would also like to recognize the supporting sponsors Hot Diggety Dog, Monster Energy, Miller Lite, Pepsi, Hanom, Triple J Fivestar Wholesale, Pacific Daily News, Deloitte, Shell, Foody's, and the Stations of KUAM.
Media Contact: JOSH TYQUIENGCO - Public Information Officer