News Releases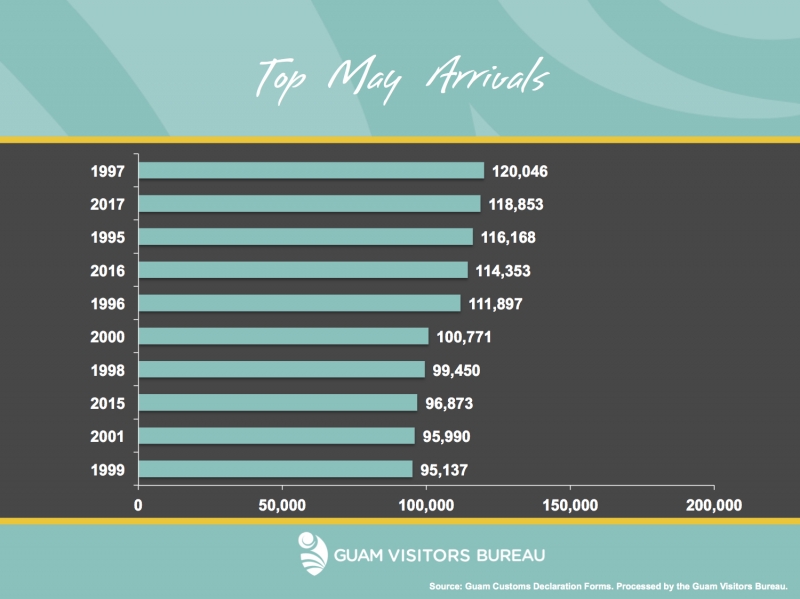 "Guam continues to draw visitors at record numbers. I couldn't be prouder of the hard working men and women in the island's number one industry. The record-breaking arrival numbers for May is a sign that more people want to visit paradise and learn more about our culture and people. Let's continue ensuring that tourism works for Guam."
 — Governor Eddie Baza Calvo
Second best May of all time recorded
Guam welcomed 118,853 visitors during May 2017, recording the second-best arrival numbers of Tourism Month. The current record of 120,046 was set in May 1997.
"On behalf of Governor Calvo and myself, I want to thank our local community for supporting tourism and welcoming our visitors to our shores," said Lt. Governor Ray Tenorio. "It takes all of us to bring tourism to new heights and share our Håfa Adai spirit with the world. Let's keep it up!"
Events such as the Guam Micronesia Island Fair, Agat Mango Festival, Cocos Crossing and Guam Futures Tennis Tournament helped attract more visitors to Guam during Tourism Month.
Additionally, arrivals from Korea saw a 19% growth over the previous year. Visitor arrivals from Hong Kong also grew by 172.6%.
"It's a great time to see immediate results of how tourism is working to make Guam a better place to live, work and visit," said GVB President and CEO Nathan Denight. "But it's also important to take the successes we see in tourism today to reinvest in our infrastructure, update our existing resources and plan to build an even greater future for our island and people."
While GVB is pleased with total arrivals, there are challenges that need to be addressed. The Japan market still faces a lack of seating capacity since airline carriers such as Delta and Korean Air pulled out of gateways within Japan, including Osaka and Nagoya. There were almost 1.4 million seats between Japan and Guam in 2012, with this number decreasing to less than 1 million in 2016.
In addition, arrivals numbers from Taiwan and Hong Kong are anticipated to decrease in June with the suspension of flights from Eva Air and HK Express. These challenges are just some of the reasons why GVB is asking the Guam Legislature for an increase in funding for the next fiscal year to help go after more airline carriers and continue the diversification and growth of Guam's visitor markets.
Summary of arrivals
Guam welcomed 118,853 visitors in May 2017, a 3.9% increase compared to the previous year. Total Fiscal Year-to-Date arrivals increased by 5.2%, while total Calendar Year-to-Date arrivals grew 4.3%.
While Japan arrivals decreased slightly by 3.6%, Korea arrivals advanced by 19%. Other markets that also showed increases for the month of May include The Russia Federation by 4.2%, Vietnam by 66.7%, Hong Kong by 172.6% and Hawaii by 7%.
Media Contact: JOSH TYQUIENGCO - Public Information Officer