News Releases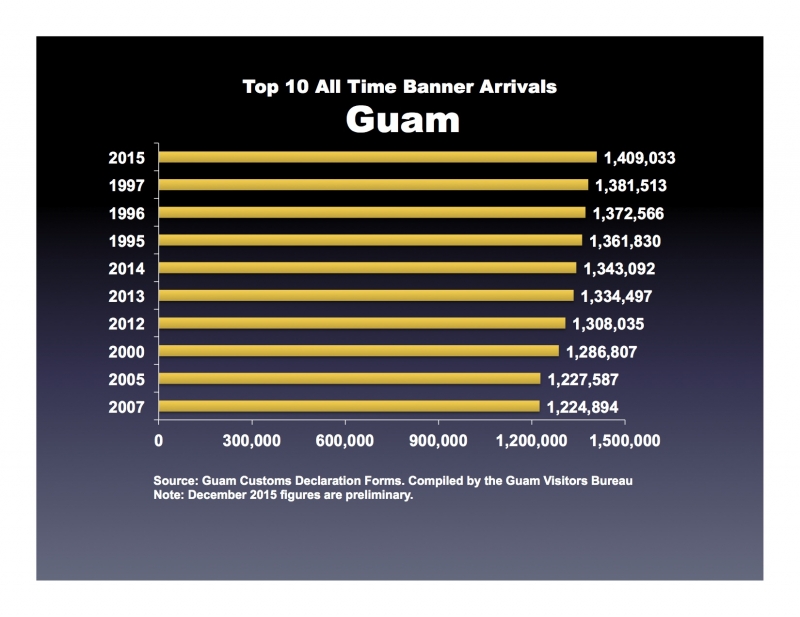 A joint release from the Governor's Office and the Guam Visitors Bureau
"This is a historic moment for Guam. But that's not a surprise. There was much work put into building this engine of our economy. From the marketing teams that created the campaigns, to the teams that executed them, to the people at the airlines and the men and women who work in the service industry, and every resident who smiled and made a visitor feel welcome, this achievement is the product of a team effort. Thank you all for your hard work."
- Governor Eddie Baza Calvo
More than 1.4 million tourists visit our island paradise
More tourists visited Guam in 2015 than any other year in the history of tourism on Guam. With a recorded 1,409,033 visitors landing on Guam to enjoy our gorgeous sunsets and white, sandy beaches, 2015 shatters the old record of 1,381,513 set in 1997. 
"Recording the top banner year of all time with over 1.4 million visitors is no easy task. I am thankful diversification efforts are in place, especially as Japan works to regain its footing, which I'm confident will happen with time," said Lt. Governor Ray Tenorio. "This is the perfect time to visit our island paradise, especially with all the milestones and economic growth that has been achieved."
Highest Korea & China arrival numbers recorded
Korea arrivals also recorded a top banner year with 427,900 visitors, an increase of 38.9% in CY2015. Additionally, it was a top banner year for the People's Republic of China with 23,698 visitors coming to Guam, a 45.6% rise over CY2014.
While growth and diversification is apparent for Guam's visitor markets, Japan's numbers for CY2015 declined by 4.7%. This drop is in line with the Japan National Tourist Organization's forecasted overall decline of 4.5% for outbound travel in 2015. The outbound downturn is a result of a weakened Japanese yen and Japanese travelers choosing domestic travel. GVB continues to work with its partners in 2016 to attract more Japanese visitors with various campaigns and marketing strategies.
December 2015 becomes top December to date
According to GVB's Research Department, December 2015 also made history as the top December with a record 132,418 visitors. That is a 10.5% increase when compared to December 2014.
"Over the last 5 years under the leadership of Governor Calvo, Lt. Governor Tenorio and Senator Tina Muña Barnes, GVB and our partners have been working to increase arrivals to our island paradise," said GVB General Manager Nathan Denight. "The work we have done and continue to do has translated into record breaking visits, which provide more jobs and a better quality of life for our people."
Governor Calvo said the goal of the administration is to improve the quality of life for people on Guam.
"Our goal has always been to continue making Guam the best place to live, work and visit," the Governor stated.
Lt. Governor Tenorio added: "I want to thank the entire island community for making 2015 the best year in the history of tourism."
Denight noted that with the start of the Visit Guam 2016 year that includes the PATA Annual Summit, Festival of Pacific Arts and other unique signature events and activities that can be found only on Guam, "I am confident 2016 will also be just as great."
Media Contact: JOSH TYQUIENGCO - Public Information Officer