News Releases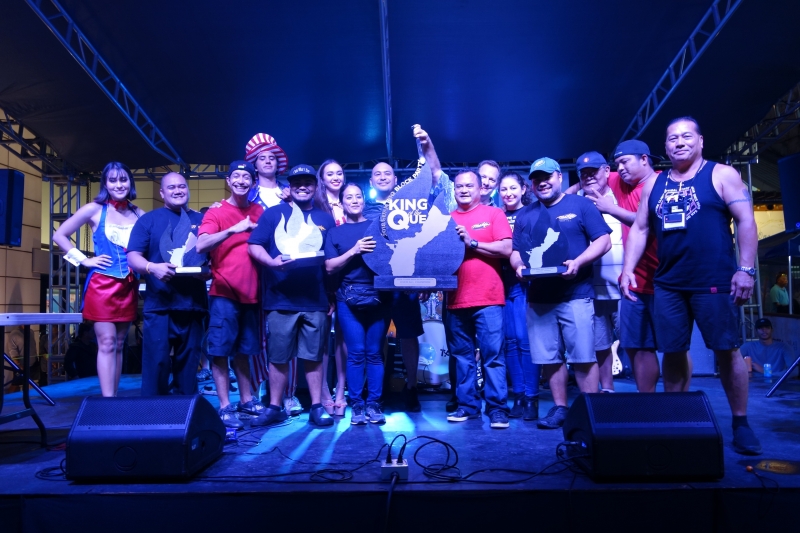 Meskla chef takes home Ultimate Grill Master Champion title second year in a row
(Tumon, Guam) — The Guam Visitors Bureau (GVB) is proud to announce the winners of the 6th Annual Pleasure Island Guam BBQ Block Party BBQ Competition that took place on Saturday, July 7, 2018 in Pleasure Island, Tumon.
The Micronesian Chefs Association partnered with GVB to host and judge the BBQ competition. Specially designed, made-in-Guam trophies and $4,600 in prize money was handed out to the top three teams in three meat categories -- pork, chicken and beef. Ten teams competed this year and one outstanding chef was awarded the overall 2018 Ultimate Grill Master Champion. For the second year in a row, Meskla's Chef Peter Duenas took home the impressive trophy and bragging rights as the Ultimate Grill Master Champion.
"Anyone who has been to a Pleasure Island Guam BBQ Block Party event knows that this is a serious BBQ experience. The BBQ served up by the competitors was incredible," said GVB President and CEO Nate Denight. "From an attendance perspective, thousands of visitors, residents and our military community came together to enjoy great food and the Håfa Adai spirit. We couldn't be happier!"
Team Meskla continued its winning streak at the 2018 event by winning the pork and beef categories and placing second for its chicken recipe. Team GCC Culinary Fire, led by Chef Paul Kerner and made up of students from GCC's culinary program, took first place in the chicken category. GVB congratulates Ultimate Grill Master Champion Chef Peter Duenas and the top teams in the following categories:
PORK:
First Place: Team Meskla   
Second Place: Team Outrigger Guam Beach Resort   
Third Place: Team Guam Barbecue Company
CHICKEN:
First Place: Team GCC Culinary Fire
Second Place: Team Meskla   
Third Place: Team Guam Barbecue Company
BEEF:
First Place: Team Meskla           
Second Place: Team Dokngos (Pacific Islands Club)   
Third Place: Team Dusit Thani   
The Guam Territorial Band opened the event with a marching performance of favorite local music and live music performances included Part Time, DJ Sylnt and Prominence. The Hot Diggety Dog Hot Dog eating contest, a crowd favorite and now in its third year, brought the heat when two teams tied for first place by finishing six hot dogs each. The sudden "eat off" round crowned the team of Mike Solderquist and Chulsong Park after they ate two more hot dogs, for a total of eight 10-inch Nathan hot dogs eaten in seven minutes.
The BBQ Block Party featured 19 of Guam's most popular confectionery, food and beverage vendors, including the new T Galleria by DFS food truck and two beer gardens hosted by Miller Lite and the Sandcastle.
GVB would like to thank everyone who contributed to the success of the event, from competitors and vendors to event host Andy Wheeler and iRecycle's Peggy Denny. GVB also extends a Si Yu'os Ma'ase to the Visitor Safety Officers, Guam Police Department and Guam Fire Department for keeping everyone safe, as well as to its event sponsors for their valuable support — Pleasure Island Presenting Sponsors T Galleria by DFS, The Plaza Shopping Center, Outrigger Guam Beach Resort, Dusit Thani Guam Resort; Non-alcoholic Beverage Sponsor Pepsi Guam Bottling; Alcoholic Beverage Sponsor Miller Lite; with special thanks to IP&E Guam & Foody's, The Stations of KUAM, Triple J Five Star Wholesale, Hot Diggety Dog, Micronesian Chefs Association and Deloitte.
Media Contact: JOSH TYQUIENGCO - Public Information Officer