News Releases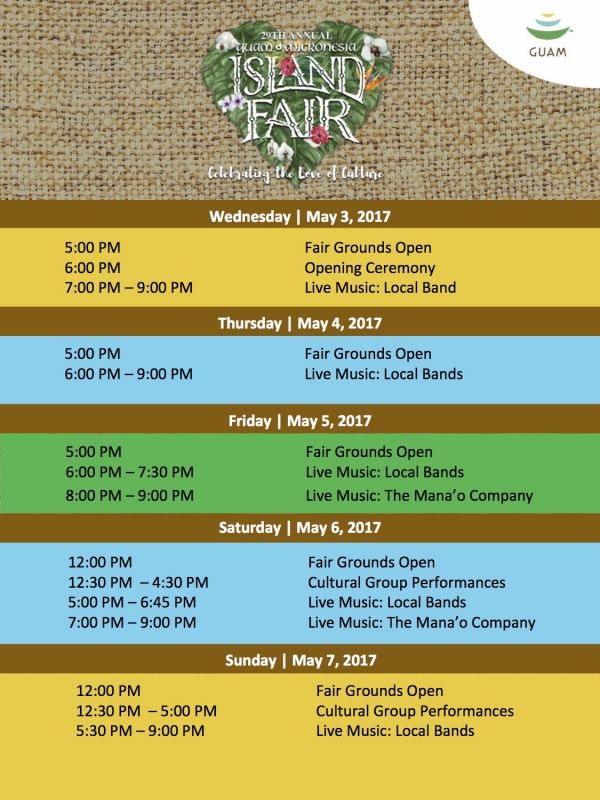 GVB signature event to be held in Guam's capital city May 3-7
(Hagåtña, Guam) The Guam Visitors Bureau (GVB) is pleased to announce that 7 delegations will come together for the 29th Guam Micronesia Island Fair (GMIF). With this year's theme of "Celebrating the love of culture," Guam will be joined by delegations from Palau, Yap, Pohnpei, Marshall Islands, Chuuk and special guest country, Taiwan, at the Paseo de Susana from May 3-7, 2017.
"We are excited to welcome our brothers and sisters back to our island to celebrate our love of culture almost a year after the Festival of Pacific Arts," said GVB President and CEO Nathan Denight. "We invite the entire community and our visitors to come down to the capital city and immerse themselves in the unique cultures of Micronesia during this free five day event."
GMIF will kick off with Chamorro Village's Wednesday Night Market on May 3, with the opening ceremony to begin at 6:00 p.m. with over 200 dancers and chanters, as well as a Parade of Islands. GMIF will continue Thursday to Friday from 5:00 p.m. to 9:00 p.m. and Saturday to Sunday from 12noon to 9:00 p.m.
A variety of food and beverage vendors, artisans, cultural exhibits, a farmer's market, Åmot Farm Inc., a petting zoo, rhino beetle outreach, kids rides, interactive workshops, live art demonstrations and a beer garden will be featured. Attendees will also have the opportunity to meet Micronesia's master carvers, blacksmiths, jewelers, weavers and cultural dancers. Additionally, GTA will be providing free Wi-Fi throughout Paseo de Susana.
The Mana'o Company, Ben Nangauta and Chris Boomer to highlight entertainment
GVB is bringing back Island Reggae group, The Mana'o Company, to highlight the entertainment lineup on Friday and Saturday on the Pepsi Stage, with Guam's Ben Nangauta and Chris "Boomer" Unchangco to perform on the last day of the fair. Other GMIF artists who will be performing include Hawaii's Bruddah Waltah, Sistah Robi Kahakalau, Sean Na'auao, as well as Guam's Phoenix Stage Band, Kids from Chuuk, Mixed Plate, 5 on It, Cool Down, Maseha Hafa and Monster Squad.
GMIF app to be available
A free Guam Micronesia Island Fair app will be available for download on the Apple app store and Google Play.  A GMIF mobile responsive site will also be accessible by Wednesday, May 3. More details will be forthcoming at visitguam.com.
The 29th Guam Micronesia Island Fair is presented by the Guam Visitors Bureau, United Airlines, T-Galleria by DFS, Miller Lite, Bank of Guam, Monster Energy, Pepsi, Hanom, GTA, Stations of KUAM, Cars Plus, Cycles Plus, Pacific Daily News, Matson, No Ka Oi and Guam Plaza Hotel.
Media Contact: JOSH TYQUIENGCO - Public Information Officer