News Releases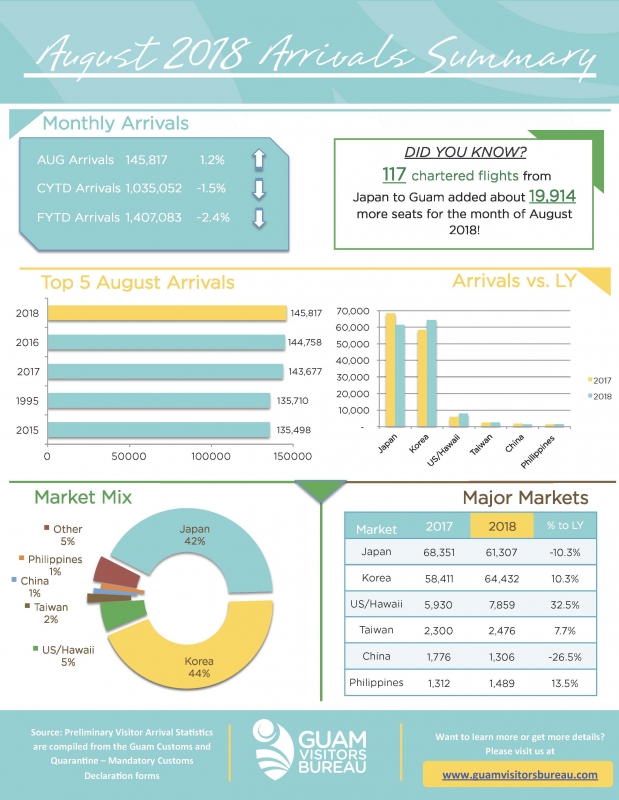 "We're proud of the hard work that's being put in by the Guam Visitors Bureau and our tourism industry on a daily basis. Achieving the best August in visitor arrivals is a testament to the efforts being made to continue to grow and diversify our top economic driver and keep our unemployment rate low. Congratulations to all of you on a job well done."
— Governor Eddie Baza Calvo
Sept. 28, 2018
Top arrivals month recorded
Guam welcomed 145,817 visitors for the month of August, becoming the best August — and the best month overall — in visitor numbers.
August 2018 numbers eclipse the previous record made in August 2016 with 144,758 visitors.
Top 5 August Arrivals:
2018 – 145,817
2016 – 144,758
2017 – 143,677
1995 – 135,710
2015 – 135,498
"August marked the one year anniversary when Guam was affected by the news from North Korea. It's been a long journey since then, but seeing how our visitor arrivals have improved is welcomed news that shows how Guam is recovering from circumstances outside of our control. I thank the women and men in tourism for their resiliency and continuing to showcase the Håfa Adai spirit." said Lt. Governor Ray Tenorio.
Arrivals are performing better than projections according to GVB's Research Department. Fiscal Year-to-date arrivals are down 2.4%, while Calendar Year-to-date arrivals are 1.5% less when compared to 2017.
Progress has been made in Japan with arrivals showing less of a decrease at -10.3% with the assistance of 117 charter flights from Japan to Guam for the month of August, and more active airline routes, including United's 20 additional flights between Tokyo and Guam.
Meanwhile, arrivals from Korea grew by 10.3% and other markets also showed visitor arrival increases to include the U.S. mainland & Hawaii by 32.5%, Taiwan by 7.7%, the Russia Federation by 6% and the Philippines by 13.5%.
More seats to Guam for winter airline schedule
"As we approach the end of the fiscal year and the final months of the calendar year, Guam's available seating capacity for the winter schedule will continue to increase thanks to our air service initiatives and partnerships with various airlines and travel trade," said GVB President and CEO Nathan Denight. "We will begin to see the gap in Japan arrivals close as a result of these efforts. More work to be done ahead, but we're proud of what has been achieved so far."
GVB and the Guam International Airport Authority (GIAA) continue to offer air service initiatives for existing and potential air carriers to increase seating availability or provide new routes to the island. The initiatives have reached incremental success in helping to support travel demand to Guam from the Japan market. Japan Airlines has decided to extend its second daily flights from Narita to Guam through March 2019. Jeju Air's daily flights between Osaka and Guam launched on July 21st on a Boeing 737-800. United is reintroducing its Boeing 777-200 aircraft on two of three daily flights from Tokyo to Guam starting October 28th. Guam's hometown carrier is also preparing to add four more flights a week between Guam and Nagoya starting December 2nd.
Additionally, Guam has 471 total charter flights from Japan for Calendar Year 2018, which is more than twice the amount from last year.
GVB is closely monitoring visitor arrivals for September, which are tracking lower than last year primarily due to weather events that have occurred in the Pacific region affecting markets such as Japan, Hong Kong, Hawaii, Philippines and Guam.
Media Contact: JOSH TYQUIENGCO - Public Information Officer