News Releases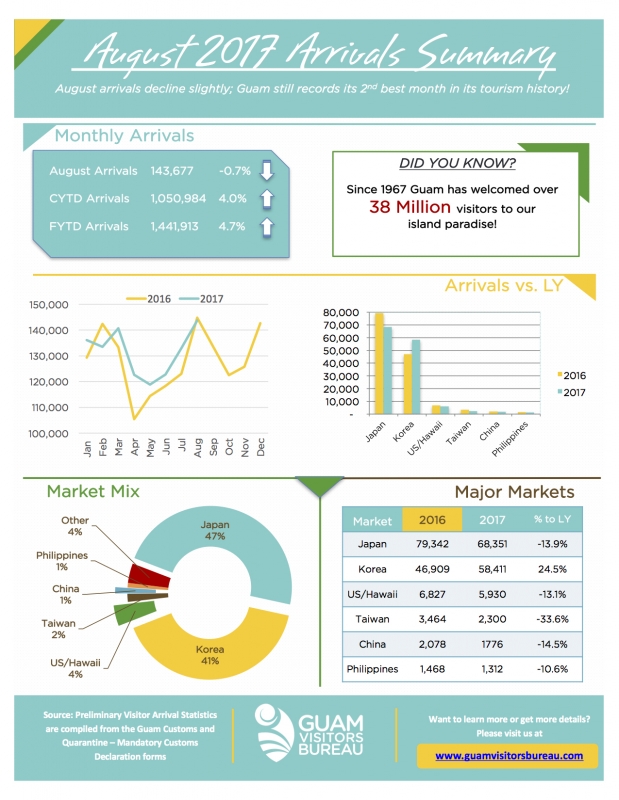 "Before the North Korea tension, our visitor arrivals for this August were expected to be the top month in Guam's history. Instead, there was a slight decline. The last thing we need is for this trend to continue. We must make great strides to ensure the future of our island's top economic contributor remains robust and diverse. Lt. Governor Tenorio and I are committed to ensuring our visitors and residents feel safe and protected. The livelihood of thousands of men and women are on the line if we don't all work together to sustain our tourism industry."                                               
 — Governor Eddie Baza Calvo
Over 143K visitors welcomed 
Guam welcomed 143,677 visitors in August 2017, a 0.7% decrease when compared to the previous year. While arrivals fell short of surpassing the record of 144,758 visitors in August 2016, it still was enough to record the second best arrivals month in Guam's history.
"Now is the time to arm the Guam Visitors Bureau with the resources they need. Tourism is the lifeblood of our economy," said Lt. Governor Ray Tenorio. "For more visitors to continue coming to our island paradise, it's important to reassure them that Guam remains a family-friendly and safe destination. We're doing everything possible to share that message alongside GVB. I know it's in these times that our Håfa Adai spirit and island hospitality will shine brightly."
While other major source markets experienced some declines, Guam's second top visitor market of South Korea was the least influenced by the North Korea issue, recording a 24.5% increase. Arrivals from Korea will continue to grow with the launch of Air Seoul's direct flights from Incheon on Sept 13th. Guam now has service from 6 Korean carriers.
In the meantime, GVB's Research Department has confirmed there have been 7,426 cancellations from individuals associated with package tours, school groups and Meetings, Incentives, Conventions and Exhibitions (MICE) groups. A majority of the cancellations came from Japan school groups that had planned to travel to Guam in the fall. China Air also cancelled its charter flight to Guam from Taiwan in October because its customers are hesitant to travel to Guam. The total amount of cancellations resulted in an estimated $9.5 million dollar loss for Guam.
"We're happy with the August arrival results and are still on track to have record arrivals this Fiscal Year 2017," said GVB President and CEO Nathan Denight. "However, even before the North Korea situation, we were facing challenges in key source markets. North Korea just exacerbated the situation. GVB has been proactive in mitigating this serious situation and we will continue to work hard together with all our stakeholders to counter the long-term tourism effects."
Summary of arrivals
Visitor arrivals from Japan declined 13.9% for the month of August, but Guam's top market outpaced Korea arrivals with 68,351 Japanese visitors traveling to the island due to the Obon holiday. However, with major airlines like Delta and Korean Air reducing service out of Japan, a lack of seating capacity to Guam remains a top concern. Almost 1.4 million seats between Japan and Guam were available in 2012, but that number has decreased to less than 900 thousand in 2017.
In response, GVB launched a Charter Airline Incentive program in Japan, which has resulted in over 12,000 additional seats for the month of August, helping boost Japan arrivals. In addition, GVB is pleased to welcome the upcoming new route between Nagoya and Guam through HK Express by the end of October.
Looking at the bigger picture, total Fiscal Year-to-Date arrivals increased by 4.7%, while total Calendar Year-to-Date arrivals grew by 4%. Korea arrivals rose by 24.5% to 58,411 visitors, while other markets achieved some growth. Arrivals from Hawaii increased by 4.7%, while the Russia Federation grew by 8.3%. Markets that also had growth include Hong Kong by 16.1%, and the CNMI by 20.4%.
Media Contact: JOSH TYQUIENGCO - Public Information Officer