News Releases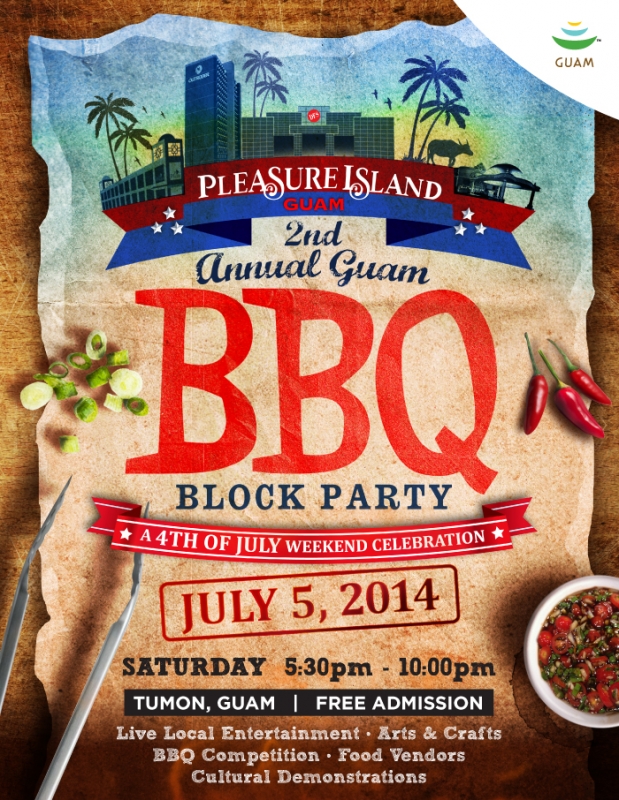 BBQ Competition, Music, Art & Performances to Take Over Pleasure Island
(Tumon, Guam) The Guam Visitors Bureau today announced that the 2nd Annual Guam BBQ Block Party will once again take over Pleasure Island in Tumon on Saturday, July 5, 2014 from 5:30 p.m. to 10 p.m. The savory event is designed to enhance our visitors' experience through the different styles of grilling, while also appealing to our local community.
The block party will showcase Guam through a competitive BBQ cook-off competition, as well as cultural performances and live music. Various food vendors and local goods from artisans will also be featured. Thousands are expected to descend into the heart of Tumon for this free public event.
"BBQ is something Guam is known for. Look at all the stateside Chamorro restaurants and food vendors that feature our local cuisine. There is a palette in America and Asia for the unique flavors of our island and what better way to showcase that than in the 2nd BBQ Block Party?," said General Manager Karl Pangelinan. "We are also excited to bring in international chefs for this event, which was created by Lt. Governor Ray Tenorio. We invite everyone to bring their appetite to the block party of the summer!"
The highlight of the event is the BBQ competition organized by the Micronesian Chefs' Association (MCA). Over $4,000 has been put out as contest prize money for Guam's most prolific grillers who are up for the challenge. The field of entry is limited to the first 14 entrants so early registration is encouraged. The public will be able to purchase the delicious BBQ from the competitors. For more information on the competition, please contact Gordon Mizusawa from the MCA at [email protected] or 688-8555.
Additionally, world-renowned artist Tristan Eaton will be making a splash at the block party with his public wall art project. Local art developed through the GUMA (Guam Unique Merchandise and Art) Incubator Program will also be on display and available for purchase at this event.
As a public advisory, San Vitores Road from the crosswalk between UnderWater World and DFS Galleria to the traffic light in front of the entrance to SandCastle will be closed on Saturday, July 5, 2014 at 9:00 a.m. to Sunday, July 6, 2014 at 3:00 a.m.
Media Contact: JOSH TYQUIENGCO - Public Information Officer