News Releases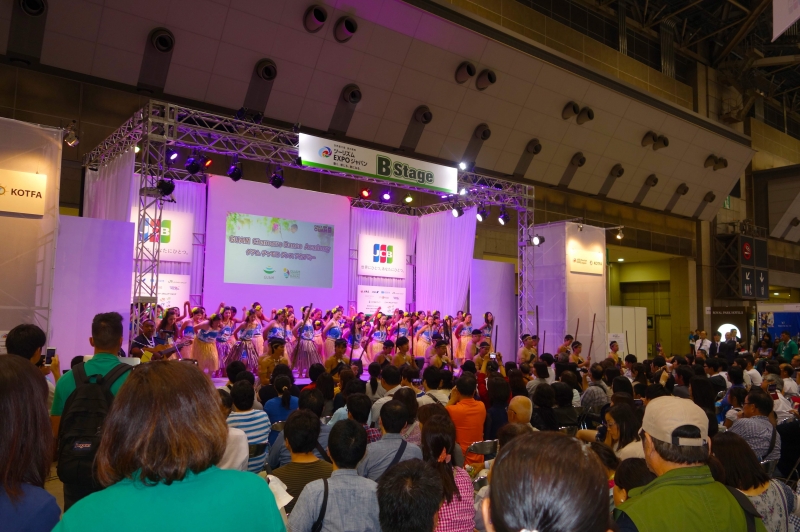 (Tokyo, Japan) Guam continues to shine bright among the 150 countries and regions that are represented at the JATA Tourism Expo Japan 2015. With an estimated 175,000 consumers gracing the halls of the Tokyo Big Sight in the past two days, Team Guam captured the attention of thousands as they worked together to feature the island's 4,000-year-old Chamorro culture.
During the final day of this four-day event, the Guam booth showcased cultural performances, activities and signature events in an effort to attract more visitors to the island. Some of the highlighted activities at the Guam booth included the Håfa Adai Chamorro Dance Show, a Miss Guam photo session and Chamorro Craft School.
Over 80 Japanese dancers from the Guam Chamorro Dance Academy (GCDA) also performed at the Guam stage and JATA main stage to thousands of consumers in attire that represents the image of the Chamorro people. The group is led by Master of Chamorro Dance Frank Rabon. GCDA is a program that was started in 2009 by the Guam Visitors Bureau (GVB) to teach the art of traditional Chamorro dance to interested Japanese people. To date, the program has over 1,500 members from six cities in Japan that continue to teach and promote the Chamorro culture. GCDA also expanded to the U.S. mainland in 2014.
"What we did was we gathered all the students we've been teaching in the various places, like Osaka, Fukuoka, Nagoya, Hokkaido, Sapporo and the Tokyo area [at JATA]," said Master of Chamorro Dance Frank Rabon. "To see people from another country very interested in learning about the Chamorro culture and the Chamorro people always amazes me because it's not mandatory for them."
Two San-ai fashion shows were also held exclusively at the Guam booth stage with Miss World Guam 2014 Chanel Cruz Jarrett among the models that were featured as they showcased the new San-ai Swimwear Collection. A special award was additionally given to San-ai 2015 Campaign Girl Aya Asahina for her assistance in promoting the island.
Sports tourism was also featured at the Guam booth. Branded as the "Sports Paradise Island," members of Team Guam handed out flyers, Guam branded tattoos and encouraged people to experience a different side of paradise. Che'lu, the Ko'ko' bird mascot, also made an appearance at JATA for the first time in Guam history to bring awareness and promote events that support the ongoing efforts to save the island's endemic bird from extinction.
"I think this JATA is more important than ever because of how the Japan travel industry is changing," said GVB General Manager Nathan Denight. "There is a shift towards domestic travel within Japan because of the weak yen. There is now a hall at JATA for domestic travel and another hall for international travel. So, us coming here, promoting Guam and working hard in Japan is more important to keep our foothold in the Japanese market. We are also using this opportunity to meet with our industry, hotel and airline partners to thank them for their support and find out how we can also support them."
Consumers were thrilled to learn more about what the island has to offer through several industry partners that are part of Team Guam. Those businesses include the Japan Guam Travel Association (JGTA), Hilton Guam Resort & Spa, Sheraton Laguna Guam Resort, Fiesta Resort, Hyatt Regency, The Westin, LeoPalace Resort, Lam Lam Tours, R&C Tours, Holiday Tours Micronesia, H.I.S., Nippon Travel Agency, Micronesia Hospitality Inc., TMI, Pacific Micronesia Tours, Watabe Wedding, Skydive Guam, GPO and Tumon Sands Plaza, and the Pleasure Island Group (T Galleria by DFS, Outrigger Guam Beach Resort, SandCastle, Globe, Dusit Thani Guam Resort, JCB International (Micronesia), Ltd., UnderWater World, Sea Grill, Sky Lounge, the Plaza, Hard Rock Guam and Mandara Spa). 
"The delegation that we brought definitely made an impact at JATA," said GVB Deputy General Manager Telo Taitague. "It's really a joint effort from everybody coming together to showcase Guam, not just on one perspective, but many perspectives."
The JATA Tourism EXPO ended today, but Team Guam continues its efforts to make the island the best place to live, work and visit.  
Media Contact: JOSH TYQUIENGCO - Public Information Officer