News Releases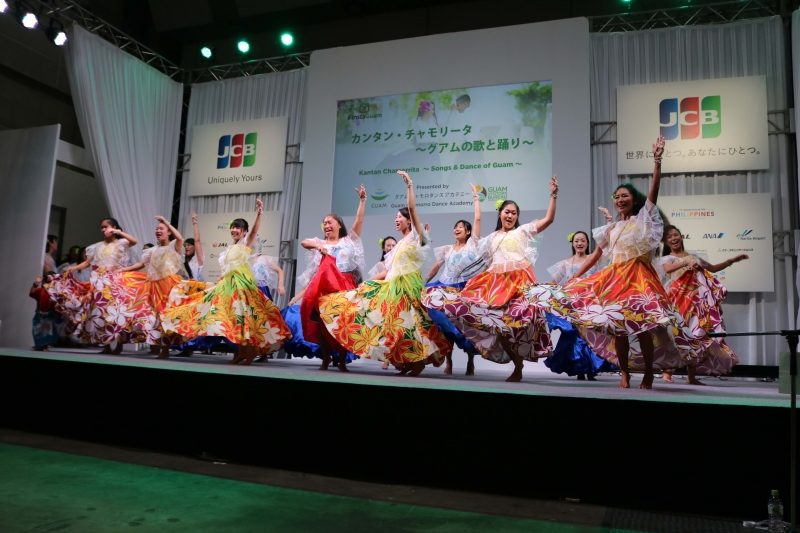 (Tokyo, Japan) Guam joined over 130 countries from around the world, including 47 domestic regions, during Tourism EXPO Japan 2017 from September 21-24, 2017. This annual expo is the world's leading global tourism event with more than 2,130 vendors that participated, and drew thousands of travel agents, international media and the public to the Tokyo Big Sight. An estimated 185,000 people attended the expo, which is now organized by the Japan Travel and Tourism Association (JTTA), Japan Association of Travel Agents (JATA) and Japan National Tourism Organization (JNTO).
Led by Guam Visitors Bureau Board Chairman Milton Morinaga, Team Guam focused on the expo's theme of "The Power of Travel" and gained a better understanding of how Japan wants to revitalize overseas travel and encourage tourism exchange focused on culture and sports.
"We did a great job in emphasizing the beauty and serenity of our people and island. The people of Guam can be very proud of our delegation for showcasing our unique 4,000-year-old culture," said GVB Board Chairman Morinaga. "We greatly appreciate everyone's hard work in making Guam shine at this expo."
"Japan is important to Guam, especially since this year marks the 50th anniversary of the first flight that brought 109 Japanese visitors to our island from Tokyo through Pan American Airways," said GVB President and CEO Nathan Denight. "It's crucial to have our presence known here, especially as we work through the current challenges in our Japan market. We continue to reassure our Japanese consumers and the travel industry that Guam is safe, protected and peaceful and ready to welcome them to our island paradise."
Guam booth features culture and VR
Team Guam grabbed the attention of visitors with multiple performances from Jesse and Ruby and their cultural dancers for the Håfa Adai Chamorro Dance Show, as well as photo sessions and greeting calls from Miss Earth Guam 2017 Emma Mae Sheedy and Mr. Guam 2016 Jonathan David Kanemoto, and other key presentations.
Additionally, Pa'a Taotao Tano' and the Guam Chamorro Dance Academy (GCDA) performed at the Tourism EXPO Japan's main stage. Over 60 dancers from GCDA performed both ancient Chamorro and Spanish era dances, wearing traditional and Mestiza costumes. All students chanted in Chamorro, and moved the audience with their performances.
"It's been an honor teaching people that want to learn more about our culture and seeing them perform to thousands of people every year," said Master of Chamorro Dance Frank Rabon. "These dancers are devoted to learning not only the dances but also our language, history, customs, and culture."
GCDA has grown successfully since GVB started the program in 2009, with more than 2,300 members actively participating from six different cities in Japan. The program also expanded to the U.S. mainland in 2014 and Taiwan in 2016. In Japan, there are three Gumas (houses), "I Taotao Kinahulo' Atdao Na Tano' ", "Famagu'on Tano' yan I Tasi", and Minetgot yan Menhalom."
The Guam booth also showcased breathtaking Virtual Reality (VR) footage of Guam for the first time, distributing reusable 2,000 VR goggles to visitors. It also featured the upcoming Visit Guam 2018 "InstaGuam" theme with a Social Networking Service (SNS) photo wall, aiming to add more GVB Instagram and Facebook followers.
An exclusive Håfa Adai Award ceremony for San-Ai 2017 Image Girl Rui Kumae was highlighted at the Guam booth. As a model for Japan's top swimwear manufacturer, Kumae received a special award for her efforts to promote Guam. She spoke about her experience of participating in the United Guam Marathon earlier this year.
Additionally, Japan's top suitcase/bag brand ACE had a special presentation of "How to pack smart for your trip to Guam." ACE and GVB Japan had collaborated in a joint promotion during April-May 2017, featuring Guam at ACE's more than 100 retail stores nationwide.
Guam businesses supported at expo
Local businesses and travel agents were also a part of Team Guam to further promote the island at the tourism expo. They were comprised of the Japan Guam Travel Association (JGTA), Hotel Nikko Guam, Sheraton Laguna Guam, Hilton Guam Resort & Spa, Pacific Star Resort & Spa, Red Door Productions, Lam Lam Tours, Holiday Tours Micronesia, H.I.S., Nippon Travel Agency, Micronesia Hospitality Inc., Pacific Micronesia Tours, Skydive Guam, and the Pleasure Island Group (T Galleria by DFS, Outrigger Guam Beach Resort, SandCastle, Globe, Dusit Thani Guam Resort, UnderWater World, Sea Grill, Sky Lounge, the Plaza, Hard Rock Guam and IHOP Guam).
"Guam was represented very well at the tourism expo," said GVB Vice President Antonio Muña, Jr. "What we've learned at this expo is crucial to the continued growth and development of our visitor markets. You can count on our team to come out in full force next year to invite all potential visitors and highlight the very best our island has to offer."
Media Contact: JOSH TYQUIENGCO - Public Information Officer