News Releases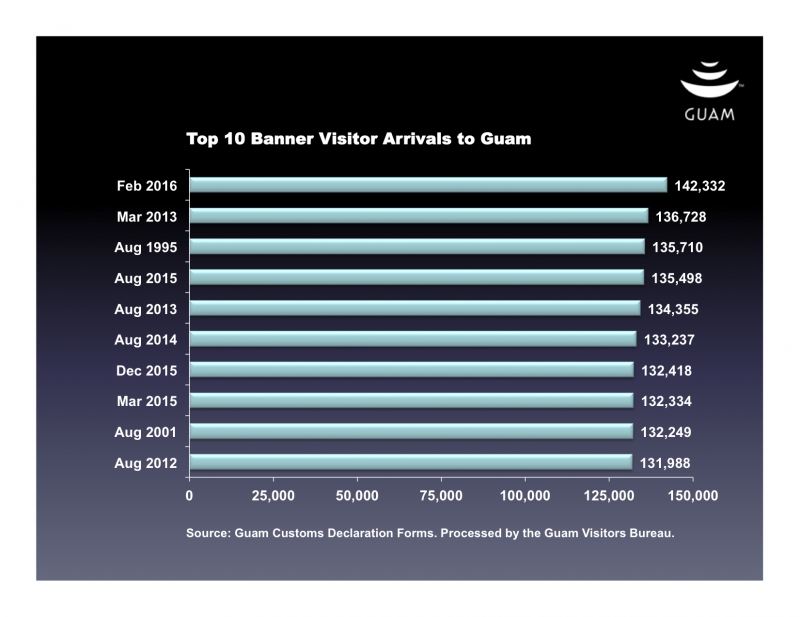 "Tourism arrivals have reached a new pinnacle for the number of visitors recorded in a month's time thanks to the continued efforts of the Guam Visitors Bureau and its partners in the tourism industry, including the airlines and hotels. I look forward to seeing what else is in store for our Visit Guam 2016 year as we put our Chamorro culture and Håfa Adai spirit at the forefront."
 – Governor Eddie Baza Calvo
Visitor numbers continue to shatter past records
Guam welcomed 142,332 visitors in February 2016.
That is the most arrivals in a single month in Guam's tourism industry. It exceeds March 2013, which held the previous record with 136,728 visitors. In comparison with February 2015, this is a 12.9% increase.
The new milestone marks another record shattered. January 2016 became the best January of all time for arrivals and 2015 was the best year in our island's tourism history with more than 1.4 million visitors welcomed to our shores.
Arrivals from Korea, Guam's second largest market, also peaked with 41,576 visitors. About 7,000 visitors from the Armed Forces, via sea arrivals, contributed to February's record numbers.
"It's an exciting time to visit Guam and our tourism numbers are proving many other people from around the world agree there's something special about our island paradise," said GVB General Manager Nathan Denight.
"While we are pleased with the growth in arrivals, there are some challenges we face in Japan with the weakening yen and Japanese travelers still choosing domestic travel. Another challenge is our hotel room inventory. We need more rooms. This is an important component of the Tourism 2020 plan that needs to be addressed and we commend those in the hotel industry, such as Ken Corp., for stepping up to meet that challenge."
"As we celebrate Chamorro month, we continue to promote our unique culture and heritage to all of our visitor markets in the spirit of inafa'maolek," said Lt. Governor Ray Tenorio. "While preparations for the PATA Annual Summit and Festival of Pacific Arts are underway, I want to thank GVB, our tourism partners and the community for doing their part to make Guam the best place to live, work and visit!"
Summary of arrivals
Guam welcomed 142,332 visitors in February 2016, which is a 12.9% increase when compared to the previous year. Total Fiscal Year-to-Date arrivals have also increased by 11.1%.
GVB continues to work with its partners to stimulate more growth in the Japan market with various campaigns and marketing strategies.
Arrivals from Japan have slightly decreased by 3.2%, while Korea arrivals increased by 31.2%.
Thanks to charters for the Chinese Lunar New Year, the People's Republic of China grew by 21.5%, while Taiwan showed a 0.4% increase.  Other visitor markets that also showed growth and diversification include the CNMI by 20.7%, U.S. mainland by 6.4% and Hawaii by 3.3%. In addition, Europe arrivals grew by 31.7%, while the Philippines rose by 22.3%, and Hong Kong arrivals increased by 11.8%.
Media Contact: JOSH TYQUIENGCO - Public Information Officer