News Releases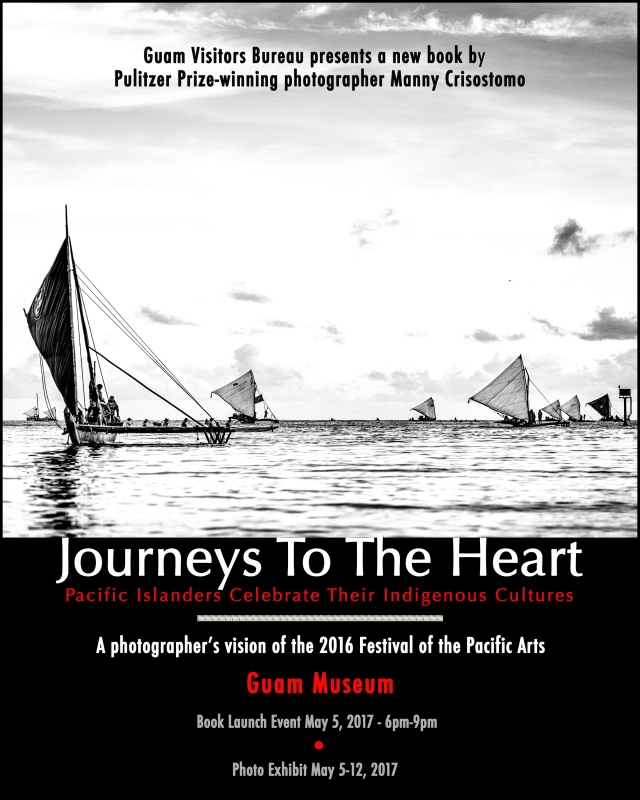 GVB presents "Journeys to the Heart" by Pulitzer Prize-winning photographer Manny Crisostomo
(Hagåtña, Guam ) The Guam Visitors Bureau (GVB) announces that a new book by Pulitzer Prize-winning photographer Manny Crisostomo will launch on May 5, 2017 at the Guam Museum from 6 p.m. to 9 p.m.
Entitled, "Journeys To The Heart: Pacific Islanders Celebrate Their Indigenous Cultures," the over 200 page limited edition book highlights the two weeks that Guam hosted the prestigious Festival of Pacific Arts (FestPac) from May 22-June 4, 2016. Also known as the Olympics of Pacific Island Culture, FestPac brought 25 island nations and territories together in the capital city of Hagåtña.
"There was a magic and spirit of camaraderie in being a part of the Festival of Pacific Arts," said Crisostomo. "It was inspiring to see this event and fulfilling to document it. I invite everyone to join me for the book launch and also check out the photo exhibit."
In addition to the book launch, a photo exhibit by Crisostomo will be on display at the Guam Museum from May 5-12.
"We're happy to work with Manny on this commemorative project to capture the vision and magnificence of FestPac through his eyes," said GVB President and CEO Nathan Denight. "It's the perfect way to remember this once-in-a-lifetime event and share Guam's story with the rest of our brothers and sisters of the Pacific."
Media Contact: JOSH TYQUIENGCO - Public Information Officer