News Releases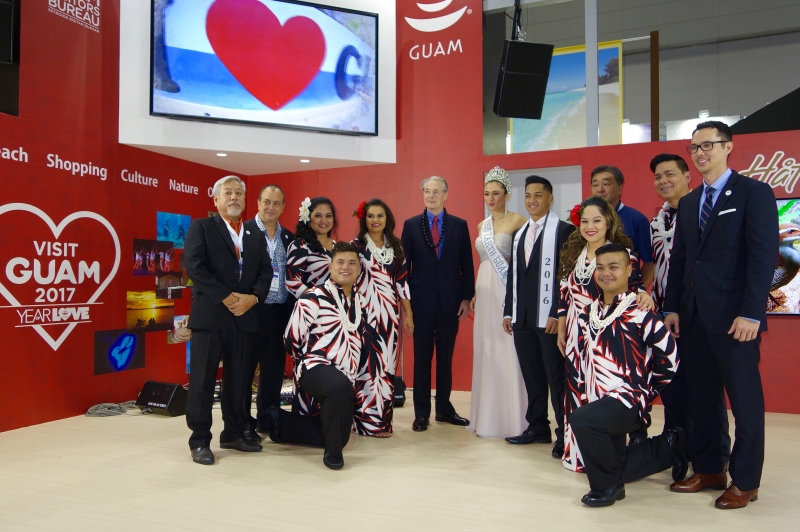 (Tokyo, Japan) Guam is joining over 150 countries and regions from around the world over the next three days for the return of the JATA Tourism EXPO. This annual expo is the world's leading global tourism event that draws thousands of travel agents, international media and the public to the Tokyo Big Sight. This year's theme of "Be part of the world. Travel." is focused on giving a taste of travel destinations through exhibits that feature food, dance, music and performances.
At the opening ceremony on Thursday, JATA Chairman Hiromi Tagawa stated that tourism is now a pillar for Japanese economic growth. He also mentioned that Japan wants to revitalize overseas travel and encourage tourism exchange focused on culture and sports.
"Japan is Guam's top source market and JATA is the most important tourism event in Japan. We use this event to showcase our unique 4,000 year old Chamorro culture and Håfa Adai spirit, as well as meet with our top tourism partners," said GVB President and CEO Nathan Denight. "The discussion of key topics this year at JATA such as sustainability, culture, sports and events is already an integral part of GVB's Tourism 2020 strategic plan. What we're learning at this expo is crucial to the continued growth and development of our visitor markets."
In addition to forums centered on the Meetings, Incentives, Conventions and Exhibitions (MICE) market, sports and sustainable tourism development, Guam also has a strong presence among an estimated 1,600 exhibition booths being featured. Performances from Jesse and Ruby, Pa'a Taotao Tano and the Guam Chamorro Dance Academy will give visitors a chance to experience the Chamorro culture at the Guam booth, as well as weaving demonstrations throughout the expo weekend.
The island's signature sports and events are also being highlighted at the Guam booth such as the Guam Ko'ko' Road Races, United Airlines Guam Marathon and other activities planned for 2017.
Guam's businesses additionally have joined to promote the island at the Guam booth. They include the Japan Guam Travel Association (JGTA), Hyatt Regency, Hilton Guam Resort & Spa, Fiesta Resort, Hotel Nikko Guam, Royal Orchid Guam Hotel, LeoPalace Resort, Lam Lam Tours, R&C Tours, Holiday Tours Micronesia, H.I.S., Nippon Travel Agency, Micronesia Hospitality Inc., TMI, Pacific Micronesia Tours, Skydive Guam, GPO and Tumon Sands Plaza, and the Pleasure Island Group (T Galleria by DFS, Outrigger Guam Beach Resort, SandCastle, Globe, Dusit Thani Guam Resort, UnderWater World, Sea Grill, Sky Lounge, the Plaza, Hard Rock Guam and IHOP Guam.
Media Contact: JOSH TYQUIENGCO - Public Information Officer