News Releases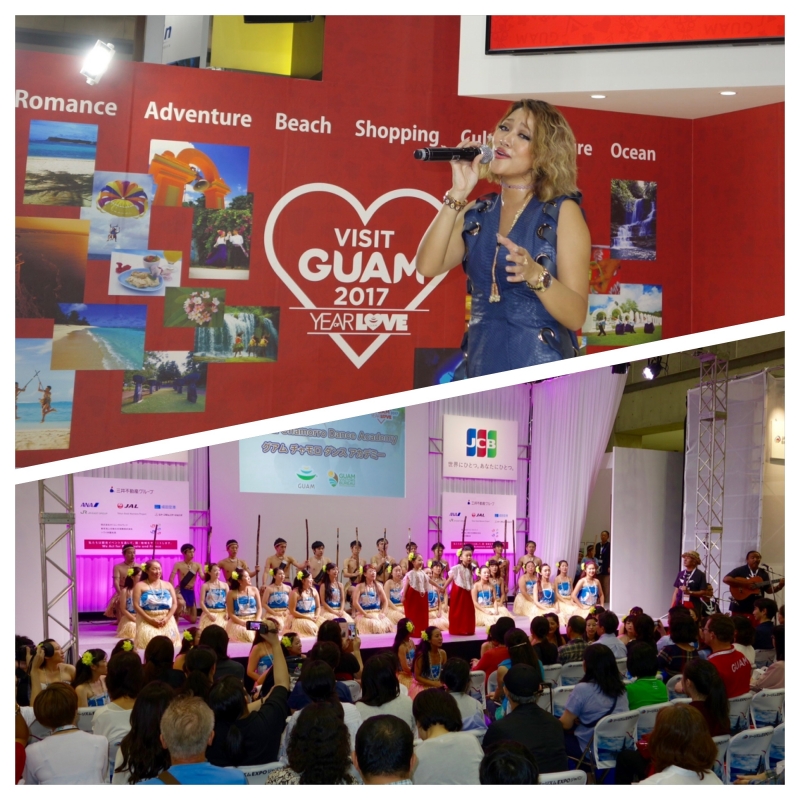 Alice and Guam Chamorro Dance Academy close out final day
(Tokyo, Japan) Guam continued to shine bright on the final day of the JATA Tourism Expo with added star power from half Chamorro, half Japanese pop sensation Alice and over 80 dancers from the Guam Chamorro Dance Academy.
Alice, who performed at the Guam Summer Beach Fest opening weekend in July, reunited with Team Guam for a special concert at the Guam booth. Her voice and dance moves brought crowds of people as she performed her original songs and a rendition of "Hagu" by Flora Baza Quan.
This year, the Guam Chamorro Dance Academy (GCDA) featured some of its youngest participants. Boys and girls, ranging from 5-10 years of age, moved the audience with their performances on both the Guam and JATA stages.
"It's been an honor teaching and seeing them perform," said Master of Chamorro Dance Frank Rabon. "These dancers may not be from Guam, but they are excited to learn and embrace our Chamorro culture and share it here in Japan."
GCDA has grown successfully since the Guam Visitors Bureau (GVB) started the program in 2009, with more than 2,000 members actively participating from six different cities in Japan. The program has also expanded to the U.S. mainland in 2014 and Taiwan in 2016.
Guam also grabbed the attention of JATA attendees with multiple performances from Jesse and Ruby and their cultural dancers for the Håfa Adai Chamorro Dance Show, weaving demonstrations from Tony Mantanona and Arthur Pangelinan during the Chamorro Craft School, photo sessions and greeting calls from Ms. Earth Guam 2016 Gloria Nelson and Mr. Guam 2016 first runner-up Edward Malaca, a Håfa Adai Quiz Show and other key presentations. Additionally, the island's signature sports and events were highlighted with GVB Community Development Officer Kraig Camacho and other Team Guam members promoting the "Sports Paradise Island" experience.
"We are working hard to maintain our footing in the Japan market while placing our Chamorro culture at the forefront," said GVB President and CEO Nathan Denight. "JATA is the opportunity to build upon those long-standing relationships we've established with our airline, hotel and tourism partners abroad and thank them for their support. Our Japan Manager Yuji Mitsumori has played a key role in bridging those relationships together and I personally want to thank him for his efforts through the years. I also want to thank Governor Calvo, Lt. Governor Tenorio, Senator Barnes, our GVB Board, management, staff and the rest of our industry partners for their support of tourism and promoting our island paradise."
Team Guam additionally included local businesses to further promote the island at the tourism expo. They were comprised of the Japan Guam Travel Association (JGTA), Hyatt Regency, Hilton Guam Resort & Spa, Fiesta Resort, Hotel Nikko Guam, Royal Orchid Guam Hotel, LeoPalace Resort, Lam Lam Tours, R&C Tours, Holiday Tours Micronesia, H.I.S., Nippon Travel Agency, Micronesia Hospitality Inc., TMI, Pacific Micronesia Tours, Skydive Guam, GPO and Tumon Sands Plaza, and the Pleasure Island Group (T Galleria by DFS, Outrigger Guam Beach Resort, SandCastle, Globe, Dusit Thani Guam Resort, UnderWater World, Sea Grill, Sky Lounge, the Plaza, Hard Rock Guam and IHOP Guam.
"Once again it was a successful year at JATA. Guam was represented and represented well," said GVB Vice President Telo Taitague. "It's so important we have our presence known here and although there are some challenges in Japan with the yen and outbound travel, we will be here again next year in full force to continue representing Guam at this amazing expo."
Guam joined over 150 countries and regions for the JATA Tourism Expo, the world's leading global tourism event. This year's theme of "Be part of the world. Travel." focused on giving a taste of travel destinations through exhibits that featured food, dance, music and performances at the Tokyo Big Sight with an estimated attendance of over 170,000 people.
Media Contact: JOSH TYQUIENGCO - Public Information Officer
*More photos from the JATA Tourism Expo 2016 Japan can be viewed by clicking here.