News Releases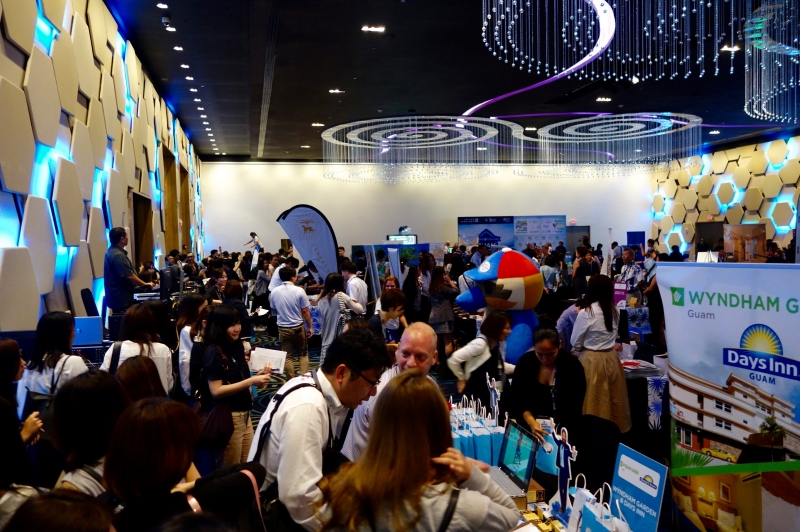 Nearly 400 Japanese travel agents and media celebrate 50 years of friendship between Guam and Japan
(Hagåtña, Guam)  The Guam Visitors Bureau (GVB) and its tourism partners have completed the largest familiarization tour in the island's history this past weekend. Nearly four hundred Japanese travel agents, media and social media influencers were on Guam from November 30 – December 3, 2017 to attend a travel trade show, welcome fiesta and experience various optional tours and activities throughout the island.
"Japan is important to Guam and has been our number one visitor market," said GVB Board Chairman Milton Morinaga. "As we celebrate 50 years since the first flight from Japan arrived on Guam, I want to thank our friends from Japan for these 50 years of friendship, as well as our tourism partners for supporting this event. "
The mega familiarization tour, or "Guam MegaFam Tour," was organized as part of the 50th anniversary of the first flight from Tokyo to Guam that brought 109 travel agents and media, officially marking the start of Guam's tourism industry in May 1967.
InstaGuam campaign presented at trade show
GVB also shared its upcoming Visit Guam 2018 campaign theme, "InstaGuam" at the trade show. The campaign showcases Guam as an instant vacation destination from major Asian cities and focuses on user-generated content sharing on Social Networking Sites (SNS) to promote the island.
The trade show additionally featured over 70 local businesses in different categories ranging from transportation, hotels, optional tours, restaurants, shopping, events and other services.
Welcome Fiesta features Chamorro culture and hospitality
Additionally, Japanese travel agents, media and Instagrammers experienced a Welcome Fiesta at Plaza de España that featured Chamorro cultural dancers, carabao rides, painting, weaving demonstrations, arts and crafts, Mr and Miss Guam greetings, Chamorro fiesta dishes, and performances from the Guam Territorial Band, Tradewinds and Mt. Carmel Phoenix Stage Band. Lt. Governor Ray Tenorio, Consul General of Japan Shinji Urubayashi, Japanese famous actor Hiroshi Tachi and members of popular Japanese girl group AKB48 also filled the event with guest appearances. It was revealed that AKB48 will be performing a concert on Guam in 2018.
JAL announces increased flights in March 2018
GVB also learned during the welcome fiesta that Japan Airlines announced it would be increasing its flight frequency by offering a second daily flight to Guam from Narita beginning March 25, 2018.
"Japan Airlines has been flying to Guam since 1970, bringing millions of Japanese visitors to our island paradise," "said GVB President and CEO Nathan Denight. We were pleased by their announcement of a 2nd flight from Narita to Guam and would like to thank Japan Airlines for their continued confidence in our destination."
Special thanks to Guam's MegaFam partners
GVB thanks Governor Eddie Calvo, Lt. Governor Ray Tenorio, Senator Dennis Rodridguez, Jr. and the Guam Legislature, Mayor John Cruz and the Hågatña Mayors Office, Guam Hotel and Restaurant Association, Japan Guam Travel Association, Japan Guam Tourism Council, Guam International Airport Authority, Mai Perez, Hank Rice, United Airlines, T'way, Alamo Rent A Car, Lam Lam Tours and Transportation, LUX Guam, Taico Rent A Car, Aqua Mind Guam, Docomo Pacific, FHP Health Center, Micronesia Assistance, Inc., University of Guam, Dusit Thani Guam Resort, Fiesta Resort Guam, Guam Plaza Resort & Spa, Guam Reef & Olive Spa Resort, Hilton Guam Resort & Spa, Holiday Resort/ Garden Villa, Hotel Nikko Guam, Hotel Santa Fe, Hyatt Regency Guam, LeoPalace Resort Guam, Lotte Hotel Guam, Onward Resort & Golf, Outrigger Guam Beach Resort, Pacific Star Resort & Spa, Pacific Islands Club Guam, Royal Orchid Guam Hotel, Wyndham Garden Guam/ Days Inn Guam, Sheraton Laguna Guam Resort, The Westin Resort Guam, Alupang Beach Club, Atlantis Submarine/ Coco Palm Beach Resort,  Baldyga Group, Ballers Gym, Discover Guam, Encore! Where the Magic Happens, Guam Auto Sports, LLC dba: Guam Adventures, Joe's Jet Ski, Kloppenburg Enterprises, Inc. dba Turtle Tours, Ocean Jet Club, Ocean Venture, Fish Eye Marine park, Pacific Historic Parks, Sky Zone Guam, Skydive Guam LLC, Tumon Aquarium, LLC, ZipGuam, Inc., American Chocolate Factory, Hard Rock Café Guam Co, Churrasco Brazilian Steakhouse & Salad Bar, Ishii Brew Company, Kento's Guam and Spa Ayualam, Tumon Bay Lobster & Grill, T Galleria by DFS, Agana Shopping Center, Guam Premier Outlets/ Tumon Sands Plaza, Guamzilla LLC, Guam Territorial Band, Mount Carmel Phoenix Stage Band, Patrick Palomo, Shannon McManus, Jonathan Glaser, Guma Kinalameten I Taotao Tano', Meskla, Guam BBQ Company, Pacific Island Månnge Pops, Pink Elephant, The Beadhive Guam, Adrian Diaz, Art Pangelinan, John Ray Aguon, Jose Roberto, Baltazar Bell, and the organizers of Konqer Obstacle Course Challenge, United Airlines Guam Marathon, Guam Ko'ko' Half Marathon, Futures Tennis, Smokin Wheels, Smokin Grills, Battle Showcase, Slammed Society, Proline Drifting Championships, Trench Challenge, Cocos Crossing and Marianas Open for being a part of the Guam MegaFam Tour. Special thanks is also given to the Guam Police Department, Guam Fire Department and GVB's Visitor Safety Officers.
Media Contact: JOSH TYQUIENGCO - Public Information Officer