News Releases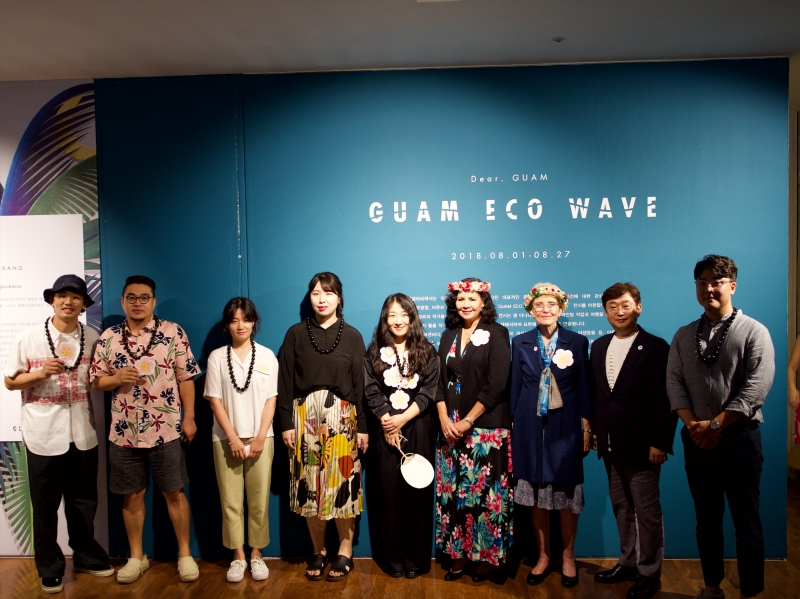 (Seoul, South Korea) A Guam-inspired art exhibition is now on full display in one of South Korea's largest department stores. The Guam Visitors Bureau (GVB) and Lotte Department Store launched the "Guam Eco Wave" exhibition at the store's Yeongdeungpo Gallery in Seoul on August 1.
The featured artwork is by accomplished Guam-based batik artist Dr. Judy Flores, as well Korean silkscreen artist Kim Gun Joo, window painting artist Kang Nanan, painter and illustrator Lee Mi Ju, illustrator Bang Ji Hee, and photographer & videographer Son Jung Chun. The Korean artists collaborated with Dr. Flores from May 26-31, 2018, to produce a series of murals in the southern village of Inarajan. The largest of the murals is of a Ko'ko' bird that was painted on a diving platform at the Inarajan natural pools.
"We're really proud of how Dr. Flores and our visiting artists teamed up to help enhance the beauty of Inarajan through this project. This exhibition captures the inspiration they felt while painting the murals," said GVB President and CEO Nathan Denight. "I want to thank Lotte Department Store for providing the space in its galleries for the artists to showcase our island from their own unique perspectives."
The art exhibition will be displayed from August to October in three of Lotte's galleries located in Youngdeungpo, Anyang, and Busan. The exhibition also highlights artwork from Guam family ambassador and child artist, Lee Hyun Jin.
"This entire project is part of our campaign in Korea that promotes the island's natural beauty through inspirational art and eco-tourism," said GVB Director of Global Marketing Pilar Laguaña. "We've supported the arts community for many years and look forward to even more collaborative efforts between local and visiting artists."
In addition to the Guam Eco Wave exhibition, GVB has helped sponsor art-related events including the annual Guam Art eXhibit (GAX), Pow! Wow! Guam, and the 2018 Guam Spraycation. The Bureau is also helping with a mural installation project planned by Shoyoroll & Friends in the coming weeks.
Follow the artists on Instagram - Nanan Kang @nanankang, Gun Joo Kim @gjdrawing, and Mi Ju Lee @mijuleee, as well as Dr. Judy Flores on facebook @judy.s.flores and Hyun Jin Lee at blog.naver.com/LKC001. Watch highlights of the artists painting in Inarajan on GVB's YouTube Channel at https://www.youtube.com/watch?v=yItiR47v9ZU.
Media Contact: JOSH TYQUIENGCO - Public Information Officer