News Releases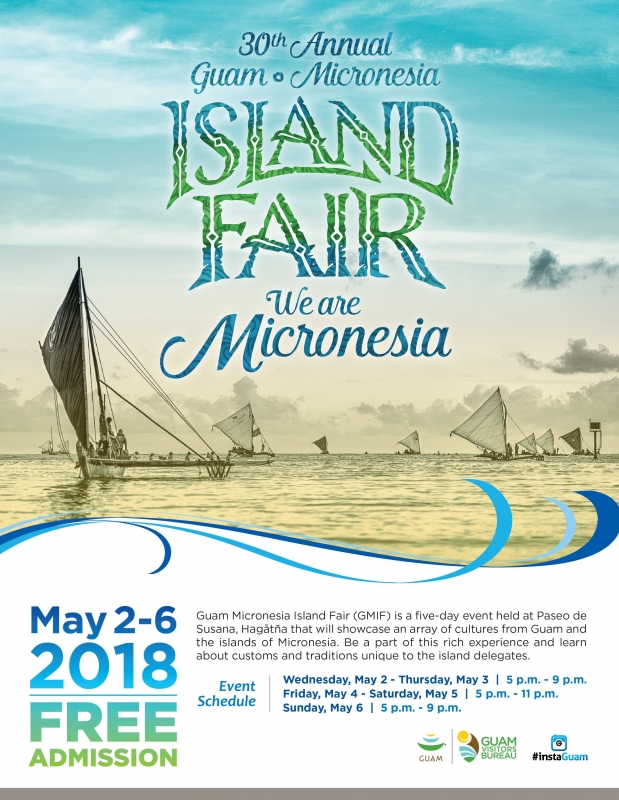 "We are Micronesia" theme to highlight regional unity
(Hagåtña, Guam) The Guam Visitors Bureau (GVB) announced today that final preparations are underway for the 30th annual Guam Micronesia Island Fair (GMIF), scheduled for May 2-6, 2018. Hundreds of cultural practitioners, artists and entertainers are expected to take part over the fair's expanded five-day schedule. The annual GVB signature event is free, open to the public and expected to draw thousands of fairgoers to the event site at Paseo de Susana in Hagåtña.
This year's theme, "We Are Micronesia", will highlight regional unity along with thirty years of cultural exchange and community engagement.
"We are very fortunate to live and work in such a culturally rich and beautiful environment. It's our distinct pleasure to be able to host this annual event for 30 years, especially as GVB also celebrates 55 years of service to the community," said GVB President and CEO Nathan Denight. "We invite our local residents and visitors to the capital city for GMIF's 30th birthday and join us in welcoming our sisters and brothers from the neighboring islands."
Confirmed delegations include Guam, the CNMI, Chuuk, Kosrae, Pohnpei, Yap, the Marshall Islands and Palau. The event will feature a variety of cultural exhibitions from the 8 delegations including performances of song and dance, crafts, demonstrations, and much more. In addition to the variety of cultural exhibits and performances, over 30 vendors will feature different food and beverages, jewelry, crafts, games, souvenirs, and other fun family-friendly activities.
Festivities will kick off on Wednesday, May 2nd from 5 p.m. to 9 p.m. alongside the Chamorro Village Night Market and will continue nightly through May 6th.
GMIF EVENT SCHEDULE
WEDNESDAY, MAY 2   5:00 P.M. TO 9:00 P.M.
THURSDAY, MAY 3      5:00 P.M. TO 9:00 P.M.
FRIDAY, MAY 4            5:00 P.M. TO 11:00 P.M.
SATURDAY, MAY 5      5:00 P.M. TO 11:00 P.M.
SUNDAY, MAY 6          5:00 P.M. TO 9:00 P.M
The 30th Guam Micronesia Island Fair is presented by the Guam Visitors Bureau, United Airlines, Bank of Guam, T Galleria by DFS, Heineken, and Pacific Islands Club. GMIF Gold sponsors include Pepsi, GTA and the Stations of KUAM. A.B. Won Pat International Airport Authority and Matson Navigation Inc. are also proud silver sponsors of this GVB signature event.
Media Contact: JOSH TYQUIENGCO - Public Information Officer