News Releases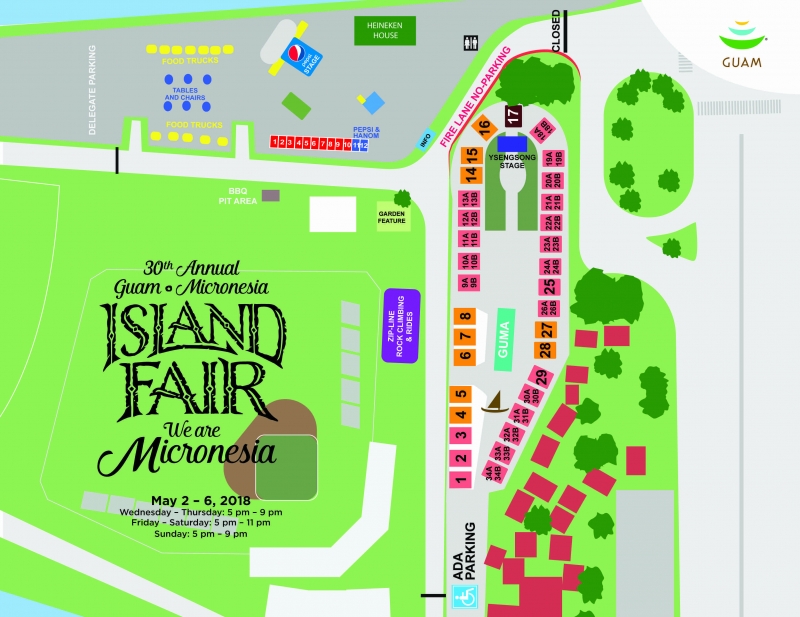 8 delegations to unite for five-day event at Paseo de Susana in Hagåtña
(Hagåtña, Guam) With less than a week until the festivities begin, the Guam Visitors Bureau (GVB) invites the entire local and global community to experience 30 years of cultural unity at the annual Guam Micronesia Island Fair (GMIF) from May 2-6, 2018. This family-friendly event is free and will take place at Paseo de Susana in Guam's capital city of Hagåtña.
This year's theme, "We are Micronesia," unites 8 delegations from the Pacific region to celebrate the unique stories of Pohnpei, Chuuk, Kosrae, Yap, the Marshall Islands, CNMI, Palau and Guam. Additionally, a delegation from Okayama City in Japan and its mayor will be attending GMIF under the Congressional Association for Friendship between Okayama City and Guam.
"Guam is very fortunate to be an economic leader and a regional hub that celebrates the diverse cultures of Micronesia. With GMIF, all of us have an incredible opportunity to immerse ourselves in our unified cultural history and move forward with our sisters and brothers from the neighboring islands," said GVB President & CEO Nathan Denight. "This year's theme celebrates all of us coming together and helping each other, while continuing the momentum and energy set forth from FestPac."
Featured booths and activities
GMIF activities will include cultural exhibits, storytelling and performances from the different delegations. Some highly anticipated events include demonstrations by the CAHA Masters (blacksmiths, carvers and weavers), live art and educational discussions at the Sakman Chamorro booth with Mario Borja. The Guam Unique Merchandise Association (GUMA) booth will feature arts and crafts by local entrepreneurs, while the Håfa Adai Pledge Nenis booth will be filled with daily cultural demonstrations and signings. More than 30 GMIF vendors will offer food and beverage concessions, souvenirs, a wall garden, games, rides, and many other family-friendly activities. A Heineken House Beer Garden will also be open and fair-goers can enjoy free wi-fi courtesy of GTA.
Local and regional music and performances highlighted
An impressive line-up of local bands featuring a wide mix of music genres are slated to perform on the Pepsi Main Stage to include Kids from Chuuk, Mixed Plate, Joe Guam, MicroNation, D.U.B., the Radiants, Prominence, Maseha Håfa, Joe Garrido, Coco and the Way Cool Heroes, Stranded in Paradise, Ryan & Martin and more.
Local celebrity group, Tradewinds, founded by Guam's premier jazz pianist Patrick Palomo, will also hit the stage along with local artists Shannon Mcmanus, Andrew Gumataotao, Jonathan Glaser and TJ Hubert. "Our music is inspired by the free spirit of Micronesia and a desire to create new expressions of Chamorro culture and we are excited to present this at the GMIF event," shared McManus. Their latest jazz album, "HINENGGE," is slated for release this summer.
Additionally, musical entertainers Kendall Titiml & Kelau Remelik from Palau, and Joe Limes from the CNMI will be performing on the Ysengsong Stage in the Pacific Village, along with a variety of other cultural performers to include Inetnon Gefpå'go, Tao Tao Lågu, Guma' Råsan Åcho' Latte, Aniten I Taotao Tano and Aniten I Famalao'an I Tano, and other island delegations.
GVB signature event to last nightly for five days
The island fair will kick off on Wednesday, May 2 at 5:00 p.m. with the opening ceremony slated for 6:00 p.m. at the Pepsi Main Stage in Paseo de Susana. The fair will operate nightly from Wednesday, May 2 to Sunday, May 6 from 5:00 p.m. to 9 p.m., with extended hours on Friday, May 4 and Saturday, May 5 from 5:00 p.m. to 11:00 p.m.
GMIF SCHEDULE      
WEDNESDAY, MAY 2            5:00PM TO 9:00PM
THURSDAY, MAY 3                5:00PM TO 9:00PM
FRIDAY, MAY 4                      5:00PM TO 11:00PM  
SATURDAY, MAY 5                5:00PM TO 11:00PM  
SUNDAY, MAY 6                    5:00PM TO 9:00PM
The 30th Guam Micronesia Island Fair is presented by the Guam Visitors Bureau, United Airlines, Bank of Guam, T Galleria by DFS, Heineken, and Pacific Islands Club. GMIF Gold sponsors include Pepsi, GTA, Hertz Triple J Rentals and Stations of KUAM. AB Won Pat International Airport Authority and Matson Navigation Inc. are also proud silver sponsors of GMIF.
Media Contact: JOSH TYQUIENGCO - Public Information Officer