News Releases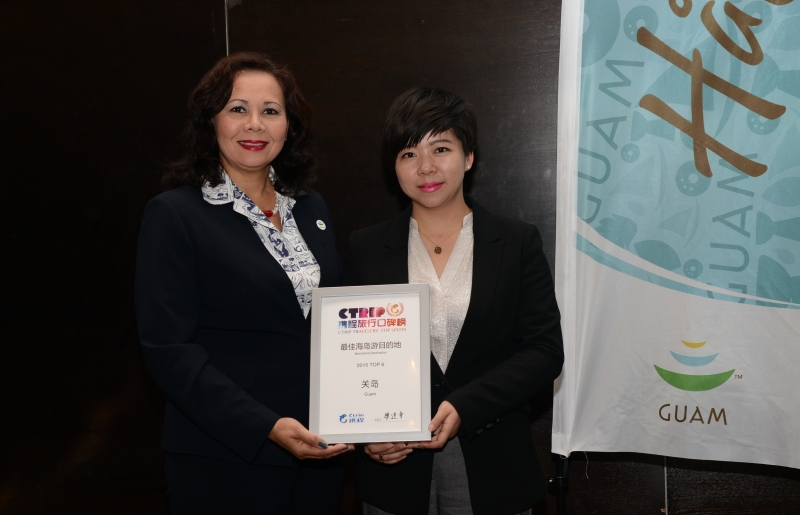 (Chengdu, China) China's leading Online Travel Agency, Ctrip, recently selected Guam as a recipient for its "Best Island Destination" award. Guam also ranked 6th among Ctrip's Top 10 list for 2015, rising from other traditional popular choices. The Best Island Destination award was given during Ctrip's 7th Annual Travel Forum, which was held in Chengdu from March 4-5, 2016.
"We are honored Guam received this award, especially since island destinations are the most popular overseas choices by Chinese visitors," said Guam Visitors Bureau Marketing Manager Pilar Laguaña. "The China market has been performing strongly in recent years and this award supports the growing awareness and popularity of Guam among Chinese travelers. Just last year, we welcomed 23,000 Chinese visitors to our island, which is a significant increase of more than 62%. With all the activities and events offered on our island paradise, we will continue to promote our Chamorro culture and Håfa Adai spirit to China for many more years to come."
Feedback from consumers on both domestic and overseas travel destinations plays a major factor in how the awards are given for the travel forum. The awards are generated by overall consideration of a large-scale public vote, which lasts for about three months and engages over four million Chinese citizens. Travel data accumulated from Ctrip represents over 25 million consumers, as well as over 14 million comments and social media shares.
Ctrip was founded in 1999 in Shanghai, China. The company is a leading provider of travel services including accommodation reservations, transportation ticketing, packaged tours and corporate travel management. 
Media Contact: JOSH TYQUIENGCO - Public Information Officer