News Releases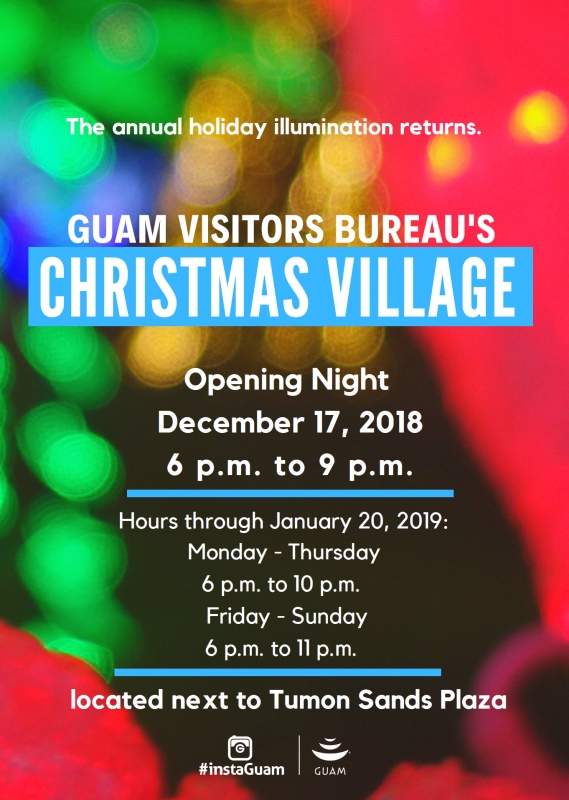 (Tumon, Guam) The Guam Visitors Bureau (GVB) invites the island community and its visitors to experience the magic of the holiday season with the return of the GVB Christmas Village on December 17, 2018, located next to Tumon Sands Plaza.
The theme for the annual holiday illumination project is called, Holiday Tide-ings, and incorporates Guam's marine life and the ocean. The theme celebrates Guam's heritage and culture by reinterpreting the manger scene with Chamorro icons and symbols. The public can look for an ocean themed tunnel at the GVB Christmas Village that will take visitors to several themed areas of underwater habitats.
"The GVB Christmas Village is just one of the ways tourism gives back to the community with this beloved annual tradition," said GVB President and CEO Nathan Denight. "We thank our island residents and visitors for supporting our top industry and invite everyone to check out the Christmas Village through January 20th."
The GVB Christmas Village opening night will begin at 6 p.m. with a tree lighting ceremony. Parking is available at the Tumon Sands Plaza. The village will be open nightly from 6 p.m. to 10 p.m. Monday to Thursday and 6 p.m. to 11 p.m. Friday to Sunday through January 20, 2019.
Media Contact: JOSH TYQUIENGCO - Public Information Officer