News Releases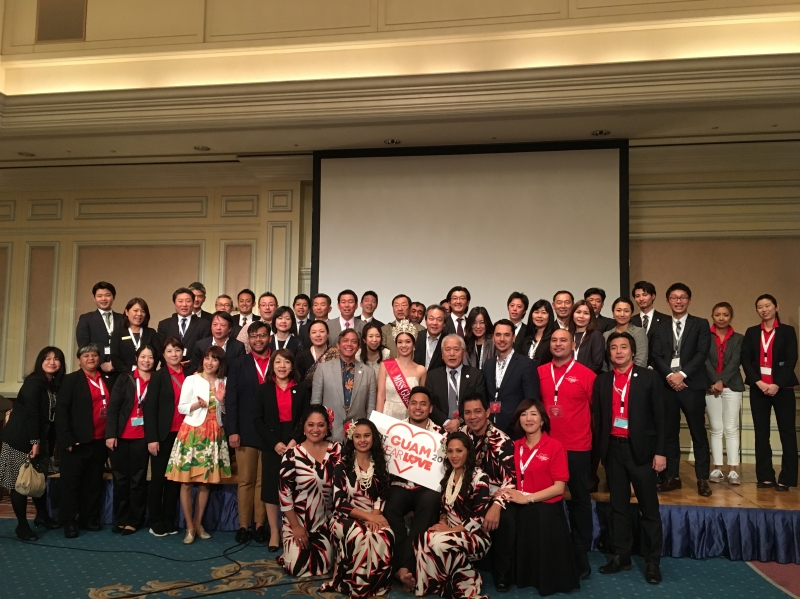 Former Yomiuri Giants baseball star promotes Guam
(Tumon, Guam) The Guam Visitors Bureau (GVB) and its industry partners recently returned from Japan after completing a Tourism Summit tour in the cities of Sapporo, Sendai, Fukuoka, Tokyo, Nagoya, and Osaka from March 14-24, 2017.
"The purpose of hosting these tourism summits in various Japanese cities was to provide an update on the Guam product and give opportunities for Guam's tourism stakeholders like hotels, airlines and tours to engage and strengthen business relationships with the Japan travel trade," said GVB President and CEO Nathan Denight. "We hoped to motivate travel agents and renew their interest in our island paradise."
Travels trade professionals were given a taste of Guam's unique Chamorro culture and food through cultural performances and servings of local cuisine. They also were presented with GVB's latest marketing programs and promotions. Additionally, a special media conference was held in Tokyo that featured Mr. Kazutomo Miyamoto, a former professional baseball player for the Yomiuri Giants, and his wife Mrs. Miyamoto, a former Miss Asia Pacific Japan. The couple just purchased a home in Guam and shared their love for the island. The audience was left with genuine and rich content of Guam travelogues about food, shopping and relaxation.
"Through the hard work of our team, we were able to meet with 450 travel agents and nearly 90 international media during our tourism summit tour," said GVB Board Chairman Milton Morinaga. "We're also very appreciative of Guam's industry partners and businesses that made the time to share some of the island's exciting services and offers. It helps build upon our connection between the people of Japan and Guam."
Participating vendors of the Tourism Summit tour included Outrigger Guam Beach Resort, Alamo Rent A Car, Alupang Beach Club, Underwater World, Sea Grill, Westin Resort Guam, Avis Rent A Car, Onward Beach Resort, Guam Plaza Resort and Spa, Guam Reef & Olive Spa Resort, Couture Naoco Wedding, Ken Premier Hotel, Sheraton Laguna Guam Resort, Hilton Guam Resort and Spa, Hotel Nikko Guam, Starts Guam Golf Resort & Hotel, T'Way, T Galleria Guam by DFS, Dusit Thani Guam Resort, Delta Airlines, Japan Airlines, Hyatt Regency Guam, Hertz Asia Pacific, Baba Corporation, Atlantis Submarine, Coco Palm Beach Resort, Nippon Rent A Car, Baldyga Group, SandCastle, The Beach, BIG Sunset Dinner Cruise, Ride the Duck, Fiesta Resort Guam, Fish Eye Marine Park, Holiday Resort & Spa Guam, Garden Villa Hotel, United, Lam Lam Tours & Transportation, Leo Palace Resort Guam, Royal Orchid Guam Hotel, Lotte Hotel Guam, Watabe Wedding, Guam Premier Outlets, Tumon Sands Plaza, and the Japan Drone League.
Media Contact: JOSH TYQUIENGCO - Public Information Officer