News Releases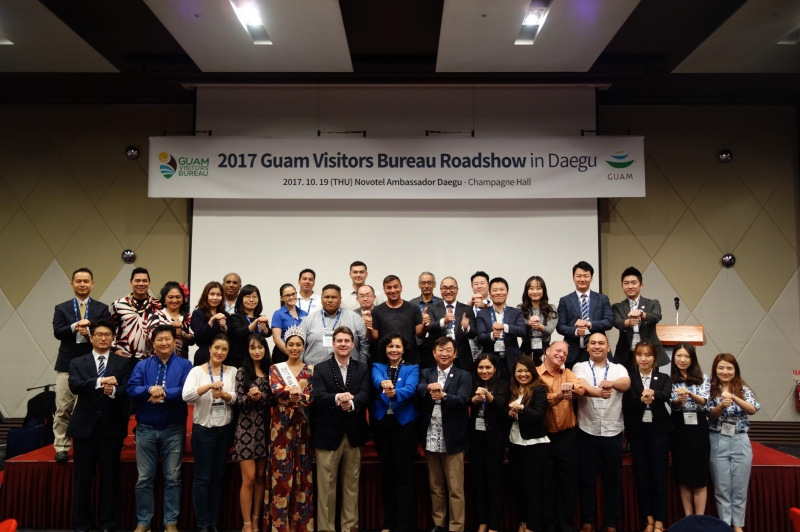 Over 300 travel professionals meet with Team Guam in Busan, Gwangju, and Daegu
(Tumon, Guam) The Guam Visitors Bureau (GVB) successfully connected with over 300 travel agents, airlines and travel professionals during its three-day road show event in South Korea. The roadshows took place in the cities of Busan, Gwangju and Daegu from October 17-19, 2017. It was also the first time GVB had extended its roadshow to Gwangju to introduce Guam as a destination and engage in new relationships with travel agents in the region.
GVB Board Director and Korea Marketing Committee Vice Chairman Brad Kloppenburg led the Guam delegation, which consisted of GVB President & CEO Nathan Denight, GVB Director of Global Marketing Pilar Laguaña, GVB Marketing Manager of Korea Colleen Cabedo, GVB Community Outreach Coordinator Kraig Camacho, Miss World Guam 2017 First Runner-Up Annania Nauta, Musicians Jesse Bias and Ruby Santos, GVB Korea staff, and 27 Guam members representing 16 companies.
"I really want to thank our GVB members that participated in this roadshow. Korea is a very important source market for Guam. There's definitely a level of excitement and energy that is being generated between our industry partners to diversify our growth in-market and bring more Korean visitors to our island," said GVB President Denight.
"I am confident this roadshow will inspire more joint marketing activities in the future and drive the progress of Guam's tourism to even greater heights," added Mr. Kloppenburg.
GVB Sales Manager Ji-hoon "Jay" Park conducted the Guam presentation providing agents with an overview of the destination, the Chamorro culture and tourism economics emphasizing on the Korean market and its importance to Guam's tourism. GVB's campaign theme for 2018, "InstaGuam" was also unveiled during the presentation. The campaign highlights Guam as an instant vacation destination from major Asian cities and focuses on user-generated content sharing on SNS channels.
"Through this annual roadshow, we would like to showcase what our island paradise can offer to Korean visitors and to highlight our range of products and programs," said Ms. Laguaña.
A travel mart was held after the Guam presentation to stimulate new business opportunities and provide marketing tools for travel agents to build packages and sell Guam as a destination. Air Busan, T'way, Jin Air, Jeju Air and participating Guam members also donated round-trip tickets and other prizes to those that attended the event.
GVB would additionally like to thank Nissan Rent-A-Car, Guam Plaza Hotel, Fish Eye Marine Park, Hyatt Regency Guam, Dusit Thani Guam Resort, Wyndham Garden Guam, Bayview V LLC, Pacific Star Resort & Spa, Tumon Bay Lobster & Grill, Alupang Beach Club, Outrigger Guam Beach Resort, Royal Orchid Guam, Baldyga Group, Ocean Venture, Westin Resort Guam, and IT&E for participating in this year's Korea Roadshow.
Media Contact: JOSH TYQUIENGCO - Public Information Officer