News Releases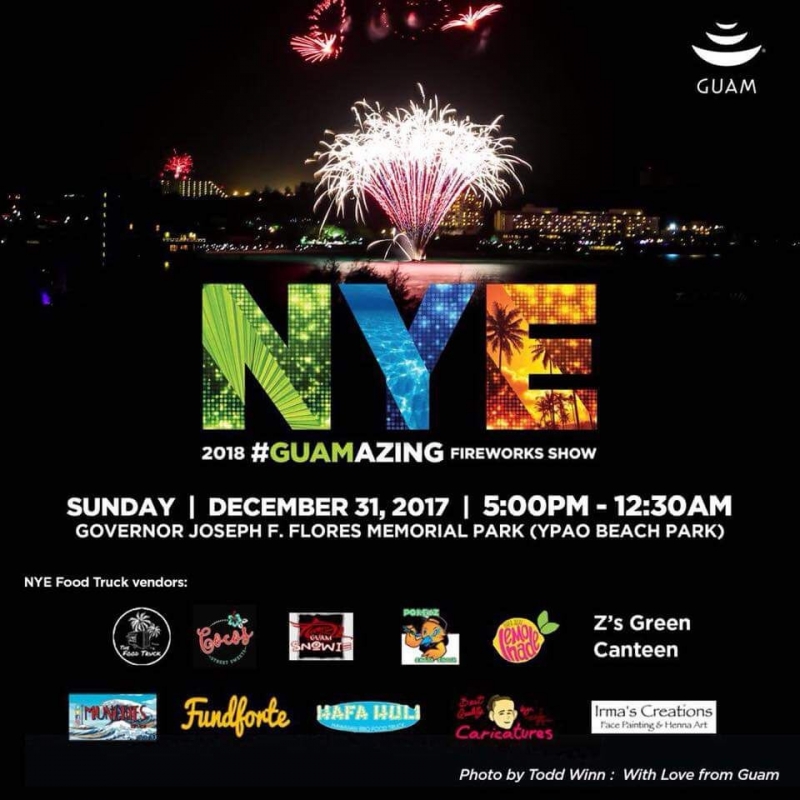 The #Guamazing New Year's Eve Fireworks Show Event is a family-friendly, GVB signature event
(Tumon, Guam) The Guam Visitors Bureau (GVB) invites residents and visitors to celebrate the New Year together in the heart of Tumon from 5:00 p.m. on Dec. 31 to 12:30 a.m. on New Year's Day, Jan. 1, 2018. The #Guamazing New Year's Eve Fireworks Show Event at the Gov. Joseph F. Flores Memorial Park (Ypao Beach) in Tumon will include live entertainment, children's activities, food and beverages for sale by Guam's favorite food trucks, and will conclude with a live fireworks show at midnight. Admission is free.
"We invite everyone to join GVB on the beach for Guam's official fireworks show -- the #Guamazing New Year's Eve Fireworks Show," said Nate Denight, GVB's President and CEO. "This show is another great example of how our tourism dollars work for Guam and how our community works together to offer fun, family-friendly events that we can all enjoy."
Event program - 5:00 p.m. to 12:30 a.m.:
Food trucks will offer food and beverages for sale near the Main Pavilion:
Coco's Street Sweets
Pokeyz Snack Shack
Guam Snowie
Hafa Adai Lemonade
Hafa Huli
Munchies Guam
Z's Green Canteen
Sip and Dip
Family friendly entertainment and activities are planned throughout the night:
Special performance from Ryan Imamura and Martin Honor
Live DJ with Victorious Falan
Face painting and balloon art by Fundforte
Live caricatures by BJ Bell
Henna art by Irma's Creations
#Guamazing New Year's Eve fireworks show will be synchronized to music
The first 200 participants to arrive will receive a free Guam beach mat.
The #Guamazing New Year's Eve Fireworks Show will launch precisely at midnight to a synchronized music soundtrack and will last approximately 10 minutes. The artful display of 3,000-3,500 shells of fireworks will be launched from the ocean side, lighting up the sky over Tumon Bay. The best vantage points to enjoy the show will be at the Ypao Beach Park, anywhere along the beaches in Tumon, from ocean view hotel rooms along Tumon Bay, and from higher ground along the eastern shoreline.
"This will be an unforgettable fireworks show! GVB would like to thank the #Guamazing Fireworks Show sponsors for their support -- Matson Navigation, Inc., Pacific Islands Club, T Galleria by DFS, Hilton Resort & Spa, Cabras Marine Corporation, and United Airlines," said GVB Vice President Antonio Muña, Jr.
Denight added, "We are looking forward to welcoming the New Year in a safe environment. The Guam Police Department, Guam Fire Department and our Visitor Safety Officers will be present at the event to help keep everyone safe as they celebrate the New Year. Please bring your family and enjoy your time on the beach."
The public is asked to observe the beach advisory, which will be in effect the entire day for Sunday, Dec. 31 to keep attendees safe. Swimming is not advisable in the waters between Ypao Beach and Pacific Islands Club on New Year's Eve.
Parking will be available at the Governor Joseph F. Flores Memorial Park's north parking lot and the Ypao south side parking lot next to the Hilton.  Alcohol will not be sold at this event. GVB is encouraging everyone who attends to help keep Guam clean, pick up after themselves and recycle their waste. Recycle bins will be available throughout the park.
Media Contact: JOSH TYQUIENGCO - Public Information Officer