News Releases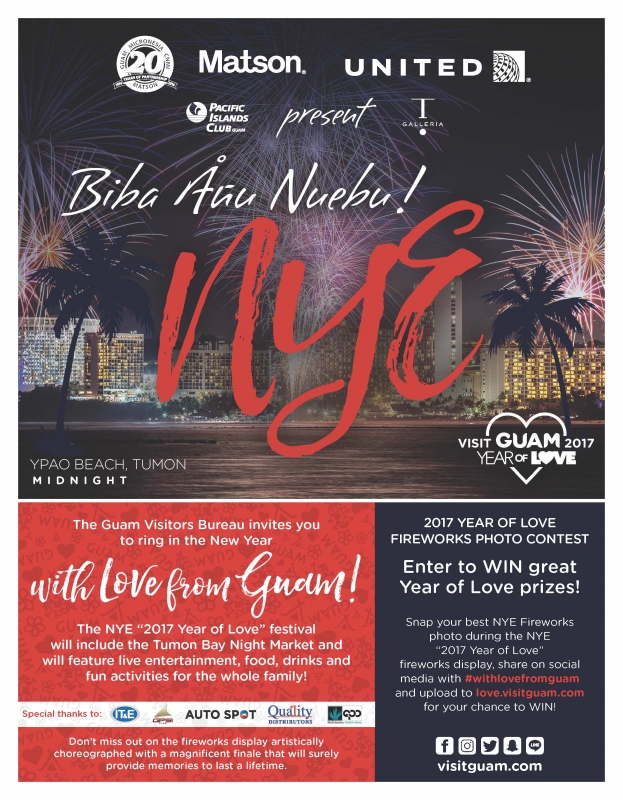 "Year of Love" kicks off at stroke of midnight
(Tumon, Guam) The Guam Visitors Bureau (GVB), along with Matson and United Airlines, present the return of the annual New Year's Eve fireworks show. This GVB signature event will be held at the Governor Joseph F. Flores Memorial (Ypao Beach) Park on Saturday, December 31st and will include the Tumon Night Market as part of the New Year's Eve "Year of Love" festival from 6 p.m. to midnight.
"Guam has had an amazing year full of record breaking visitor arrivals and events that have showcased different aspects of our unique Chamorro culture and island hospitality. The New Year's Eve fireworks display is a gift to our residents and visitors for supporting Guam's top industry and to show them how tourism works for all," said Nathan Denight, Guam Visitors Bureau President & CEO. "As we enter the 'Year of Love' in 2017, we encourage everyone to share what they love about our island paradise and invite them to watch fireworks with their loved ones in Tumon Bay."
Live entertainment, food, drinks and family-friendly activities will be featured into the New Year at the Tumon Night Market as part of the celebration. Among the highlighted entertainment is ukulele virtuoso Kris Fuchigami, who will perform two 45-minute sets at 8 p.m. and 11 p.m. The world-renowned musical artist from Hawaii was nominated for the prestigious Na Hoku Hano Hano Award for the Instrumental Composition of the Year category with his original composition of "Moemoea."
The New Year's Eve fireworks show will last 10 minutes and will be synchronized to a special musical presentation at the stroke of midnight. A fireworks photo contest has also been launched. Participants are encouraged to share their best photos of the New Year's Eve fireworks with #withlovefromguam on social media and upload it to love.visitguam.com for a chance to win a one night stay for two at the Hilton Guam  Resort & Spa.
The New Year's Eve fireworks show is presented by Matson and United Airlines. The GVB signature event is also sponsored by Pacific Islands Club, T Galleria by DFS, Hilton Guam Resort & Spa, Hyatt Regency Guam and Docomo Pacific. GVB thanks Tumon Night Market sponsors Galaide Professional Services Incorporated Guam, IT&E, Guam Autospot, Quality Distributors and Guam Premier Outlets. Special thanks is also given to the Guam Police Department (GPD), Guam Fire Department (GFD), GVB's Visitor Safety Officers (VSOs) and the Department of Parks and Recreation (DPR).    
Media Contact: JOSH TYQUIENGCO - Public Information Officer