News Releases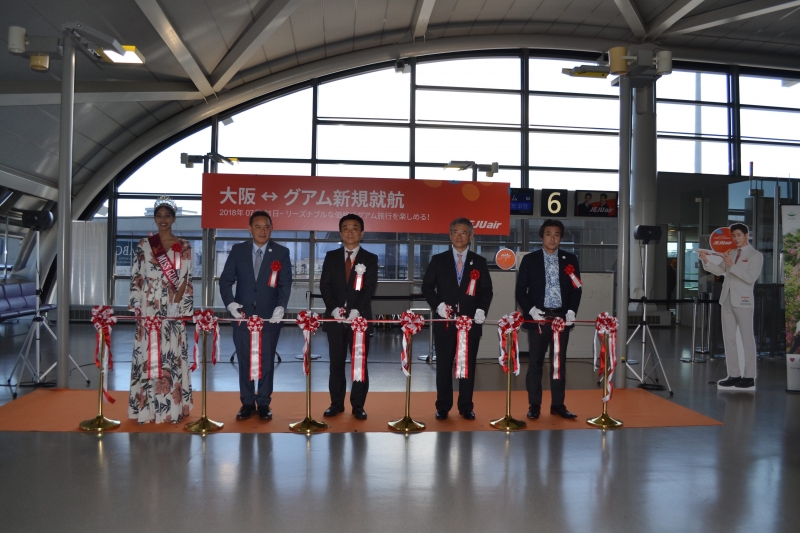 (Osaka, Japan) The Guam Visitors Bureau (GVB) has announced that Jeju Air's flight service between Osaka and Guam began on July 21, 2018. Korea's largest low cost carrier (LCC) is now operating six flights weekly with a Boeing 737-800 aircraft to meet increasing Japanese traveler demand to Guam.
"We're excited for this new service from Jeju Air. Guam will have about 5,700 more seats on a monthly basis and a total of 20 weekly flights that will operate from Osaka to accommodate high demand of the Kansai market," said GVB Board Director and Japan Marketing Committee Chairman Bill Nault. "This is the second direct flight operation from Japan by the Korean carrier company, and we believe that this is due to their confidence in our island as a potential overseas destination."
Nault took part in the flight inauguration ceremony over the weekend at the Kansai International Airport (KIX) before passengers departed to Guam, along with GVB Acting Japan Director Hiroshi Kaneko, and Miss Asia Pacific International Guam 2017 Annania Pangelinan Nauta.
"The new flight service launched at the perfect time with the start of Japan's summer holiday season and gives more options for Japanese travelers to travel to Guam from this region," said GVB President and CEO Nathan Denight. "I would like to thank Jeju Air for their continued partnership, as well as the A.B. Won Pat International Airport Authority and my GVB team for their efforts to make this new route a reality."
Jeju Air's Osaka (KIX) – Guam (GUM) flight schedule:
Japan Outbound
Route: KIX-GUM
Flight: 7C3172
Departure: 10:10AM
Arrival: 2:40PM
Day: Monday, Tuesday, Wednesday, Thursday, Saturday, Sunday
Japan Inbound
Route: GUM-KIX
Flight: 7C3171
Departure: 3:40PM,
Arrival: 5:55PM        
Day: Tuesday, Thursday, Saturday
Route: GUM-KIX
Flight: 7C3171
Departure: 3:40PM
Arrival: 6:20PM        
Day: Wednesday, Friday, Sunday
Aircraft: B737-800 # of seats: 189 Economy seats 
Media Contact: JOSH TYQUIENGCO - Public Information Officer