News Releases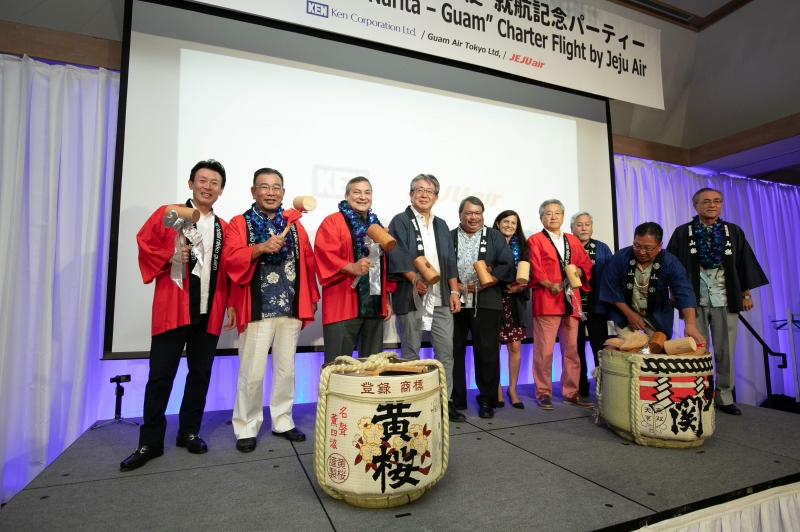 Jeju Air charter service made possible through GVB & GIAA incentive program
(Tumon, Guam) The Guam Visitors Bureau (GVB) has announced Ken Real Estate has partnered with Korean Low Cost Carrier (LCC) Jeju Air to launch daily non-stop charter flights from Narita, Japan to Guam. The daily charters began service on October 28, 2018, for one year with the option to extend. The charter flights are operated on a Boeing 737-800, which has 185 economy seats.
Ken Real Estate decided to take on charter flights to help keep Japanese visitor arrivals up after Delta Airlines discontinued flight service to Guam earlier this year.
"The first partnership flight between Ken Corporation Group and Jeju Air has finally been realized. We thank the many individuals and companies that have contributed to this successful venture, including JTB, HIS, Rakuten and others," said P.H.R. Ken Micronesia Inc. President Mitsuo Sato. "We also thank the Governor of Guam, Guam International Airport Authority, Guam Visitors Bureau and all other partner companies. Thank you to President Lee of Jeju Air. With our chartered flights, we hope the number of visitors from Japan to Guam will remain steady."
The charter flight service was made possible through GVB and GIAA's airline incentive program.
"We are grateful for Ken Corporation's commitment to Guam with the hotels they've invested in and now, airlines. They genuinely believe in helping the local economy flourish and in the continued recovery and growth of the Japan market," said GVB President and CEO Nathan Denight. "These charters contribute to the 471 total charter flights that Guam will receive through the end of this calendar year. What's also exciting is that our island will welcome more than 600 scheduled total charter flights in 2019, bringing in more than 119,000 seats."
Ken Corporation owns five hotels on-island, including Hotel Nikko Guam, Hilton Guam Resort & Spa, Sheraton Laguna Guam Resort, Pacific Islands Club and the Hyatt Regency Guam. The company is planning to open another hotel, the Tsubaki Tower, next year in 2019.
Media Contact: JOSH TYQUIENGCO - Public Information Officer