News Releases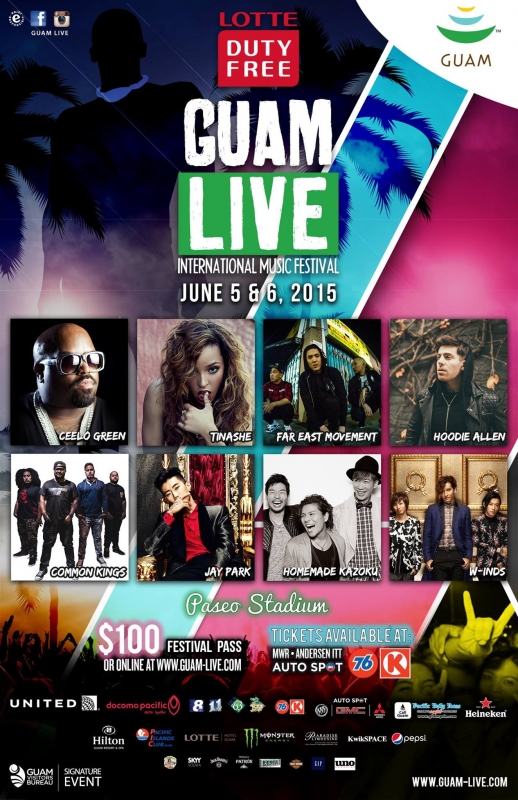 (Tumon, Guam) The Guam Visitors Bureau (GVB) is proud to announce that in addition to the overseas talent that will perform at the 2nd Annual Lotte Duty Free Guam Live International Music Festival, fans will be treated to a special performance by local hip hop artists from Guam as part of this year's concert experience.
Four of Guam's most popular rappers will be performing both nights at Guam Live, taking place on June 5-6, 2015 at the Paseo Stadium in Hagatña. These rap artists include, John "Meta" Sarmiento, Yoshi "Fullcast Flip", Francis "F-Up" Sunga, and Jedd "Snoozix" Antonio.
John "Meta" Sarmiento is a University of Guam (UOG) alumnus, who achieved his Bachelor's and Master's Degree in Education. He was inspired to transition to hip hop after building strong lyrical creativity through his experiences in youth poetry slams. "Full Cast Flip" is a local DJ at the Pentagon that has helped to grow Guam's hip hop community through viral social media videos. "F-Up" Sunga and "Snoozix" represent the newest generation of local hip hop as they are fresh out of high school with a strong data base of musical content and a growing local fan-base. Recently, Meta and Full Cast Flip had the opportunity to compete in Los Angeles, California, against other top U.S. rappers for TeamBackPack, a rapidly growing hip hop community.
"GVB is always happy to feature local artists and give them an opportunity to showcase their talent at events that promote our island," said GVB General Manager Nathan Denight. "With the different genres of music being featured at Guam Live 2015, fans can expect a festival experience unlike any other in Micronesia."
BATTLE OF THE BANDS
More local talent will also be featured on the Guam Live stage on both nights. To determine which on-island acts will open for the GVB signature event, the Heineken Battle of Bands competition has been ongoing between different local bands. The current semi-finalists are To the Hill, Empty Pockets and Kids on Bikes.
Empty Pockets and Kids on Bikes will battle tonight, May 28, 2015 at the Venue around 10 p.m. to determine who will advance to compete against To The Hill. The finals for the Heineken Battle of Bands will be on Saturday, May 30, 2015 at the Venue, also beginning at 10 p.m.
GET YOUR TICKETS NOW
The official all-star line-up for Guam Live includes 5-time Grammy Award winning artist CeeLo Green, Common Kings, Far East Movement, Tinashe, Hoodie Allen, Jay Park, "w-inds.", and HOMEMADE KAZOKU. Festival Pass Tickets are available at all 76/Circle K locations, MWR, Andersen ITT, Guam AutoSpot or online at www.guam-live.com.
The Lotte Duty Free Guam Live International Music Festival is presented by United Airlines, Docomo Pacific, 76/Circle K, The Stations of KUAM, Guam AutoSpot, Call Guam and Heineken. This event is also brought to you by Hilton Guam Resort and Spa, Lotte Hotel, The Pacific Islands Club, Pacific Star Resort and Spa, Monster Energy, Kwikspace, Paradise Limousines, and Pepsi. Special thanks is also given to Uno Magazine, Jack Daniel's, Jamaican Grill, Crowns Guam, The Gap, Fence Masters, Patron Tequila and Sky Vodka.
For immediate updates, follow Guam Live at facebook.com/GuamLiveIMF.
Media Contact: JOSH TYQUIENGCO - Public Information Officer