News Releases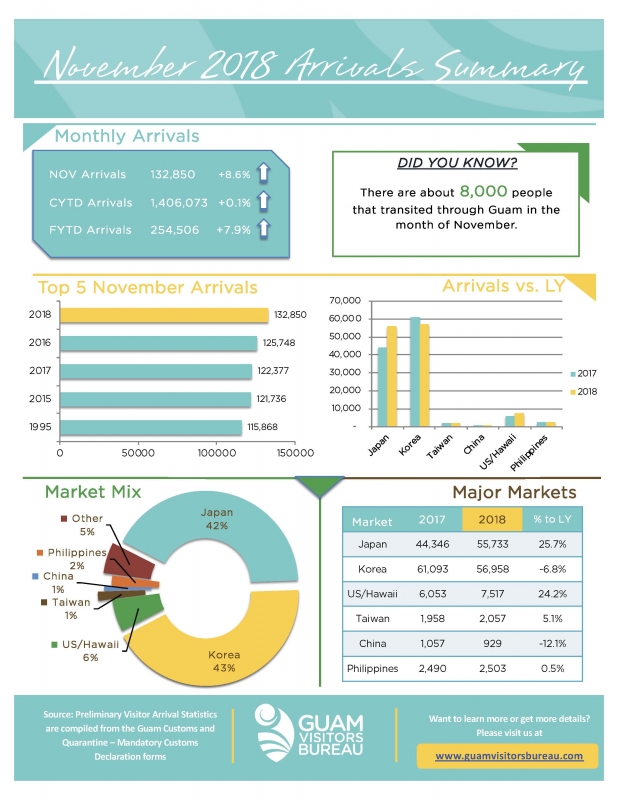 "It's great to see Guam's tourism industry continue to grow, especially in our Japan market.  I thank the women and men in our tourism industry for their hard work every single year.  As we transition to the next administration, Ray and I will continue to support our top economic driver and cheer on the 21,000 workers who share our Håfa Adai spirit and Chamorro culture with the world."
- Governor Eddie Baza Calvo
November arrivals smash 2016 record
Guam welcomed 132,850 visitors for the month of November, an increase of 8.6% when compared to the previous year. This year's arrival numbers broke the 2016 record of 125,748 visitors, claiming the top November spot in Guam's tourism history.
"We're proud of the efforts being made to grow and sustain our tourism industry," said Lt. Governor Ray Tenorio. "Si Yu'us ma'åse to our community for supporting tourism and the visitors who choose to travel to our beautiful island. We hope everyone has a safe and enjoyable holiday season."
The arrival of the Coral Princess cruise ship helped boost arrivals for the month, bringing in 1,900 visitors to the island's shores. The days leading up to the K-Pop Concert on Guam event also showed an increase in visitors coming to Guam.
Fiscal Year to date arrivals are also up 7.9%, while Calendar Year to date arrivals have remained steady with a slight increase of 0.1%.
"GVB is committed to the recovery of the Japan market and the growth and diversification of our other source markets that will ultimately benefit the people of Guam," said GVB President and CEO Nathan Denight. "While we've achieved many milestones, the work continues to entice airlines to open more routes to Guam, promote our unique Chamorro culture, and improve our island."
There were additional charter flights and flight frequency in various airlines. Japan visitor arrivals showed the most improvement with a 25.7% increase when compared to 2017. Other markets that showed growth and diversification include the U.S. by 24.2%, Taiwan by 5.1%, the Russia Federation by 84.8% and the Philippines by 0.5%.
The airline incentive program from GVB and Guam International Airport Authority (GIAA) continues to be a successful platform for attracting more seats to Guam.  United added four more flights a week that began December 2 between Guam and Nagoya. T'way also recently announced its Nagoya-Guam service that will begin on December 29. Offering 189 seats on a B737-800, the daily flights will provide nearly 35,000 seats to Guam through October 2019.
Guam will receive a total of 471 charter flights from Japan by the end of 2018. More than 600 charters are anticipated in 2019. Ken Real Estate and Korean Low Cost Carrier (LCC) Jeju Air started daily charter flights from Narita to Guam on a Boeing 737-800 on October 28.
Media Contact: JOSH TYQUIENGCO - Public Information Officer