News Releases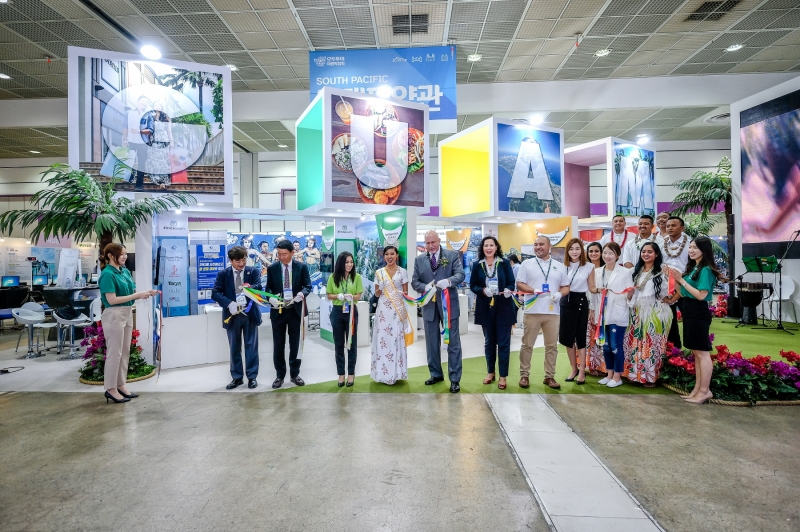 (Seoul, South Korea) The Guam Visitors Bureau (GVB) took part in one of Korea's largest outbound travel shows of the year and learned demand to visit Guam remains strong among Korean visitors.
The 2018 Modetour Travel Mart was held for the first time at the Coex Center in Seoul from August 30 to September 2 and welcomed 110,700 visitors — a 50% increase from the previous year. Consumers at the annual event were able to book their travels at the Coex Center with 2,158 sales related to Guam tour packages recorded on-site — a 44% increase in sales compared to last year.
During the four-day travel show, GVB's Research Department randomly asked 500 Korean consumers to participate in a self-administered survey at the Guam Pavilion booth. Preliminary survey results revealed that 73% of respondents have never been to Guam with 41% of respondents planning to travel to Guam this year and about 43% planning to travel to Guam in the next two to three years. Only 4.5% noted they do not plan on traveling to Guam.
"Korea continues to be a growing visitor market for our island thanks in large part to Modetour. Guam is happy to be one of the largest presenters at Modetour Travel Mart. Attendees also grow year-on-year, as well as sales, which in turn boosts our island's economy," said GVB President and CEO Nathan Denight. "With our research team on-site, we've collected data that shows us there is strong demand to travel to Guam with first-time Korean visitors. That's important as we continue to grow and sustain a healthy Korea market and maintain the valuable connections we've developed."
Korea Marketing Committee Chairman Bart Jackson led the Guam team, which was mostly comprised of Guam hotels and local businesses. The modern and colorfully designed Guam Pavilion booth highlighted the incredibly successful #instaGuam campaign, featured performances by cultural group Guma Taotao Tano' and provided photo opportunities with Miss World Guam 2017 Destiny Cruz and Che'lu' the Ko'ko' bird. Visitors also engaged in games and live posts on GVB's social media platforms to learn more about Guam.
"We thank all of our partners that were a part of the Modetour Travel Mart. This event provides a great opportunity for us to promote Guam's upcoming events and activities, like our Shop Guam campaign that now runs year-round," said GVB Director of Global Marketing Pilar Laguaña. "With the winter months approaching and affordable flight options from our airline partners, we've been promoting Guam as the perfect choice for Korean families, couples and friends seeking an instant vacation to escape the cold. Our presence in this market is very important in pushing our tourism industry forward."
GVB extends a warm thank you to its Guam partners and co-exhibitors — Core Tech Resort LLC dba Bayview Hotel and Oceanview Hotel & Residences, Dusit Thani Guam Resort, Guam Plaza Resort & Spa, Hilton Guam Resort & Spa, Hotel Nikko Guam, Hyatt Regency Guam, Lotte Hotel Guam, Onward Beach Resort, Outrigger Guam Beach Resort, Pleasure Island, Royal Orchid Guam Hotel, Sheraton Laguna Guam Resort and Westin Resort Guam — for contributing to Guam's impact at the 2018 Modetour Travel Mart.
Media Contact: JOSH TYQUIENGCO - Public Information Officer