News Releases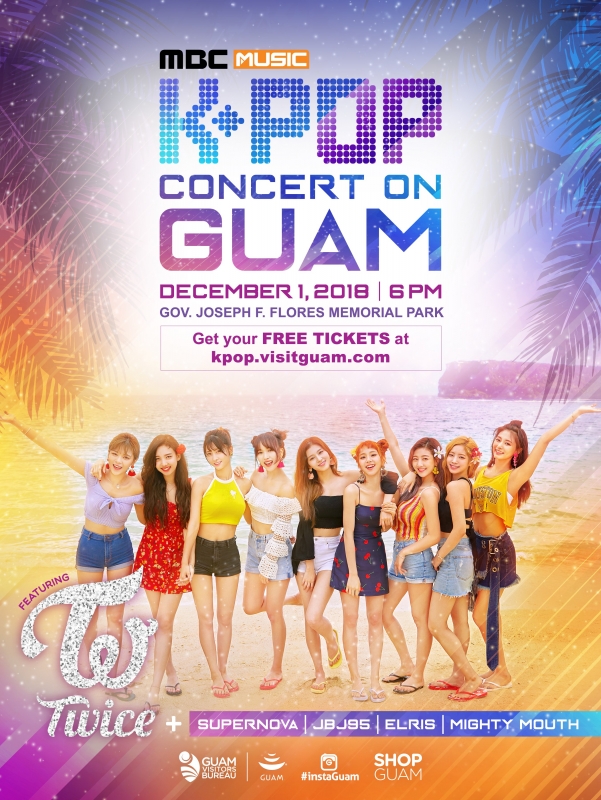 Guam to host free K-Pop music festival at world-famous Ypao Beach
(Tumon, Guam) The Guam Visitors Bureau (GVB) is proud to announce it has partnered with MBC, one of Korea's top broadcasting networks, to produce and broadcast a music event on Guam featuring five (5) top K-Pop groups including TWICE, Supernova, JBJ95, ELRIS and Mighty Mouth.
The MBC Music K-Pop Concert on Guam will be held at the Governor Joseph F. Flores Memorial Park, better known as Ypao Beach Park, on Saturday evening, December 1, 2018.  The concert is absolutely free and open to the public. It will be broadcasted to millions of viewers across Asia and to millions more globally online.
"We are very pleased to be able to hold the MBC Music K-Pop Concert on Guam, where a beautiful natural environment and an emerald-colored sea are combined. We hope that this concert will be a happy time for many people around the world to come together and enjoy. Please make beautiful memories among family, friends, and lovers on the beautiful island of Guam. Thank you again for making this great opportunity with the unstinted help of Guam Visitors Bureau," said MBC MUSIC+ Music Center Director and Producer Soo-Hyun Hong.
"We invite our island residents and visitors to attend the biggest free K-Pop music event of the year that will be held at the world-famous Ypao Beach," said GVB President and CEO Nathan Denight. "K-Pop has taken the world stage by storm with millions of fans traveling to see their favorite artists. We're very excited to partner with MBC to bring TWICE and other top acts to Guam. This is a great way to celebrate Guam's Chamorro culture and Håfa Adai spirit during the holiday season while showcasing how music tourism works for the island."
For more details or to get free tickets to the MBC Music K-Pop Concert on Guam, log on to kpop.visitguam.com.
About TWICE:
TWICE is a South Korean girl group formed by JYP Entertainment through the 2015 reality show Sixteen. The group is composed of nine members: Nayeon, Jeongyeon, Momo, Sana, Jihyo, Mina, Dahyun, Chaeyoung, and Tzuyu. The group debuted on October 20, 2015, with the extended play (EP) The Story Begins.
Twice rose to fame in 2016 with their single "Cheer Up": the song charted at number one on the Gaon Digital Chart and became the best-performing single of the year. It also won "Song of the Year" at two major music awards shows—Melon Music Awards and Mnet Asian Music Awards. Their subsequent single "TT", from their third EP Twicecoaster: Lane 1, claimed the top spot for four consecutive weeks. The EP was the highest-selling K-Pop girl group album of 2016, which sold 350,852 copies by year-end. Within 19 months after debut, Twice has sold over 1.2 million units of their four EPs and special album.
The group officially debuted in Japan on June 28, 2017, under Warner Music Japan with the release of their first compilation album titled #Twice. The album debuted at number two on the Oricon Albums Chart, which sold 136,157 copies within seven days, the highest first week album sales of a K-pop artist in Japan in two years. It was followed by the release of Twice's first original Japanese maxi single titled "One More Time" in October. With over 250,000 unit sales, Twice became the first Korean girl group that earned Platinum certification by the Recording Industry Association of Japan (RIAJ) for both album and CD single in the same year.[12][13] Twice ranked third on Top Artist category of Billboard Japan's 2017 Year-End Rankings. The music video for TWICE's Halloween-themed 2016 hit has now reached 400 million views on YouTube, becoming the first K-Pop girl group MV to accomplish the feat.
About MBC:
MBC (Munhwa Broadcasting Corporation) is one of the leading South Korean television and radio network companies. Established on December 2, 1961, MBC is a Korean terrestrial broadcaster which has a nationwide network of 17 regional stations. Though it operates on advertising, MBC is a public broadcaster, as its largest shareholder is a public organization, The Foundation of Broadcast Culture. Today, it is a multimedia group with one terrestrial TV channel, three radio channels, five cable channels, five satellite channels and four DMB channels.
MBC is headquartered in Digital Media City (DMC), Mapo-gu, Seoul and has the largest broadcast production facilities in Korea including digital production center Dream Center in Ilsan and indoor and outdoor sets in Yongin Daejanggeum Park.
About GVB:
The Guam Visitors Bureau (GVB), a non-profit membership corporation, is the official tourism agency for the U.S. Territory of Guam. Among its responsibilities, GVB is charged with setting tourism policy and direction; developing and implementing Guam's tourism strategic and marketing plans; managing programs and activities that enhance and showcase Guam's people, place and culture in order to deliver an incomparable visitor experience; and coordinating tourism-related research, planning, events and outreach activities. GVB serves as a critical bridge linking government, the tourism industry, visitors and the local community, and aims to contribute successfully to a good quality of life for residents through tourism.
GVB is the first tourism office in the United States to win the President's "E" Award, the highest recognition any U.S. entity can receive for making a significant contribution to the expansion of U.S. exports.
About Guam:
Guam is "Where America's Day Begins." As the largest and southernmost island in the Marianas, this unincorporated territory of the United States has a rich 4,000-year-old history and culture based on its indigenous Chamorro people. Guam is about 8 miles wide and 32 miles long and located 900 miles north of the equator in the Western Pacific. Commonly referred to as "America in Asia," Guam is about a three to five hour flight away from Japan, Korea, the Philippines, Hong Kong, and Taiwan. Its capital city is Hagåtña (formerly Agana).
Guam has celebrated over 50 years of tourism, welcoming more than 1.5 million visitors to its shores annually. With pristine beaches, friendly people and wholesome island hospitality, this unique world-class destination has tropical weather conditions year-round. Guam also has a plethora of activities to keep visitors from all over the world entertained since tourism is its top economic driver. From snorkeling, scuba diving, skydiving, golfing, hiking, luxury shopping, international and local cuisine dining, and key cultural and signature events, there is much to do and see on Guam.
For more information about this island paradise, log on to www.visitguam.com.
Media Contact: JOSH TYQUIENGCO - Public Information Officer