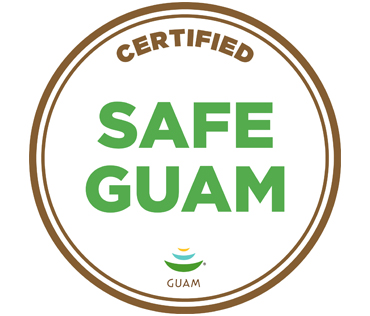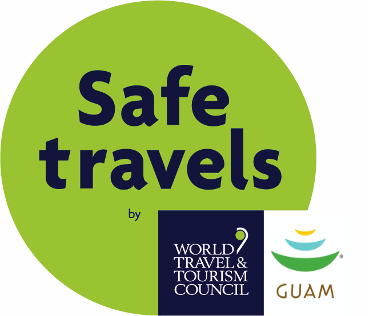 What is Guam Safe Certified?
Guam Safe Certified is the official local designation, which identifies establishments that have the utmost compliance, care, and pride in following government health and safety guidelines.
What is the WTTC Safe Travels stamp?
The World Travel & Tourism Council (WTTC) created the world's first ever global safety and hygiene stamp. The specially designed Safe Travels stamp enables travelers to recognize destinations around the world which have adopted health and hygiene global standardized protocols.
The Guam Visitors Bureau (GVB) serves as the official organization to advocate for the implementation of these protocols in Guam and to issue the Safe Travels stamp to local businesses.
Why should I obtain the Guam Safe certification & the Safe Travels stamp?
Guam Safe Certified is a branding initiative that endorses your business' health and safety practices at the local level. This certification also spreads island pride!
The Safe Travels initiative is globally recognized & instills a level of confidence in both the tourism trade and international visitors.
Using both logos is an important and powerful symbol for tourists, industry workers and other stakeholders, as it represents a consistent, global approach to COVID-19 safety practices.
Both initiatives help to rebuild trust among tourists and within the tourism sector, so that it is possible to enjoy safe travel as Guam eases restrictions and the industry reactivates.
Qualified businesses can use these logos on their website, emails, and digital channels can generate business materials, videos, social media campaigns and other communication relative to the attention of the COVID-19 health emergency and safe business protocols.
The Guam Safe certification and Safe Travels stamp are free of charge and available to all eligible businesses in Guam who implement health and hygiene protocols, as outlined by the WTTC.
Application Process
Step 1: Review the WTTC's Terms & Conditions.
Step 2: Fill out and submit the application form below and upload your business reopening health and hygiene protocols.
Step 3: Once your application and reopening protocols have been verified and approved, you will receive an email from GVB with a .zip file containing the Guam Safe Certified & WTTC 'Safe Travels' logo package and branding guidelines.
GVB Statement
"In recent months, all sectors of Guam's tourism industry have gone to great lengths to ensure the health and safety of their guests. From our airport, hotels, restaurants, attractions, and much more, we've proactively adapted to the global standard and "new normal" of travel. These unprecedented times have helped us recognize that the recovery and resiliency of Guam's economy relies on our shared responsibility to provide a safe travel experience.
The Guam Visitors Bureau (GVB) is proud to announce that our island's protocols have been recognized by the World Travel & Tourism Council (WTTC). The WTTC's Safe Travels stamp is yet another way to demonstrate our commitment to the health of tourists and locals alike.
Through consistency in the messaging and implementation of these protocols, we hope to instill confidence in our source markets as we welcome visitors to the island again."
Carl T.C. Gutierrez
President & CEO,
Guam Visitors Bureau
Optional Training
For free online training on staying healthy and safe at work, please visit https://openwho.org/courses/COVID-19-and-work.
Need Help?
To read more about WTTC's Global Protocols, click here.
For assistance with the application process, please contact Ms. Gabbie Franquez via email at gabryel.franquez(gvb)visitguam.org. For media inquiries, please contact Mr. Josh Tyquiengco via email at josh.tyquiengco(gvb)visitguam.org.