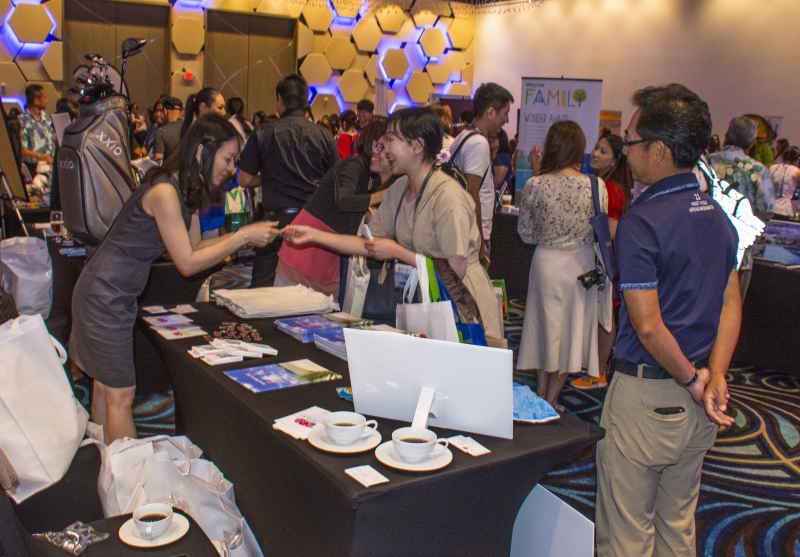 (Tumon, Guam) The Guam Visitors Bureau (GVB), along with the Guam Hotel & Restaurant Association (GHRA), Japan Guam Travel Association (JGTA), United Airlines, Japan Airlines, t'way, Korean Air, Jin Air & Cebu Pacific teamed up to conduct the annual Håfa Adai Study mega familiarization tour (HAST) from June 30- July 3, 2017, to help travel trade professionals from the island's various visitor markets learn more about Guam.
HAST is a Guam familiarization tour specifically for travel agents, airline representatives and travel trade media that began in 1993. Participants from this year's tour had opportunities to engage with travel industry participants from 4 of Guam's core tourism market sources, which included Japan, Korea, China and the Philippines. The tour focused on Meetings, Incentives, Conventions and Exhibitions (MICE), group planners and leisure travel product planners.
"The Håfa Adai Study Tour Mega FAM had an all-day trade show event at Dusit Thani Guam Resort where participating industry partners conducted Business to Business (B2B) meetings with over 80 travel planners, travel industry media and airline representatives from Japan, as well as over 50 travel planners and media from the markets," said GVB President and CEO Nathan Denight. "We appreciate all of the delegates for taking the time out of their busy schedules to visit our island paradise and experience the hospitality of our people."
In addition to this trade show, the over 130 HAST delegates took part in hotel inspections and familiarization tours that showcase Guam's offerings and tourist attractions during their stay.
"The overall goal for this tour was to provide a Guam product update in terms of facilities, tours and culture. GVB is connecting overseas travel trade representatives with local stakeholders for product and future business development," Denight added.
GVB would like to thank GHRA and Guam's hotel partners to include Dusit Thani Guam Resort, Garden Villa Hotel, Guam Reef & Olive Spa, Hilton Guam Resort, Hotel Nikko Guam, Lotte Hotel Guam, Onward Beach Resort, Outrigger Guam Beach Resort, Pacific Star Resort and Spa, Sheraton Laguna Guam Resort, and The Westin Resort Guam for hosting these special guests.
Guam's retail and optional tour industry once again showed tremendous support by providing a vast array of complimentary or special discounts to their locations. Special thanks goes to Alupang Beach Club, Baba Corporation, Baldyga Group, DFS Guam, Discover Guam, Fiesta Resort Guam, Fish Eye Marine Park, Guam Plaza Hotel, Hard Rock Café, Hilton Guam Resort & Spa, Hyatt Regency Guam, Joe's Jet Ski, Jungle Jim Island Adventure, Kloppenburg Enterprises, Lam Lam Tours & Transportation, LeoPalace Guam Resort, Micronesia Mall, Ocean Jet Club, Onward Resort & Golf, Pacific Historic Parks, Pacific Star Resort & Spa, Encore, Sheraton Laguna Guam Resort, Starts Guam Golf Resort, Sea Grill & Underwater World, Two Lovers' Point, The Westin Resort Guam, and Zip Guam Inc.
HAST participants also attended the 5th annual Guam BBQ Block Party on July 1st to experience Guam's culture and traditions through its love of barbecue. The Guam BBQ Block Party was developed through the vision of Lt. Governor Ray Tenorio, who wanted to showcase Guam's world famous Chamorro barbecue cuisine and hospitality.
Media Contact: JOSH TYQUIENGCO - Public Information Officer