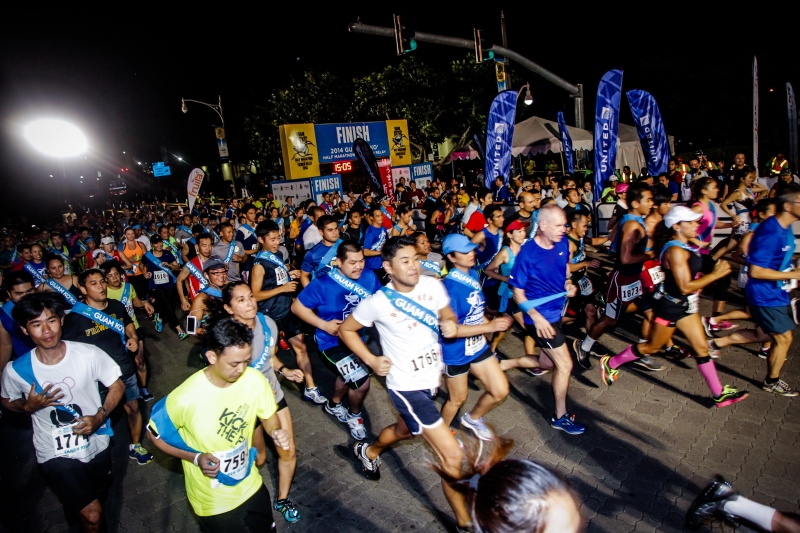 Kawarai & Uetani again take top spots in the largest ever Half Marathon on Guam
(Tumon, Guam) The Guam Visitors Bureau (GVB) along with United Airlines, Pacific Islands Club, T-Galleria by DFS, Docomo Pacific, Powerade/Fruita+, and the Stations of KUAM hosted the 2014 Guam Ko'ko' Half Marathon and Ekiden Relay today, welcoming local and international runners to this GVB signature event. The 9th Annual Ko'ko' had over 2,000 runners descend upon Governor Joseph Flores Memorial Park (Ypao), topping the previous Ko'ko' half marathon participation record.
Ko'ko' participants were greeted this morning by drummers from the Aklan Drummers Association and inspirational remarks by Governor Eddie Baza Calvo at the start of each of the races. 1,145 runners took part in the half marathon making it the largest in Guam history. 920 runners participated in the Ekiden Relay again making the Ko'ko' the largest annual Ekiden race outside of Japan. Guam welcomed visiting runners from over 7 different countries including the Philippines, Taiwan, Hong Kong, Korea, Japan, the U.S., as well as participants from across Oceania and the CNMI.  All finishers were treated to breakfast, finisher's medals, a chance to win a variety of raffle prizes as well as live entertainment, vendors, live art and cultural demonstrations at Gov. Joseph Flores Memorial Park (Ypao).
Tsukasa Kawarai finishes first in Ko'ko' Half Marathon
Kawarai from Japan again finished first, winning the half marathon with a time of 1:13:30 and Uetani, also from Japan maintained her title as the first overall female half marathoner, coming in at 1:23:02. Teriyaki Boys took first place in the Ekiden Relay with team members Keigo Kitadate,  Kai Aricayaos, Yuya Kitadate and Justin Johnson finishing with a combined time of 1:24:34. First place local half marathoners, Ryan Matienzo (male Half Marathoner) and Peri Bowman (female Half Marathoner), crossed the finish line at 1:18:14 and 1:41:21, respectively. Preliminary results can be found at http://results.chronotrack.com/event/results/event/event-8679?lc=en .
"On behalf of GVB and our Ko'ko' partners, we congratulate and thank our participants, volunteers, first responders, media partners and supporters," said Karl Pangelinan, Guam Visitors Bureau General Manager.  "We're extremely pleased with this year's record turnout and we hope everyone had a great time. We also invite you to join us again next year as we prepare to celebrate the 10th anniversary of the Guam Ko'ko' Race! Biba Guam!"
The Guam Ko'ko' Half Marathon & Ekiden Relay is also supported by Cars Plus/ Thrifty Car Rental, Market Wholesale Distributors, Synergy Studios, PayLess Markets, Tristar Terminals, Triple J Wholesale, Expressions Studios, Japan Guam Travel Association, The Score/Pacific Daily News and USO Guam.
Media Contact: JOSH TYQUIENGCO - Public Information Officer