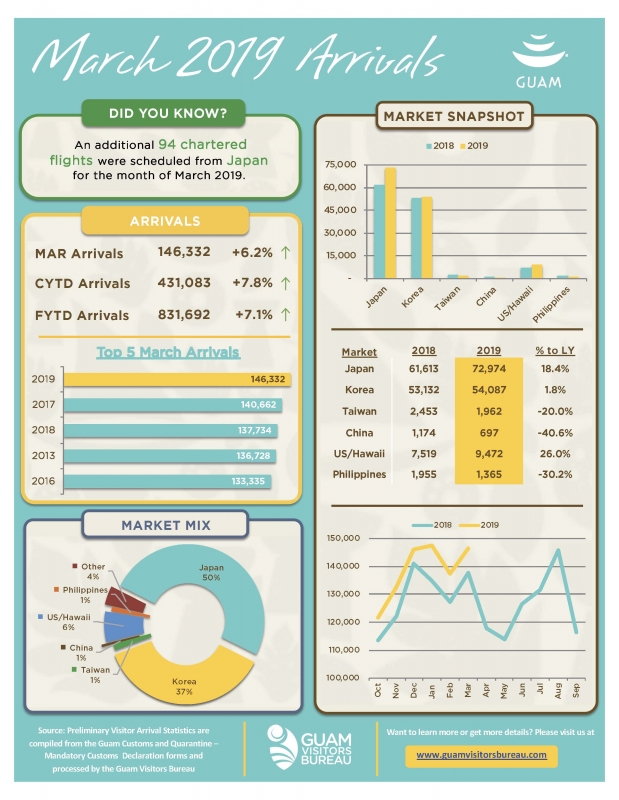 Numbers indicate rebounding Japan market
(Tumon, Guam) The Guam Visitors Bureau (GVB) has announced that March 2019 recorded the best performance for the month in arrivals with 146,332 visitors (+6.2%) welcomed to the island. This new record means that an estimated $68.3 million dollars was infused into the local economy.
The Japan market continues to improve with 72,974 visitors (+18.4%) recorded for the month. South Korea follows second with 54,087 visitors (+1.8%) that traveled to Guam. Other markets that showed growth and diversification include the United States (+26%), Russia Federation (+19.3%), Malaysia (18.2%), and India (+11.8%).
An additional 94 chartered flights were scheduled from Japan for the month of March bringing in over 17,000 more seats for the market. The charters are a direct result of the airline incentive program offered by GVB and Guam International Airport Authority (GIAA).
"We are pleased to see Japan's recovery reflected in our arrival numbers, especially as we prepare for the upcoming Golden Week travel period toward the end of April into the first week of May," said GVB President and CEO Pilar Laguaña. "I want to thank our airline partners, travel agents and stakeholders for helping to sustain demand and grow our top industry. I also want to encourage our island community to share their Håfa Adai spirit by continuing to welcome all visitors enthusiastically."
Visitor arrivals for Fiscal Year 2019 remain up at 7.1%, while Calendar Year to date numbers grew 7.8% compared to the previous year.
Media Contact: JOSH TYQUIENGCO - Public Information Officer