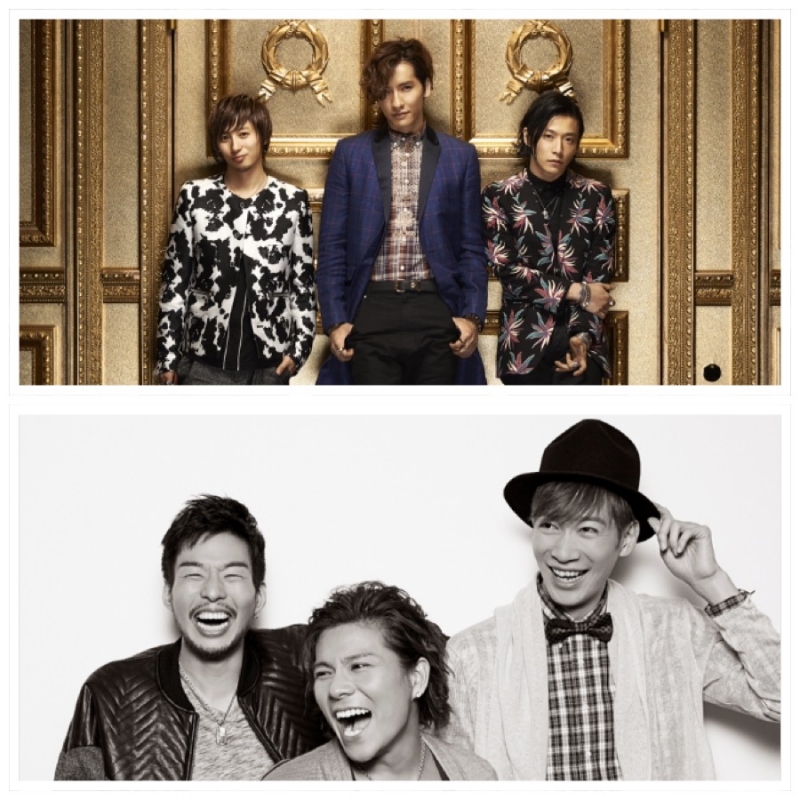 Japan's "w-inds." and "HOME MADE KAZOKU" to perform on June 6
(Tumon, Guam) The Guam Visitors Bureau (GVB) is pleased to announce the first two international acts that will be performing for the 2nd Annual Guam Live International Music Festival are from the island's top visitor market of Japan.
Japanese trio and dance vocal unit "w-inds." will be coming to Guam for the two-day GVB signature event on June 5-6, 2015.  The group began as street performers in Yoyogi Park and Shiibuya and released their first single "Forever Memories" in 2001. Since then, "w-inds." has had over 33 top 10 hits on the Oricon chart to date and received numerous awards. From 2002 to 2014, "w-inds." had conducted over 486 tours and gathered an accumulated audience of over 1.5 million. The trio is acknowledged in Taiwan, Hong Kong, Korea, Greater China, Vietnam, Thailand, and Malaysia through their tours and songs in the music charts.
In addition to "w-inds.", the members of "HOME MADE KAZOKU" loved Guam and its people so much that they are returning to the Guam Live stage for a second time. The hip-hop trio, which is made up of members MICRO(MC), KURO(MC), and U-IICHI(DJ) made a major debut in May 2004. They won acclaim as the best upcoming artist of the year in the Japanese music scene. Their song, "Thank You!!" was also used as the second ending theme of the popular anime BLEACH in 2005 and became a sensational hit. The trio also performed in San Jose, CA, Atlanta, GA and Sao Paulo, Brazil in 2014. Both "w-inds." and "HOME MADE KAZOKU" will be at Guam Live on June 6.
"In addition to Nick Jonas and Tinashe, we are thrilled that two major international acts from Japan have committed to perform at our second annual GVB signature event," said GVB General Manager Nathan Denight. "Guam is the perfect place for entertainment tourism and an event like Guam Live caters to all of our source visitor markets, as well as our local community. We encourage everyone to get their festival passes in advance as we continue to announce the rest of the line-up."
Festival passes for Guam Live are already on sale at www.guam-live.com and at all 76/Circle K Locations. GVB anticipates hundreds of international visitors for this two-day GVB signature event. Guam Live will feature pop, rock, reggae, hip-hop and island music performed by international artists from all across the globe. The Guam Live festival grounds will include Chamorro Village, Paseo Park and surrounding areas. The event is expected to draw thousands of visitors to our region, boost the local economy and help with revitalization efforts in Guam's capital city of Hågatña.
The rest of the 2015 Guam Live International Music Festival line-up will continue to be announced in the coming days. Last year, top-rated acts from all over the world performed at Paseo Stadium, such as Sublime with Rome, Matisyahu, Steel Pulse, and Guam's own Pia Mia. Talent from Guam's major visitor source markets also took the Guam Live stage including Japan's HOME MADE KAZOKU and Izah Blue, Korea's Brown Eyed Girls and NU'EST, and Taiwan's Popu Lady.
For immediate updates, follow Guam Live at facebook.com/GuamLiveIMF.
Media Contact: JOSH TYQUIENGCO - Public Information Officer