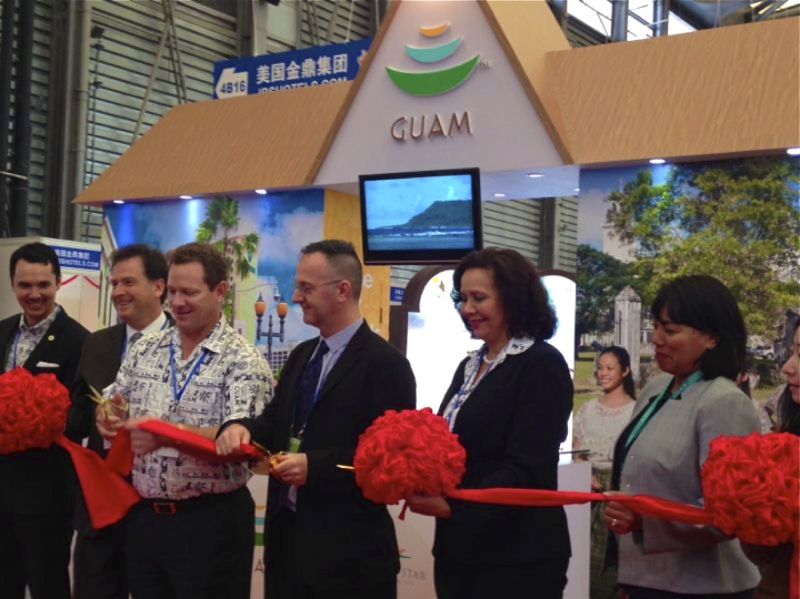 (Shanghai, China) The Guam Visitors Bureau (GVB) recently promoted the island at the annual China International Travel Mart (CITM), the largest professional travel show in Asia.
"It's great to see Guam have a strong presence at the largest travel mart in Asia," said Lieutenant Governor Ray Tenorio. "As we continue to diversify and grow our various visitor markets, it's important for us to build a great relationship with China and capture a portion of this country's outbound travel potential. As we set forth in checking off the goals in our Tourism 2020 plan, we are confident that bringing in more visitors from China will result in more jobs and investments for our island and our people."
Participants came from all sectors of the travel industry including international and domestic tourist organizations, travel agencies, hotels, airlines and travel related companies. Over tens of thousands of visitors were expected to attend the event over its three-day course from November 14-16, 2014.
Guam's tourism partners Leopalace Resort Guam, Pacific Star Resort, Aqua Suites Guam, Royal Orchid Hotel, Top Development Inc., and Easy Travel also joined the GVB delegation. The delegates networked with Shanghai travel trade and media partners to market Guam as a safe and clean U.S island resort destination.
"We are thankful for the opportunity to continue networking with our tourism partners in China," said GVB Deputy General Manager Nathan Denight. "Combined with the newly implemented 10 year visa extension policy between the U.S. and China, as well as direct flights from United and Dynamic Airways, we now have more resources at our disposal to invite Chinese visitors and spotlight Guam's tax-free shopping, outdoor activities, beautiful beaches and unique Chamorro culture and history. We forecast tremendous growth in 2015 for our China market."
Lieutenant Governor Ray Tenorio, alongside GVB Deputy General Manager Nathan Denight and Marketing Manager Pilar Laguana, were joined by Lieutenant Governor of the State of Nevada Brian K. Kolicki, Commercial Officer Eric Crowley from Consulate General of the United States of America in Shanghai, and Director of International Tourism Asia/Pacific from San Francisco Travel Association Antonette Eckert in a ribbon cutting ceremony that officially opened the Guam booth at CITM.
Media Contact: JOSH TYQUIENGCO - Public Information Officer