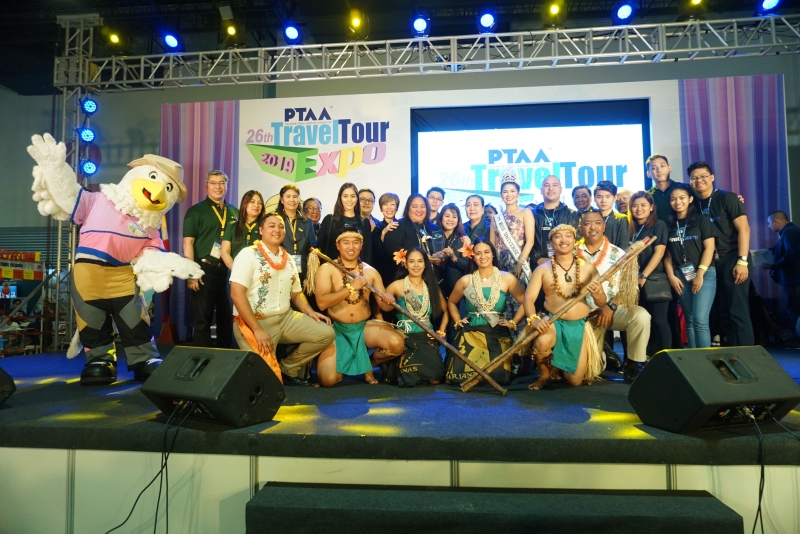 (Manila, Philippines) Guam's CHamoru culture was prominently featured and recognized with the best performance award at the 26th Philippine Travel Agencies Association (PTAA) Travel Tour Expo, held at the Mall of Asia SMX Convention Center – Pasay, on February 8 – 10, 2019.
The three-day expo attracted an estimated 120,000 event-goers, travel agents, and travelers looking for great deals from participating vendors. The Guam Visitors Bureau (GVB) led a group at the annual event, which consisted of Guma' Taotao Tano cultural performers, Miss Universe Guam 2018 Athena McNinch and several Guam businesses.
"The Guam team did an outstanding job in displaying our CHamoru culture, especially through the help of our award-winning performers from Guma' Taotao Tano," said GVB President and CEO Pilar Laguaña. "We were very successful in promoting our island, strengthening partnerships with key trade partners, travel agents, and airlines, and working together with our GVB members."
The first day of the consumer show opened with a two-day tabletop Business-to-Business (B2B) program geared for GVB members to promote their services directly to travel agents and partner operators. GVB greatly values and appreciates its industry partners that participated including Sentry Hospitality, Pacific Star Hotel and Resort, Guam Reef and Olive Spa Resort, PacTours, Phil Guam USA Travel and Tours, Pacific Island Holidays/Vacations Guam U.S. and T-Galleria by DFS Guam.
Guam's iconic latte stone stood front and center at the Guam booth, with images of various activities and attractions displayed. Philippines travel blogger and social media influencer Ms. Mica Pineda also hosted games with a Guam twist to attract booth visitors.
Prior to the expo, a Guam Product seminar was held on February 6 at the Manila Diamond Hotel aimed at educating the travel agents and raising awareness within the industry to encourage more Guam packages. The U.S. Commercial Services (USCS) actively participated in the seminar with a presentation of their roles and upcoming programs to a healthy attendance of Philippine International Travel Association Agents (IATA).  Over 70 travel industry partners attended, along with 40 media and travel bloggers. Major media juggernauts such as ABS-CBN and Star Cinema were present to explore promotional opportunities for Guam and show their support.
The Guam team also met with airlines partners such as Cebu Pacific, Philippine Airlines, and United to discuss upcoming programs and collaborative efforts to bring in more visitors to Guam.
Arrivals from the Philippines are currently up 5.4% for Fiscal Year 2019 with 7,680 visitors welcomed, as well 33.3% for Calendar Year 2019 with 1,277 visitors.
Media Contact: JOSH TYQUIENGCO - Public Information Officer