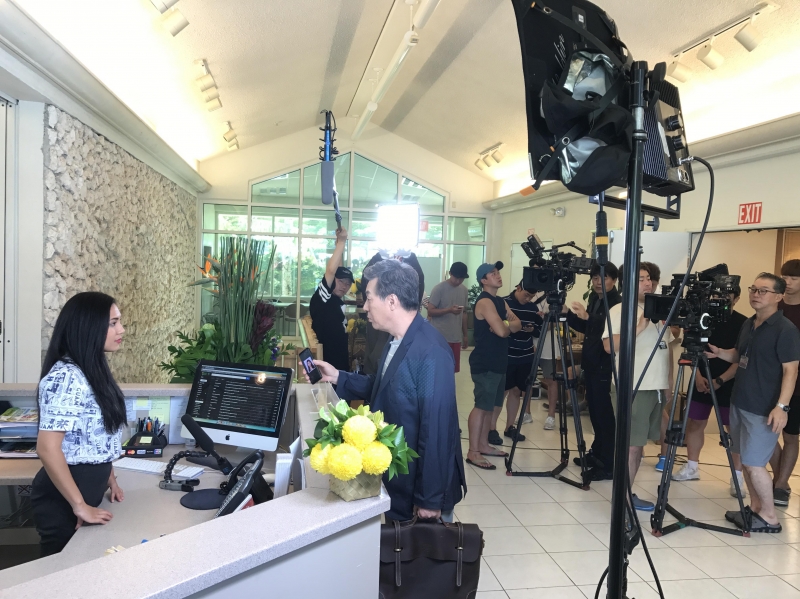 (Tumon, Guam) The Guam Visitors Bureau (GVB) is proud to announce the upcoming Korean drama TV series, "Man Who Sets the Table," shot four episodes on-island earlier this month.
The new drama series stars K-pop singer from Girls' Generation Choi Soo-Young and renowned actor On Joo-Wan known for leading roles in The Peter Pan Formula and My Mighty Princess. The cast also includes award-winning actors Kim Gap-soo, Kim Mi-sook, Park Jin-woo, Seo Hyo-rim and Shim Hyung-tak.
The drama depicts a family on the brink of collapse because of a conflict of beliefs and will air in Korea on MBC, the number one channel for a weekend TV series. It will run 50 episodes over the course of 6 months. It is anticipated that this series will provide $12 million in media exposure for Guam.
"We're excited the production team of this Korean drama series decided to choose our island paradise as the backdrop for a few of their episodes," said GVB President and CEO Nathan Denight. "We thank Director Joo Sung-woo and his team, as well as the local volunteers that played as extras for this TV series. We look forward to seeing the upcoming episodes on the small screen soon."
The production featured different locations around Guam. GVB would like to thank the following companies and agencies that assisted with the filming:  A.B. Won Pat International Airport, Guam Police Department, Net Enterprise, Crust Pizzeria Napoletana, Encore! Magic Show, Korean Air, The Beach Bar, Pacific Islands Club, Puntan Dos Amantes (Two Lovers Point), Onward Beach Resort, and Fish Eye Marine Park.
"Man Who Sets the Table" was produced by Munhwa Broadcasting Corporation (MBC), South Korea's leading television and radio network company. MBC has a great relationship shooting in Guam having featured the island in past dramas, most notably "When A Man Falls in Love," which aired in 2013 starring Song Seung-Heon. With the increased popularity of the TV drama, GVB selected Mr. Song Seung Heon as this year's Korean Ambassador of Guam.
"The relationships we've built with our friends in Korea are another great example of how tourism works for Guam," added Denight. "With different dramas filmed here and the selection of Mr. Song as an ambassador of Guam, it's no wonder our island has become the top U.S. destination of choice for Korean travelers. It shows how the hard work of our industry is paying off in different ways."
Travel to the U.S. has been steadily increasing according to the U.S. Commercial Service's 2016 Korean Market Update Report, with over 1.9 million Korean visitors traveling to the U.S. Guam was ranked as the top U.S. destination for Korean travelers last year, surpassing arrivals from California and Hawaii. 
Media Contact: JOSH TYQUIENGCO - Public Information Officer