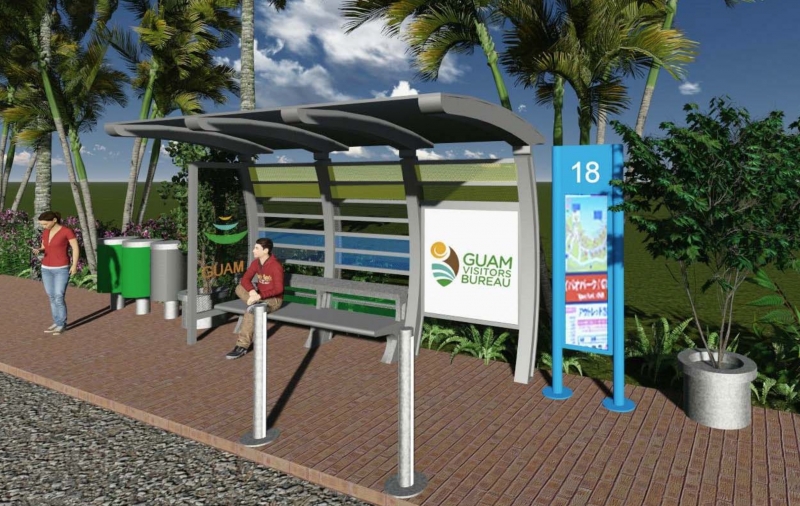 (Tumon, Guam) The Guam Visitors Bureau (GVB) is pleased to announce 12 new bus shelters are being installed in Tumon along Pale San Vitores Road.
"This project is a concerted effort by GVB and our partners to enhance safety and transportation service in Tumon. Guam is a family friendly destination and it concerned me to see parents with their children caught out in the rain or hot sun while waiting for buses," said GVB President and CEO Nathan Denight. "What you will see once this project is finished are new state-of-the-art solar powered bus shelters throughout San Vitores Road for locals and visitors to utilize. It also further aligns us with our Tourism 2020 objective of improving quality and yield."
The bus shelters are made out of stainless steel and architecturally sound materials to withstand Guam's weather conditions. The color scheme also complements the colors of the Guam brand. Some of the other design features include solar panels for energy-efficient lighting at night, map pylons, trash and recycling receptacles, LED bollards, benches, a leaning rail and a sleek cylindrical ashtray. While the solar panels are the primary source of power for the shelters, it can also switch to island power as its secondary source.
GVB worked with trolley companies to streamline stops along bus routes. The bureau also worked with Guam Regional Transit Authority to relocate the only affected public bus shelter to Guam Memorial Hospital. GRTA additionally has the option to use the bus shelters along its scheduled routes in Tumon.
"When the project is finished, the new bus shelters will make it easier for stops to be identified and will have clear, up-to-date information about services," said GVB Vice President Antonio Muña, Jr. " GVB also has plans in place to maintain, repair and replace the shelters should the need arise. This is a perfect example of how tourism dollars work for Guam."
The location of the new bus shelters include GVB/Ypao, Pacific Islands Club, across PIC, Fountain Plaza, Holiday Resort, Pacific Bay Hotel, across Tumon Sands Plaza, across Hyatt Regency, Sandcastle, Westin Resort, Pacific Place and Lotte Hotel. Excavation has already started on three sites, which is at the front of the GVB office, Pacific Islands Club and Fountain Plaza.
The estimated date of completion is toward the end of July. GVB has contracted Citi Development & Construction Inc. for this project, with Taniguchi Ruth Makio Architects as the contract manager. It is entirely funded by tourism dollars. 
Construction hours are 7 a.m. to 4 p.m. Monday through Friday and should have minimal impact to Tumon traffic. The work is being done simultaneously with the San Vitores Streetlight Improvement Project, which GVB is in the process of completely repairing and refurbishing Tumon streetlights by September.
Media Contact: JOSH TYQUIENGCO - Public Information Officer