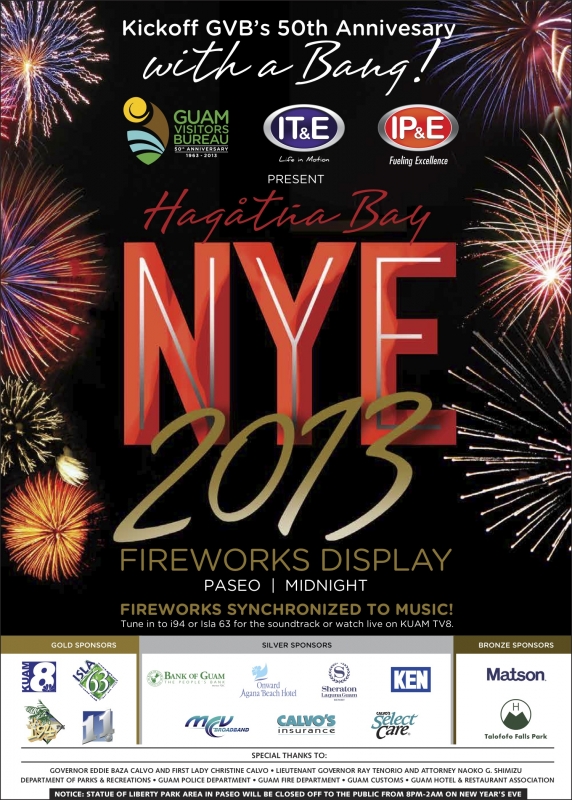 2013 marks a significant milestone in tourism on Guam with the fiftieth anniversary of the Guam Visitors Bureau. Over the past fifty years Guam's tourism product has matured into a world-class destination serving nearly 1.3 million visitors annually.
"We've made great strides in 2012 and look forward to increased growth in 2013," said GVB General Manager Joann Camacho. "We have great tourism partners, all working to help Guam keep pace with an ever changing tourism landscape around the world. But one of the most important by-products of tourism on Guam is the preservation and cultivation of our unique culture along with fun events for the local community to participate in. The New Year's Eve fireworks event is the kick off the celebration of fifty years of tourism on Guam. We'll be having many exciting community events throughout 2013. We have been greatly blessed over the past 50 years and there's a lot to look forward in the years to come."
Indications are clear that tourism has and will remain Guam's number one industry contributing to Guam's tax base, employing tens of thousands of local residents and providing upward mobility to those who choose tourism as a career path. Aside from the obvious economic benefits of tourism, the visitor industry also assists the community with the protection and preservation of Guam's culture and heritage through activities like the Guam Micronesia Island Fair, the building of the Guam Museum via the hotel occupancy tax and other cultural and community events. The New Year's Eve pyromusical fireworks display on Hagatña Bay is yet another GVB community event.
"This year's Hagatña Fireworks Display will feature many firsts for Guam that you won't want to miss," said GVB Deputy General Manager Nathan Denight. "The show will be synchronized to music for added dramatic effect, with the soundtrack broadcasted on i94 FM and Isla63 AM. The show will also be shown live on KUAM TV8 for at home viewing. In addition, fireworks provider ShowPro will be using larger shells that travel 1000 feet high, providing a larger viewing area and bigger impact for viewers."
The event is scheduled for New Year's Eve at midnight and is presented by GVB, IP&E and IT&E. Display will be launched from The Statue of Liberty Park at the Paseo in Hagañta and will be seen across central Guam. Best viewing locations should be Hagatña beach side, Tiyan, Tamuning and Barrigada Heights area.
GVB reminds the community to be careful and responsible when celebrating on New Year's Eve. Also, the Statue of Liberty Park in Paseo will be closed off to the public from 8PM-2AM New Year's Eve for the Fireworks Display.