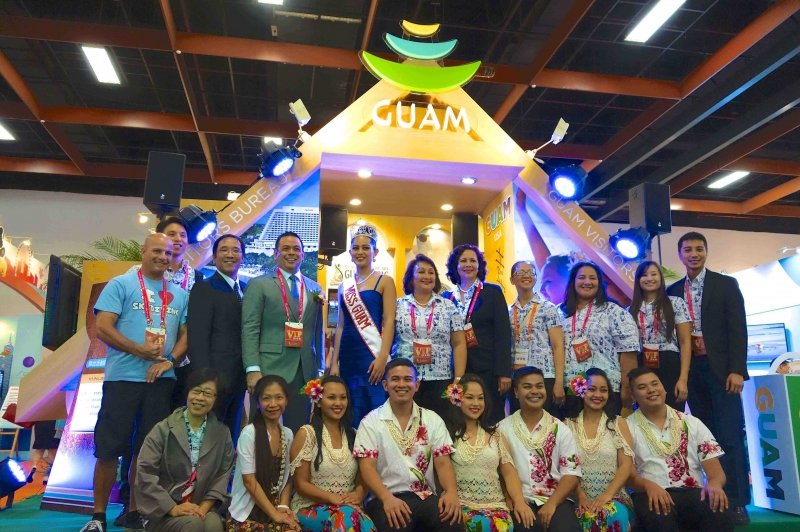 Over 300,000 people expected to participate in four-day event
(Taipei, Taiwan) Guam continues to have a strong presence at the annual Taipei International Travel Fair (ITF), the largest and most comprehensive travel show in Taiwan.
Opening ceremonies kicked off today (Friday) where Guam Visitors Bureau (GVB) General Manager Karl Pangelinan and other dignitaries joined Taiwan President Ma Ying-jeou on stage to cut the ribbon and mark the start of the four-day event. More than 60 countries are being represented with over 1,450 booths set up in the Taipei World Trade Center that will cater to over 300,000 travel trade professionals and consumers.
"It was a pleasure to shake hands with President Ma today and meet all the key partners that have helped us grow our third largest market," said GVB General Manager Karl Pangelinan. "Guam has participated in every single ITF for over 20 years and we remain committed to developing our strong connection with the Taiwanese people. This is also a unique opportunity to share all the great things our island home has to offer with a diverse population that more than doubles Guam's population."
The Guam booth will treat visitors to live performances by Jesse and Ruby, cultural dancers, photo sessions with Miss Guam Province Poppe and other activities. The Pacific Islands Club, Skydive Guam and Marianas Visitors Authority are also providing additional offerings.
Prior to the opening of ITF, the Guam delegation hosted a trade gathering reception for industry partners that were instrumental to growing the Taiwan market. The delegation also made a courtesy visit to Eva Airlines to network with airline executives and provide feedback. In addition, GVB Board Director and Festival of Pacific Arts Committee Chairwoman Theresa Arriola invited all industry partners to visit Guam in 2016 for the 12th Festival of Pacific Arts.
ITF 2014 will conclude on Monday, November 10th.
Stay tuned to GVB's Instagram (@visitguamusa), Twitter (@visitguam) and Facebook to get live updates on Team Guam's activities at the travel fair.
Media Contact: JOSH TYQUIENGCO - Public Information Officer