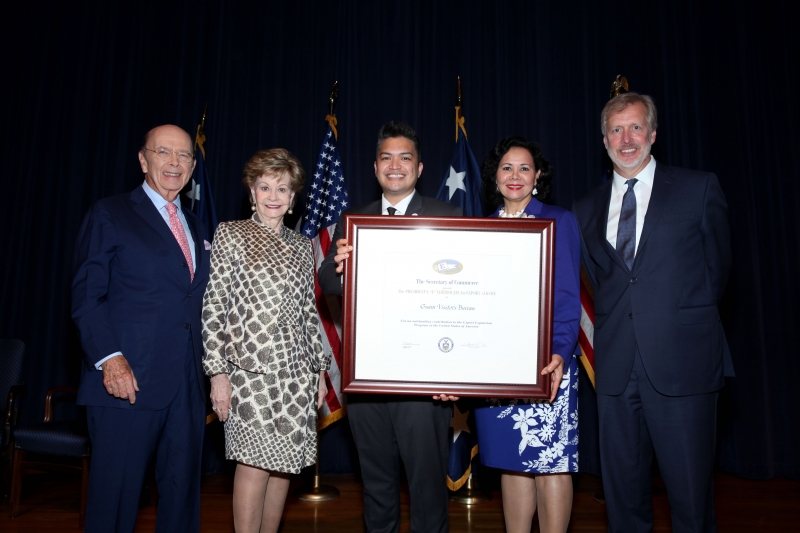 First tourism office ever to receive the highest export award in the U.S.
(Tumon, Guam) U.S. Secretary of Commerce Wilbur Ross presented the Guam Visitors Bureau with the President's "E" Award for Export Service at a ceremony in Washington, D.C., May 22. The President's "E" Award is the highest recognition any U.S. entity can receive for making a significant contribution to the expansion of U.S. exports.
"The Guam Visitors Bureau has demonstrated a sustained commitment to export expansion. The "E" Awards Committee was very impressed with GVB's Tourism 2020 strategic plan development and engagement, which resulted in exceptional year-over-year growth in tourism to Guam. The organization's innovative and broad-reaching program to capture larger segments of the Chinese tourism market was also particularly notable. GVB's achievements have undoubtedly contributed to national export expansion efforts that support the U.S. economy and create American jobs," said Secretary Ross in his congratulatory letter to the company announcing its selection as an award recipient.
"The hard workers at GVB are humble, but this really comes at no surprise. It only makes sense that Guam's tourism officials get national recognition because these folks are at the top of their game in this country. Despite the very rapid increase in the number and quality of tourist destinations in this area, Guam's market share has sustained and in most cases has even grown. We offer a resort destination that is growing as a second-to-none choice for travelers from a diversifying geographic field. This isn't a coincidence. This is the result of smart strategy, cooperative development, and an industry of workers who set the standard for quality and service," said Guam Governor Eddie Calvo.
Congresswoman Madeleine Bordallo was present at the awards ceremony and joined GVB Vice President Antonio Muña, Jr. and GVB Director of Global Marketing Pilar Laguaña to receive the award.
"I commend the Guam Visitors Bureau on receiving the President's "E" Award from the U.S. Department of Commerce," said Congresswoman Bordallo. "This is the nation's highest honor recognizing organizations which contribute significantly in the effort to increase U.S. exports. This award is a reflection of GVB's success in marketing Guam as a world class international destination and the growth in our tourism industry in recent years. I am proud of the success GVB has made to strengthen our visitor industry and attract visitors from new countries to visit and invest in Guam. This is the first time an organization from Guam has received this award, and I congratulate GVB's management and staff on this accomplishment. I look forward to continue working with them to promote Guam and our vibrant culture to visitors and markets around the world."
In total, Secretary Ross honored 32 U.S. companies and organizations from across the country with the President's "E" Award for their role in strengthening the U.S. economy by sharing American ingenuity outside of our borders.
"It is an honor to be the first tourism organization in the United States that received this prestigious award and contribute to the export expansion program of the United States of America. We are proud to represent Guam and accept this award on behalf of our local community and the thousands of people that are working hard in Guam's number one industry," said GVB President and CEO Nathan Denight. "As we continue to welcome over 1.5 million visitors annually and evolve as a world class destination, this milestone is a reminder that tourism works to promote our Chamorro culture to the world and better the quality of life for all those that call Guam home."
U.S. exports totaled $2.21 trillion in 2016, accounting for nearly 12 percent of U.S. gross domestic product. Exports supported an estimated 11.5 million jobs nationwide in 2015, according to the most recent statistics from the International Trade Administration.
About the "E" Awards
In 1961, President Kennedy signed an executive order reviving the World War II "E" symbol of excellence to honor and provide recognition to America's exporters. Criteria for the award is based on four years of successive export growth and case studies which demonstrate valuable support to exporters resulting in increased exports for the company's clients.
U.S. companies are nominated for the "E" Awards through the U.S. Commercial Service, part of the Department's International Trade Administration. With offices across the United States and in embassies and consulates around the world, The International Trade Administration lends its expertise at every stage of the exporting process by promoting and facilitating exports and investment into the United States; administering Anti-Dumping and Countervailing Duties orders; and removing, reducing, or preventing foreign trade barriers.
For more information about the "E" Awards and the benefits of exporting, visit www.export.gov.
Media Contact: JOSH TYQUIENGCO - Public Information Officer