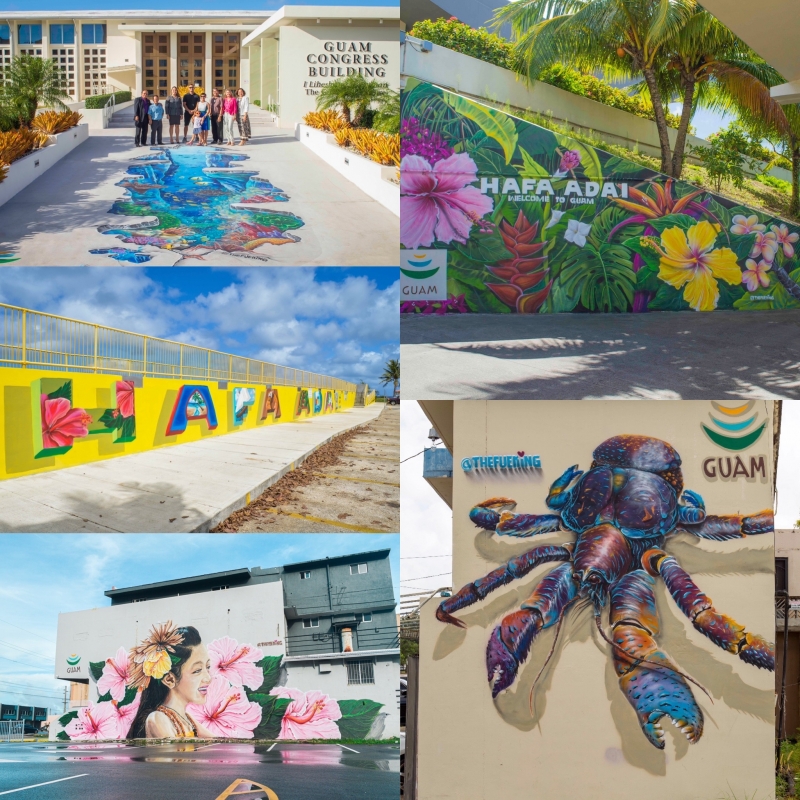 Collaboration with local artist designed to promote local talent and island beautification
(Hagåtña, Guam) The Guam Visitors Bureau (GVB) unveiled the fifth mural in the series of its Public Art Display Program at the Guam Congress Building in Hagåtña. The newest mural is located on the walkway of the Guam Congress Building. The street art gives an illusion of the walkway breaking open to reveal the sea life of the Marianas Trench.
The series consists of five murals by local artist Lee San Nicolas that depict different aspects of Guam's culture. The project aims to showcase and heighten Guam's appeal as a world-class and art-focused destination.
"The idea of this project began as a way to beautify our island and provide more attractions for all to enjoy. GVB is grateful to collaborate with this talented artist. Lee's work showcases the pride we have for our beautiful island," said GVB President and CEO Pilar Laguaña. "We thank the 35th Guam Legislature for their enthusiastic support and partnership to promote art in our capital city of Hagåtña."
The mural is also the first to showcase one of the United Nations' 17 Sustainable Development Goals (SDGs) of "Life Below Water," one that Guam seeks to align with through the Guam Green Growth (G3) Working Group, a new sustainability initiative.
"The different characteristics of Guam's culture – our people, our animals, and our landscape - truly inspired the ideas for this mural series," said San Nicolas. "I am grateful for the support I received from the GVB team and our island's people and honored to be a part of this project. I hope this positively impacts our tourism economy and our local community."
More New Murals
San Nicolas finished the first four murals in the last two months. The first mural was of a large coconut crab (ayuyu) in Anigua near the Federal District Court. The second mural is a Chamorrita girl with large hibiscus flowers, which is inspired by Cameron San Agustin, and located next to the old Blockbuster/ Oasis Empowerment Center in Tamuning.
The third mural is located at the Paseo De Susana fishing platform. This mural displays a vibrant "Håfa Adai" to further promote the island spirit among local residents and visitors.
The fourth mural, located at the West Arrivals section of the Antonio B. Won Pat International Airport, Guam, highlights lush greenery and flowers and is meant to extend a warm welcome to everyone that arrives on the island.
Laguaña also thanks project partners, including Guam International Airport Authority, Department of Parks and Recreation, Department of Agriculture, Culturally Living Native, Nikki Properties Inc., and Anna W. Kao, for their contributions and extending the perfect locations for these murals.
"We hope to collaborate with other organizations on beautification initiatives while supporting local artists," said Laguaña.
San Nicolas added, "The murals are important because they showcase our local artists and give visitors a look into the essence of Guam's culture. We want to continue showcasing wonderful aspects of our culture, because that's what Guam's about."
GVB is planning for more mural projects in the near future. To recommend possible locations, please contact GVB at [email protected] or call (671) 646-5278. GVB invites everyone to post photos and videos of their mural experience on Facebook and Instagram and use the hashtag #instaGuam.
Follow GVB on Facebook and Instagram @visitguamusa.
About the artist
San Nicolas has a "street island style" that aims to depict original culture fused with contemporary art flavor. He began his early career as a graffiti artist and has worked toward professional aspects of art in creative forms. His work is featured in galleries and throughout the local community. San Nicolas is a graduate of the University of Guam and majored in Liberal Arts.
Follow him on Instagram @thefueking for more photo and video highlights of this mural project.
Legislature Marianas Trench Mural Video:
https://www.youtube.com/watch?v=M1tZkkHl4EI&list=PLEokZ9earbHqm2-Nmuq6PSrNNPClnmk9k&index=4
Airport Welcome to Guam Mural Video:
https://www.youtube.com/watch?v=vTkZN6sMCoY&list=PLEokZ9earbHqm2-Nmuq6PSrNNPClnmk9k
Paseo Håfa Adai Mural Video:
https://www.youtube.com/watch?v=kfIwStVAAOw&list=PLEokZ9earbHqm2-Nmuq6PSrNNPClnmk9k&index=2&pbjreload=10
Anigua Ayuyu Mural Video:
https://www.youtube.com/watch?v=x8sHN5J1xvU&list=PLEokZ9earbHqm2-Nmuq6PSrNNPClnmk9k&index=3
Media Contact: JOSH TYQUIENGCO - Public Information Officer