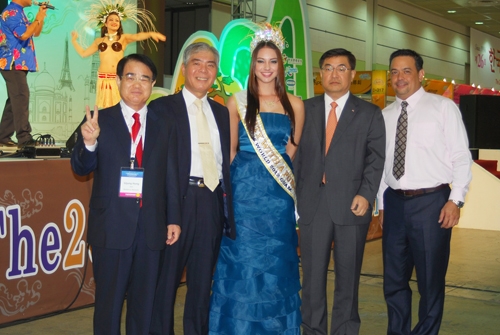 Calendar year 2012 proved to be a record-breaking year for arrivals to Guam. The island welcomed over 1.3 million visitors, a level not seen since the mid to late 1990's. Out of the total arrivals last year, 182,829 came from Korea, one of which was the millionth visitor for the year.
"The Korean Market is becoming a strong second market for Guam," General Manager Karl Pangelinan said. "For the fiscal year, Korean arrivals are 45 percent up compared to last year. Added service from Korean Airlines and Jeju Air as well as increased charter flights help push us closer to 200,000 visitors. We are tracking to surpass this goal, and if reached it will be the highest number of arrivals from Korea in our history."
Since October of last year through May 2013, GVB's research department has confirmed a 60% increase of seats servicing Korea and Guam. Cities flying directly to Guam are the first and second most populated cities of Seoul/Incheon and Pusan respectively. An increase in arrivals means greater economic impact and leads to additional employment opportunities.
"We are strengthening our reach to the Korea travel market," Governor Eddie Baza Calvo said. "We will keep working to welcome more Korean tourists to spend their time and their travel dollars in our hotels, restaurants, boutiques, cultural sites, and shopping centers. All of this means more jobs and higher wages for people looking for work."
KOTFA
A Guam delegation, led by GVB General Manager Pangelinan to the Korea World Travel Fair recently returned from promoting the Håfa Adai Spirit of our island. Armed with information on the latest Guam offerings, the delegation met with Airline partners, the Korean travel trade, international media and consumers to invite them to come to Guam.
Pangelinan added, "This is the largest annual travel show in Korea and a great place to showcase what Guam has to offer. GVB was proud to promote our island and our people, and our efforts showed in KOTFA's recognition of Guam as the Best Folklore Performance and Booth Operations."
GVB PRELIMINARY ARRIVALS FOR MAY 2013
Total visitor arrivals to Guam were 86,124, up 4.1% compared to May 2012. Fiscal year to date arrivals are up 8.0%, while calendar year to date arrivals are up 5.2%. Japan was down slightly 4.2% for May, while Korea was up 59.4%. Arrivals from the People's Republic of China were up 49.9% and the Russian Federation by 55%.
###
May Preliminary Arrivals for May 2013 is available for download by clicking the PDF below.
For More Information:
Tony Muña, Jr,
GVB Public Information Officer
Office: +1(671)646-5278 I Mobile: +1(671)686-4827