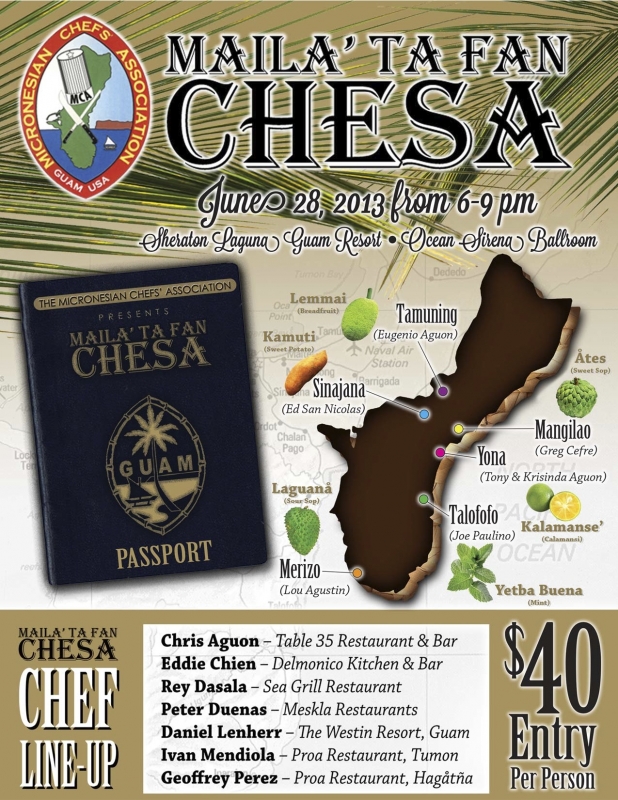 The Micronesian Chefs' Association announced today that it will be hosting its second "Maila' Ta Fan Chesa" event at the Sheraton Laguna Guam Resort Ocean Sirena Ballroom on Friday, June 28th from 6:00 pm - 9:00 pm.
This event will feature 7 of Guam's top chefs, collaborating to prepare an array of appetizers, desserts and beverages highlighting 6 locally grown produce items from the island's richest farmlands. The association hopes the event will draw attention to Guam's amazing culinary talent as well as the island's freshest ingredients grown right here at home. 
Lined up to stimulate your taste buds are:
1.     Chef Chris Aguon- Executive Chef of Table 35 Restaurant & Bar
2.     Chef Eddie Chien- Executive Chef of Delmonico Kitchen & Bar
3.     Chef Rey Dasalla- Executive Chef of Sea Grill Restaurant
4.     Chef Peter Duenas- Executive Chef of Meskla Restaurants
5.     Chef Daniel Lenherr- Executive Chef of The Westin Resort Guam
6.     Chef Ivan Mendiola- Chef de Cuisine of Proa Restaurant Tumon
7.     Chef Geoffrey Perez- Executive Chef of Proa Restaurant Hagatna
Tickets are $40.00 each and are available at Meskla Chamoru Fusion Bistro in Hagåtña, Table 35 Restaurant & Bar, Proa Rests., International Distributors, Inc. and through all MCA Members.
For more info, please contact MCA President Chef Peter Dueñas at 727-4490 or email [email protected].