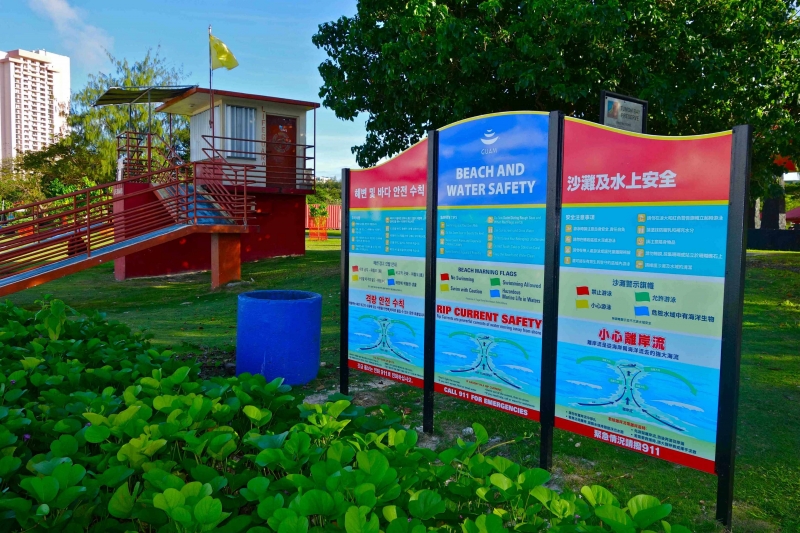 Signs made in 6 different languages for residents and visitors
(Tumon, Guam) The Guam Visitors Bureau (GVB) announced today that signs around Tumon have been updated to streamline the importance of beach and water safety practices.
"It was time to replace the previous outdated signs and update beach and water safety information in 6 different languages," said GVB General Manager Karl Pangelinan. "This project has been in the works for the last several months and GVB is proud to see it through completion. We encourage our local residents and guests to use the provided safety tips and be aware of the color coded safety flags when planning a beach day."
Beach and water safety signs have been installed around Governor Joseph Flores Memorial (Ypao) Beach Park and Matapang Beach. Another sign will be erected at Gun Beach in the coming weeks. The safety information is in English, Chamorro, Japanese, Korean, Russian and Traditional Chinese.
"It's important to have all this safety information in different visitor languages, including Chinese and Russian, as we grow and diversify our markets," said GVB Deputy General Manager Nathan Denight. "We thank our overseas partners for helping us to translate the new signs and we are most proud that the translations also include our native Chamorro language. This is just one of the ways GVB is enhancing visitor safety as we move forward with our Tourism 2020 goals. "
Media Contact: JOSH TYQUIENGCO - Public Information Officer