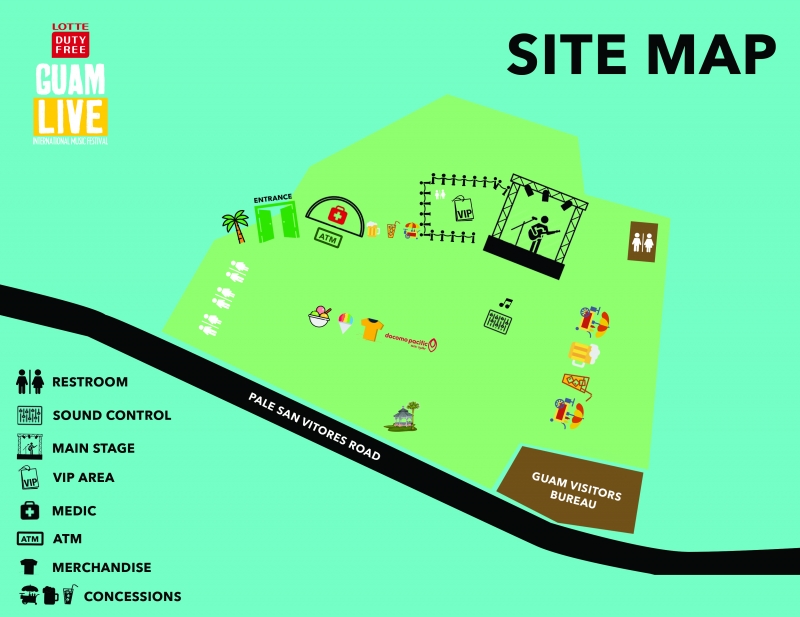 (Tumon, Guam) The Guam Vistors Bureau (GVB) announced today the official line-up schedule for the 4th Annual Lotte Duty Free Guam Live International Music Festival on Saturday, June 3rd 2017 at Governor Joseph F. Flores Memorial (Ypao Beach) Park in Tumon.
The official schedule is as follows:
SATURDAY, JUNE 3, 2017
Doors open at 2 p.m.
Show starts at 4 p.m.
Sammy J
The John Dank Show
Anuhea
MFBTY
JED
Davidior
Spawnbreezie
MAGIC!
*Line up and schedule are subject to change
ABOUT THE ARTISTS
MAGIC!
One song launched a Toronto-bred band to the top of the Billboard Hot 100 charts, sold more than 10 million copies worldwide and garnered nearly 1.3 billion views on YouTube. "Rude" is the breezy reggae pop tune you can't get out of your head, brought to you by the fine men of MAGIC! The Los Angeles-based quartet continues to produce a musical fusion of reggae, pop, and R&B, anchored by a pair of Grammy-winning producers who scored hits for Justin Bieber, David Guetta, Shakira, Chris Brown, Pitbull, and Christina Aguilera. The 2016 album "Primary Colours" featuring the hit "Lay You Down Easy" follows Magic's 2014's phenomenal "Don't Kill the Magic."
Spawnbreezie
Influenced by his father's music, Spawnbreezie was destined to be in the studio and on stage as a performer. He's forged island music, roots reggae, R&B, hip-hop, the skank of reggae and the vocals of island music to craft his "island hip-hop." Audiences in the South Pacific took notice with his first solo album "Independent Solders" released in 2008 and the follow-up "Welcome to Zion" in 2009." His third album, "Dear Billy," stamps island hip-hop on the map with mega hits, "Oh My Goodness" and "Don't Let Go," each carrying millions of views on YouTube.
Anuhea
As one of Hawaii's top female artists, singer-songwriter Anuhea has shared the stage with artists like Bruno Mars, Babyface, Al Green, FloRida, Hoobastank and Pepper. Her signature blend of guitar rhythms, sultry vocals and honest songwriting merge to create an acoustic soul, R&B, jazz and hip-hop sound with pop appeal. It's responsible for her self-titled debut album, which shot up to No. 7 on the iTunes Pop Charts, No. 4 on R&B, and No. 3 on the World/Reggae Billboard Charts. Several of its singles also became commercial successes on Hawaii and AAA national radio. Her second album, "For Love," produced the reggae-infused "Higher than the Clouds" and dreamy, reimagined "Come Over Love."
Sammy J
You've got to search for "Sammy Johnson" on iTunes to get a hit on the hot New Zealand singer. On the airwaves, he's better known as "Sammy J," a master of smooth vocals paired with elements of pop, R&B, island music and reggae. Sammy J's 2013 album "Prelude" produced the danceable duet "Don't Say Goodbye" and "Fall in Love." His latest effort "Lion Roar" is another feel-good, breezy record ready for download on iTunes.
David Park
Los Angeles-based and Guam raised, David "Davidior" Park, is a certified gold artist who co-produced and wrote one of the biggest hits of the year: "I'm the One" by DJ Khaled and featuring Justin Bieber, Lil Wayne, Chance the Rapper and Quavo. It almost instantly hit No.1 on the Billboard Hot 100 Charts. The 2008 Harvest Christian Academy grad has a current workload with Jeremih, G-Eazy, Tinashe, Ty Dolla $ign, Bobby Brackins, Selena Gomez, Chris Brown, Taylor Gang, Bi-Polar Sunshine, Boombox Cartel and other upcoming projects.
MFBTY
"My Fans are Better Than Yours" is a Korean rap royalty group consisting of Tiger JK, Yoon-Mirae, and Bizzy. Individually, and as members of a group called Drunken Tiger, they have been ruling Korean hip-hop and rap since the late 90's, gaining popularity nationwide while maintaining respect in the underground scene. Under the name MFBTY, the group released their first album "Wondaland" which is described as a fun, eclectic album that hits all genres of hip-hop, pop, electric and R&B, with rock ballads and Hindustani music influences. With this new type of music, they strive for universal themes relatable to a worldwide audience.
JED
As a solo hip-hop artist, JED has been devoted to music since 2010 and has acquired over 100,000 views on his YouTube channel. His hits, "No One Else," "Where It Begins," and "Loco," have also been earned him the number one spot on Guam's respective radio stations such as Power 98 and Hit Radio 100. Together with Dreamstorm Productions, JED has also released two official music videos for his hit songs, "The Low" and "Lately."
The John Dank Show
Composed of members Danton Cruz, Francis McJohn, Paolo Cruz, and John Tyquiengco, The John Dank Show started out as a way for this group of friends to write original music. After dabbling in Guam's active open mic circuit, the band caught the ear of Tumon's epicenter of rock music, Livehouse, where the band first started gigging in 2014. Since that time, they've dropped a self-titled EP, as well as a full length album "Lights", launched music videos, and become a local sensation. Calling their specific music genre "a big question mark," The John Dank Show pulls musical influence from just about everywhere. The John Dank Show even made it to #4 on iTunes and #11 on Billboard's reggae charts.
Tickets Available Online
Tickets are available at all 76 Circle K locations and online at www.guam-live.com. General Admission is $50 per person and $60 at the door.
The 2017 Lotte Duty Free Guam Live International Music Festival is presented by United Airlines, Docomo Pacific, 76 Circle K, Guam AutoSpot, Pacific Island Club, the Stations of KUAM and Heineken. The GVB Signature Event is also brought to you by Hilton Guam Resort & Spa, Monster Energy, Lotte Hotel Guam, Pepsi, Sixt Rent A Car and Pacific Star Resort & Spa. Special thanks is given to Jamaican Grill, Skyy Vodka, Patron Tequila, Jack Daniel's, Fence Maters, Luxury Tours & Transportation and Uno Magazine.
For music festival updates and other special announcements, go to the Guam Live website and follow Guam Live on Facebook (facebook.com/GuamLiveIMF), instagram (@guamliveimf) and twitter (@GuamLive).
Media Contact: JOSH TYQUIENGCO - Public Information Officer