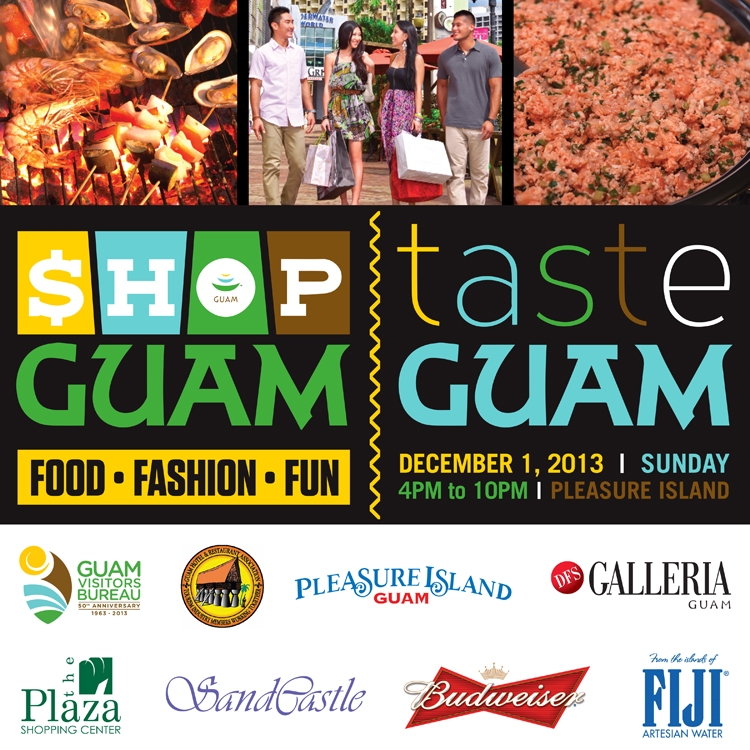 Food, Fashion and Fun to be showcased in Tumon
(Tumon, Guam) The Guam Visitors Bureau (GVB) and Guam Hotel and Restaurant Association (GHRA) are preparing for the SHOP GUAM | TASTE GUAM event to take place in Pleasure Island on December 1, 2013 from 4 p.m. to 10 p.m. This event kicks off the Shop Guam Festival, which runs from November 29 to January 5, 2014, and combines GHRA's popular Taste Guam food festival.
"Guam's visitors are hungry for more interaction with our unique cuisine, shopping and culture," said GVB General Manager Karl Pangelinan. "GVB is excited to partner with GHRA to invite our local community and visitors to experience the very best of what our island has to offer."
The lineup for Sunday evening includes five fashion shows taking place on a 36-foot runway complete with sound, lights, video and a LED screen. 20 different local male and female models will showcase the latest fashions from San Ai, DFS, DNA Evolution, GAP and Macy's. San Ai is a well-known Japanese swimwear brand that has been shooting their annual catalog on Guam for over 10 years. They will be bringing 5 international models including the 2014 San Ai Swimwear Image Girl, Ikumi Hisamatsu.
On the stage will also be the island's best DJs and local dance groups. In addition to all the entertainment, GHRA's Taste Guam will feature the best culinary creations from the island's top hotels, restaurants, bakeries and other confectionaries all in ONE PLACE!
Entrance to the festivities is FREE to the public. Food and drinks will be sold separately via $20 coupon booklets sold at the event. Proceeds from food and beverage sales benefit the Micronesian Chefs Association, Guam Community College's Culinary Arts Program and GHRA scholarships.
San Vitores Road from the crosswalk between UnderWater World and DFS Galleria to the traffic light in front of the entrance to SandCastle will be closed on Sunday, December 1, 2013 at 3:00 a.m. to Monday, December 2, 2013 at 2:00 a.m. Free public parking will also be available in the Plaza garages, the lot behind the DFS Galleria and the empty lot across from the Sandcastle, as well as shuttle services from the Lotte Hotel Guam & Nikko Hotel parking lots.
SHOP GUAM FESTIVAL 2013
GVB's Shop Guam Festival 2013 is a global media campaign aimed to create an interactive experience highlighting Guam as a modern, fashionable and diverse destination. The campaign kicks off on BlackFriday, November 29, 2013 and runs through January 5, 2014. The festival is designed to attract visitors to enjoy shopping in Guam with various events planned, special giveaways and coupons being provided at participating hotels, restaurants, and shops. With over 170 Shop Guam retailers participating in this year's festival, GVB and its retail stakeholders are adding value for local and international shoppers.
Si Yu'os Ma'åse to our presenting sponsors: Pleasure Island, DFS Galleria, the Plaza, SandCastle, Budweiser, and FIJI Artesian Water. Special thanks to Lotte Hotel Guam and Hotel Nikko Guam.