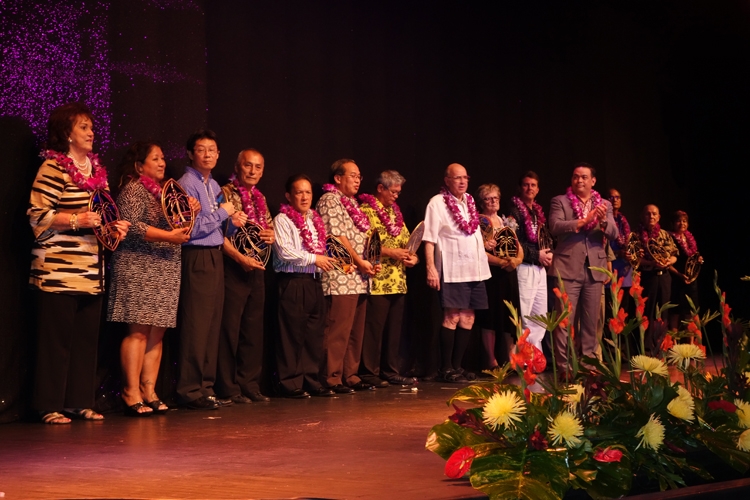 GVB Closes 50th Anniversary
 
(Tumon, Guam) The Guam Visitors Bureau (GVB) along with 350 industry leaders celebrated 50 years of tourism on island Wednesday night at the Sandcastle in Tumon, Guam.
"Last night was a special celebration of 50 years of sharing," said GVB General Manager Karl Pangelinan. "Sharing our home with millions of visitors across the globe. With us were some true pioneers, visionaries, and leaders. People with the foresight, the knowledge, the vision and maybe just enough crazy in them to take a risk and give Guam a chance at being a tourist destination."
Governor Eddie Calvo congratulated GVB and industry stakeholders that have invested in tourism over the last 50 years.
"We are excited for the future of the visitor markets, we currently welcome to our shores," said Calvo. "Last year, we experienced historic visitor arrivals; the promising future of the Russian market; and the push to build capacity and enhance our services to make Guam a premier destination. This year, with your continued commitment to excellence, we hope to see more. Thank you for your diligence and dedication to share Guam with the rest of world."
The celebration included performances by Inetnon Gefpå'go, the Guam Chamorro Dance Academy (GCDA), Magician Anthony Reed and retrospective video presentations on Guam's history of tourism. In addition, K-57 Radio Personality and Master of Ceremonies Ray Gibson recognized tourism pioneers such as Eduardo D. Calvo, Franklin G. Perez, Guam Tourist Commission Director Rex Wills, former Congressman Antonio B. Won Pat, former Senator Frank D. Perez, Pete Sgro, Pete Ada, former Senator Tony Palomo, Bert "Mr. Tourism" Unpingco, Alfred Ysrael, Kenneth D. Jones, Robert Jones, Earl Kloppenburg, Herbert Fukuda, Akira Baba, Joe Blas, PDN Editor Joe Murphy, Johnny Reyes, former Senator Joaquin Perez, former Governor Joseph Ada, former Lt. Governor Frank Blas Sr., DFS, Continental/United, the Guam Hotel & Restaurant Association (GHRA), Japan Guam Tourism Association (JGTA), Japan Guam Travel Council (JGTC) and Korea Guam Travel Council (KGTC).
Looking ahead, GVB is preparing to unveil Tourism 2020, which acts as a roadmap to transform the island into a high quality world-class resort destination. The long range plan seeks to reach two million visitor arrivals by 2020. GVB's initiatives to diversify its markets, improve product and preserve and promote our local culture will be at the forefront in both the private and public sectors.
"With the upcoming launch of the Tourism 2020 plan, Guam's tourism industry begins its exciting journey for the next 50 years," said GVB Board Chairman Mark Baldyga. "If 2020 sounds far away, think about this. In two months from now, 2020 will be 6 years away. It is a plan that will propel Guam forward as a first tier resort destination of choice for 2 million business and leisure visitors. I know a little thing about dreaming and I'll tell you, we can get where we need to go."
Media Contact: JOSH TYQUIENGCO - Public Information Officer