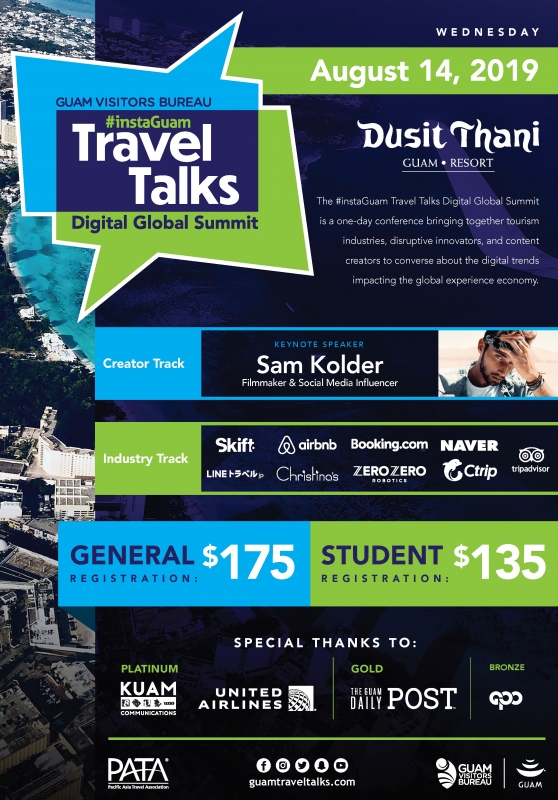 (Tumon, Guam) The Guam Visitors Bureau (GVB) is excited to announce that TripAdvisor will participate in the upcoming #instaGuam Travel Talks Digital Global Summit on August 14. As the world's largest travel site, TripAdvisor aims to support the travel industry across the globe to better understand the power of reviews.
Representing TripAdvisor is Sarah Matthews, Head of Destination Marketing, APAC. She will discuss the latest travel content marketing trends on TripAdvisor and its new TripAdvisor social feed product.
Matthews also led the 2017 TripAdvisor Industry training workshop in Guam, which GVB continues implementing by monitoring local businesses that have the most improved TripAdvisor rating and performance on Guam. GVB will provide a "most improved rating award" to the local business winners during the Travel Talks summit. Additionally, GVB will feature the winning businesses in an upcoming co-operative global marketing campaign with TripAdvisor.
"Local business owners, content creators, and everyone else can benefit from this incredible opportunity to learn from TripAdvisor's wealth of insight and data on traveler habits and desires," said Pilar Laguaña, President and CEO of GVB. "We encourage those interested in this summit to register right away."
About the #instaGuam Travel Talks: Global Digital Summit
The #instaGuam Travel Talks: Global Digital Summit — the region's first premier-travel technology conference — will bring together tourism industries, disruptive technology companies, and global social media influencers in a one-day conference to converse about the digital trends impacting the visitor experience economy.
The summit will take place on August 14, 2019 at the Dusit Thani Guam Resort. Registration is now open at guamtraveltalks.com.
Media Contact: JOSH TYQUIENGCO - Public Information Officer